If you did venture out to look at the #SuperWolfBlood Moon, well done. Bet you are cold. The next Super full Moon will be on February 19th but without the total lunar eclipse, so no orangery red colour.
It's cold this morning, temperatures in northern England and Scotland have fallen to -7C and -6 in SE England. There is a widespread frost, but most places are dry, just a little ice to watch out for. There are a few showers, linked to a fading cold front which bought more cloud overnight to The Wash, central England into southern Wales and SW England. This doesn't move much but there will still be the odd shower today over SW Britain.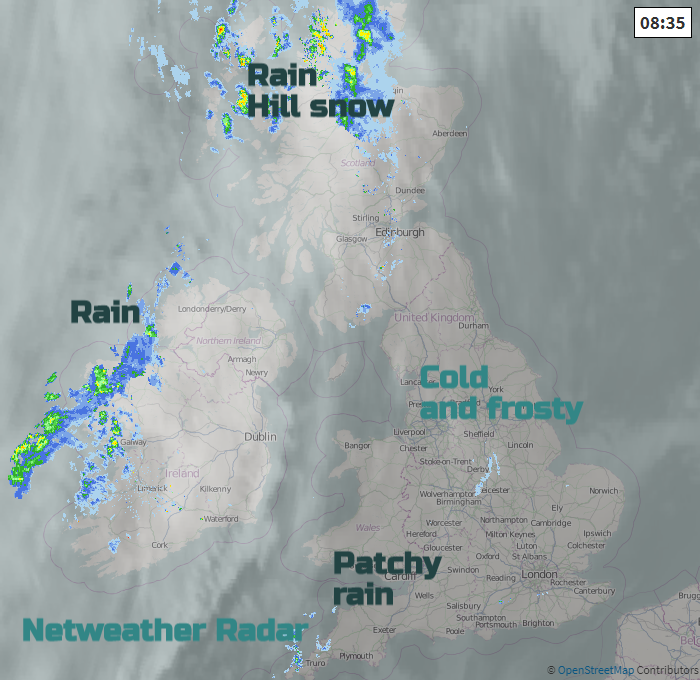 In the far NW, there is more cloud, strengthening winds and outbreaks of rain for Highland Scotland and the Western Isles. There is a low pressure centred over Iceland and this wet and windy weather is from the cold front which swipes across the UK tonight. It won't be just rain, there will be sleet and snow, mainly over the hills. For western Scotland, the Pennines, Peaks, Cumbrian Fells, Welsh mountains and Exmoor, also the Antrim Hills.
For most, it will be a fair day with lingering cloud from the frontal band or sunny spells after a clear cold night with a frosty start. After light winds to start the day the SW breeze picks up for Northern Ireland and more of Scotland with gusts up to 60mph for the Western Isles by lunchtime. Damp weather spills over Northern Ireland this afternoon and then into western Scotland. The rest of Britain stays settled. Temperatures today will be from 4 to 8C, feeling colder as the wind picks up. The fresh south to SW wind will become gusty as the cold front arrives in the NW this evening. There will be gales for The Minch and a kick in the winds to the NW then settling into a westerly flow.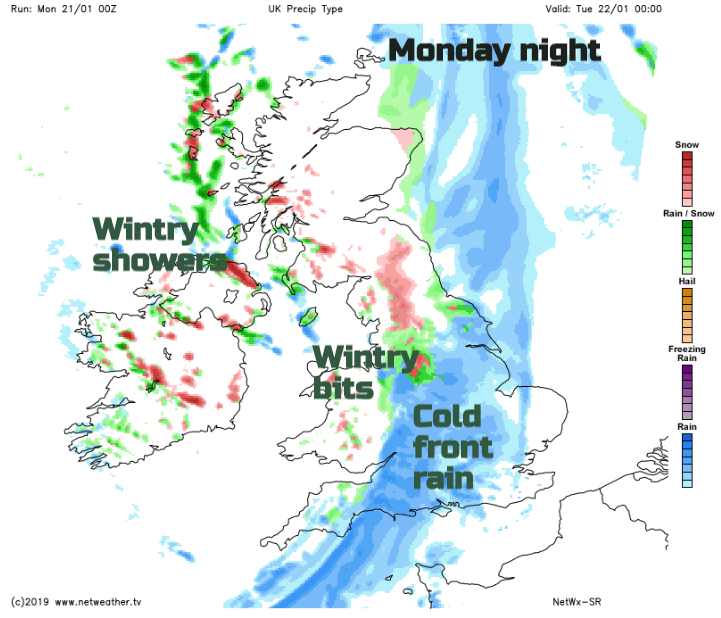 As the cold front moves through there may be a little, wet snow to lower levels as it heads across Britain and then rain, sleet and snow showers set in for Tuesday. There will be a frost again and ice after the front.
The cold front rain and wintriness should just be away from Kent and Essex by dawn on Tuesday. This leaves the UK in a cold west to NW flow with a frost, sunny spells and wintry showers from the west.