For many, it hasn't rained properly since before Christmas, thanks to high pressure in control for the last three to four weeks. However, today will see outbreaks of rain affect all areas. Following today's rain, it will turn increasingly colder from the north tonight, with showers across north and west turning increasingly to sleet and snow, these wintry showers becoming confined to eastern coasts on Thursday, otherwise a sunny but colder day than recently. Friday and the weekend will remain cold with a risk of overnight frost where skies clear, mostly dry and bright in the east but a band of rain slowly moving into the west on Friday and Saturday, turning to sleet and hill snow. Otherwise mostly dry.
After recent mild weather, turning colder from tonight and staying cold through the weekend.
Today
For now, many areas are starting the day cloudy and mild with a band of rain stretching southwest from northern England down across Wales, some patchy drizzle further south and east across England, while Scotland is seeing showers spread in from the northwest, turning increasingly to snow over tops of the hills and lower levels in the far northwest as colder air moves in here.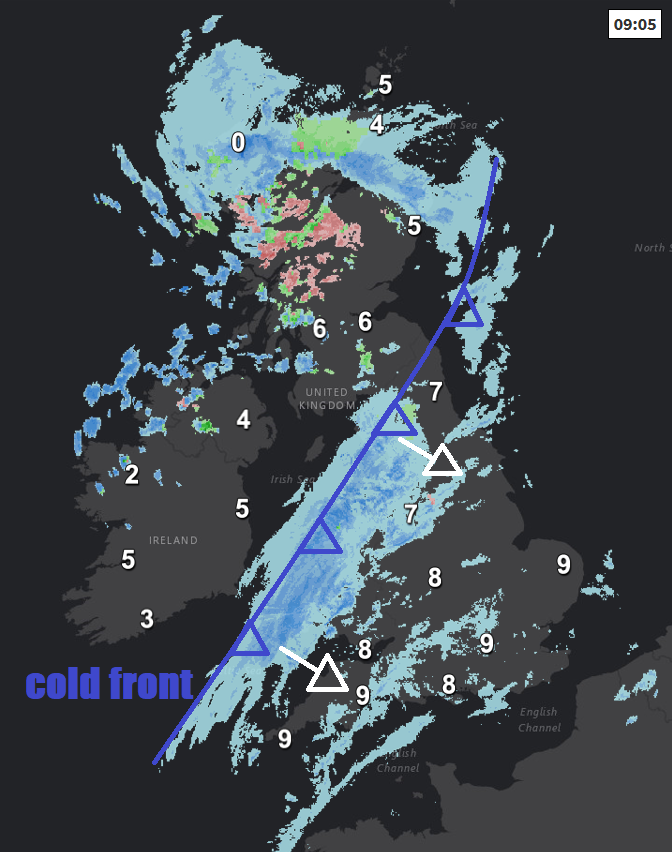 The band of rain along a cold front across northern England and Wales will slowly edge southeast across England through the day, bringing a couple of hours of rain, patchy drizzle ahead of the rain band. Rain band perhaps not reaching SE England and East Anglia until late afternoon. Following the rain will be brighter but showery conditions spreading in from the northwest, most of the showers across Scotland, N. Ireland and western coastal areas of England and Wales, turning increasingly wintry in the far north and northwest as colder air moves in, falling as snow over higher ground.
Generally mild across England and Wales today, highs of 9-10C. Temperatures falling away through the day across Scotland and N. Ireland – as colder air kicks in here from the north, afternoon highs of 5-7C here.