This week we will see snow on northern hills, there are a few sleet and snow showers about this morning in the cold northerly flow for NE Britain. Also, as Atlantic weather fronts come up against cold air there will be other spells of snow but it's not a beast.
The winds this week vary from the south to west to north with quite a lot of westerly influence. As a low pressure moves in Friday/Saturday they are cyclonic, so could go all the way around and give an easterly for a few hours.
There will be rain, with some sleet and snow mixed in. It's not going to snow for everyone, the air is not that cold. Temperatures dipped to -3C overnight in Scotland, Tuesday looks really quite mild before colder air filters down through the UK on Thursday and then a rather windy mixed spell on Friday into the weekend.
Today
The NW to west wind will make it feel cool today with variable amounts of cloud, brighter spells for some and a lot of dry weather. There are a few showers running down NE Britain bringing a little rain and sleet. Wet weather will move near to the Northern Isles today and could bring a little bit of snow. There will also be damp weather for western Scotland which will turn to snow over the mountains and patchy rain for Northern Ireland, NW England and NW Wales.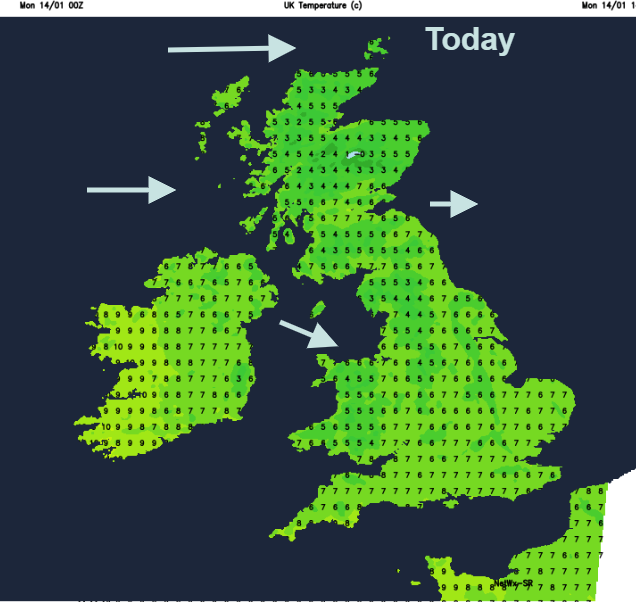 Temperatures on Monday will widely be 7 to 9C with a cool breeze. The far north of Scotland will be in colder air with a fresh to strong westerly wind.
A few spots will dip near to freezing for a time tonight but overall its much milder with the westerly wind, a fair amount of cloud and more damp weather for the NW. By Tuesday morning there will be a cool start for SE Britain and more of a breeze further north with temperatures around 7C.
Tuesday
Most of the UK will within a wide warm sector, allowing temperatures to rise to 9 or 10C. The fresh westerly flow continues with a mixture of cloud and bright spells but more chance of sunny spells in the east. The warm front will lurk over northern Scotland for much of the day bringing rain with cold air over the Northern Isles but lighter winds. So mild tomorrow but blustery.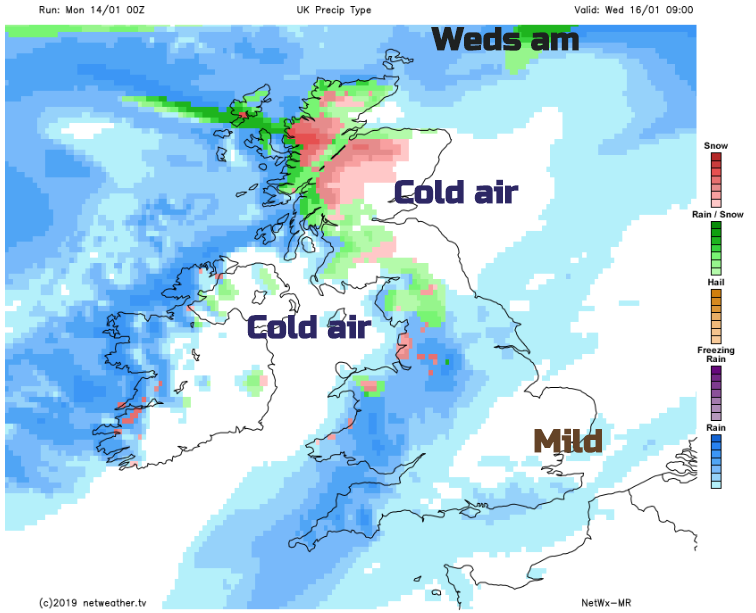 Then a turn to colder conditions by Thursday with wintry showers from the NW and we'll have to keep an eye on the weather for the end of the week. A deepening area of low pressure looks to move in against the cold air, which could bring gales and/or snow. A wet and windy spell look likely at some point but there is low confidence around the timings and path, so pinpointing any snow is too tricky for today's forecast.