Despite the SSW, we will likely see a return to unsettled westerlies next week, but cold at times thanks to polar incursions
The low tropospheric heights / very cold air over Greenland and NE Canada (associated with daughter polar vortex over NE Canada) will likely drive a strong jet towards NW Europe through next week, bringing a change to unsettled and windier weather, while at the same time the jet stream will be pushing further south with time, this will allow colder polar maritime incursions at times. This type of colder westerly flow is often referred to as 'cold zonality' and tends to bring some transitory snow across northern areas, particularly over hills, but also to lower levels where winds veer northwesterly or northerly behind depressions clearing east.
The SSW and reversal of stratospheric winds may eventually allow a pattern change favouring NW Europe for much colder weather with snow
Longer term, there are signs of the unsettled mobile cool/ cold westerly/zonal flow developing from next weekend relaxing or weakening from around the 20th of January. This has been highlighted for a while now by longer range sub-seasonal models, such as the ECMWF weeklies which are updated every Monday and Thursday evenings, which go out 6 weeks ahead. The twice weekly updates for 500mb heights and temperatures and their anomalies have, for a while, being suggesting high latitude blocking developing over the mid-north Atlantic, Greenland and stretching up over the arctic in tandem with troughing/low heights over mainland Europe. This pattern would bring deep cold and snow to NW Europe, including the UK and Ireland.
This pattern change later this month is probably linked with continued eventual'flushing' down of the negative wind anomalies / easterly winds in the stratosphere – which are taking their time but will likely reach the top of the troposphere in the next 10 days – this will then alter the troposphere flow patterns to favour more high latitude blocking over Atlantic as the easterly winds propagating down weaken that troublesome Canadian vortex which will push a lot upper flow energy over the Atlantic in the next 10 days.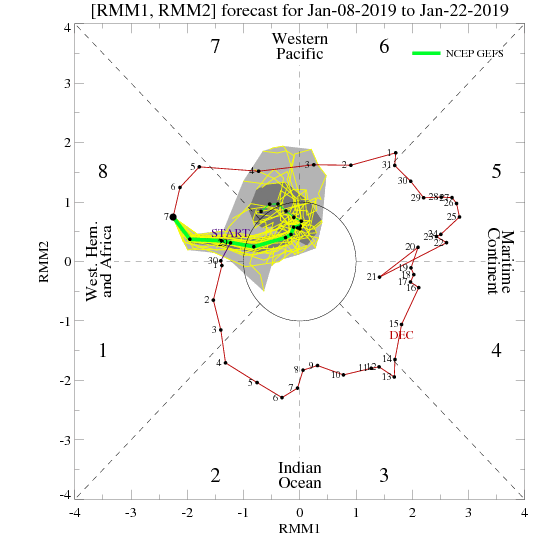 Also likely to work in favour of high latitude blocking developing over the Atlantic and Greenland to bring a pattern change to much colder weather will be activity over the tropical Pacific which can force changes to extra-tropical patterns that affect the weather over Europe and North America. Namely the Madden Julian Oscillation (MJO). The models have started showing some consistency in the MJO returning back through colder phases (7-8) later this month after a spell of weak activity (null phase), rather than going full circle through the 'warmer' phases. This, in conjunction with the continued propagating down of easterly winds in the stratosphere towards top layer of the troposphere, will eventually encourage blocking to the north and west - bringing much colder air and snow.
Similarities with late January 2006 SSW
There have been comparisons between the current SSW with the SSW on 25th Jan 2006, as the SPV was displaced towards Europe (by similar wave 1 displacement) then split in a similar fashion, while like the current SSW that occurred to start this year, 25/01/2006 SSW was at similar passage through phase 5 of the MJO like the one started a week ago.
The tropospheric pattern wasn't entirely different back in late Jan 2006 either over the UK, more amplified perhaps, but with high pressure close or north of the UK allowing late month cold and a little snow for some too. High pressure stayed close to the UK into early February keeping chilly conditions before turning more westerly mid-month, like we are seeing in the charts after this week, then after the 20th Feb 2006 it turned more blocked and cold, conditions that lasted right through March 2006 too. So, shows that SSW impacts, though slow to influence the troposphere to start, can have long term impacts on weather patterns too!
Conclusion
So, with what I've discussed in mind, there looks like there may be a pattern change to bring an increased likelihood of much colder weather later this month, perhaps starting from the 20th, but more likely within the last week of the month. However, there is uncertainty how cold it will get, for how long and where it may snow. Current model output today is hinting at a much colder/blocked pattern after the 20th-22nd: