Tuesday
Tuesday will be mostly cloudy, mild and windy, with band of heavy rain moving slowly east across northern and western areas through the morning, accompanied by a strong to gale force southerly wind, before the wind and rain slowly reaches eastern England through the afternoon or early evening. Brighter and less windy weather following across the west in the afternoon, though a few showers are possible, especially towards western coasts. Rather mild, temperatures reaching 9-10C in the east, 10-12C in the west.
Wednesday
The cold front bringing Tuesday's rain will move on eastwards taking its rain away from eastern areas in the early hours of Wednesday to leave many with a mostly dry start to Wednesday. There maybe some showers from the word go across southern and southeastern counties of England, but for many eastern areas it's looking a mostly dry and bright or sunny day. However, with low pressure close to the northwest of Ireland, showers will spread east across Ireland, N. Ireland then over the Irish sea to affect far SW of England, Wales and western Scotland. A cooler day, temperatures reaching 6-7C in the north, 7-10C in the south.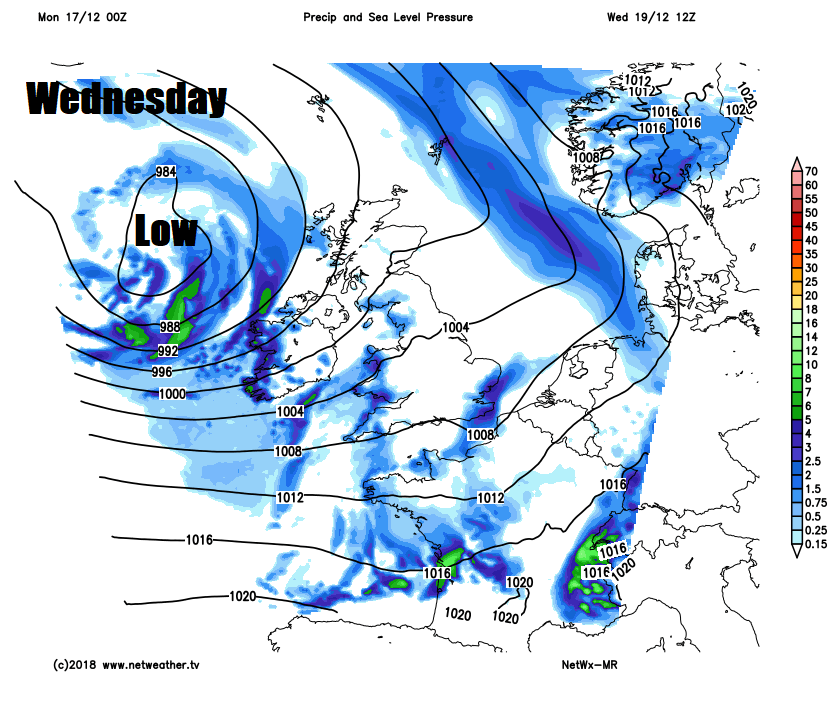 Thursday
Low pressure close by the northwest on Thursday, so breezy with sunny spells and showers, these mostly towards the west, though anywhere at risk of a passing shower. Temperatures reaching 7-9C generally, perhaps 10-11C across the far south.
Friday
Some uncertainty by Friday, with models differing in track of a low and associated fronts moving east across the UK, but it looks like a spell of wind and rain moving east to affect parts of England and Wales, and also maybe affecting southern Scotland too, though most of Scotland could stay dry and bright.