Storm Deirdre, named by Met Eireann last night, will bring severe wintry weather from the Midlands northwards today, with a disruptive mix of snow, gales, ice and freezing rain, with rain and strong winds affecting elsewhere. All of this on one of the busiest weekends of the year. Two Amber Warnings across northern England and Scotland were issued yesterday by the Met Office ahead of the storm being named, one for ice and one for snow, with a Yellow Warning for snow and ice across much of central and northern Britain. Other warnings are in place for wind and rain across SW England, N. Ireland and the Northern Isles too. So all-in-all, not a good day to be travelling, especially in the north, with a risk of freezing rain and heavy snow causing treacherous and potentially dangerous conditions in places later today.
Today
For now, eastern Scotland and northern England, away from western coasts, are off to a clear but cold and locally frosty start, however it will be a rather different end to the day here. Cloud and outbreaks of snow are already moving in across parts of western Scotland and spreading across the central belt, while further south it is a cloudy and increasingly windy picture with outbreaks of rain, preceded by a little sleet or wet snow, are moving in across the island of Ireland, Wales and southern counties of England. Gales are developing across the west, gusting between 40-50mph around coasts, up to 60mph with exposure.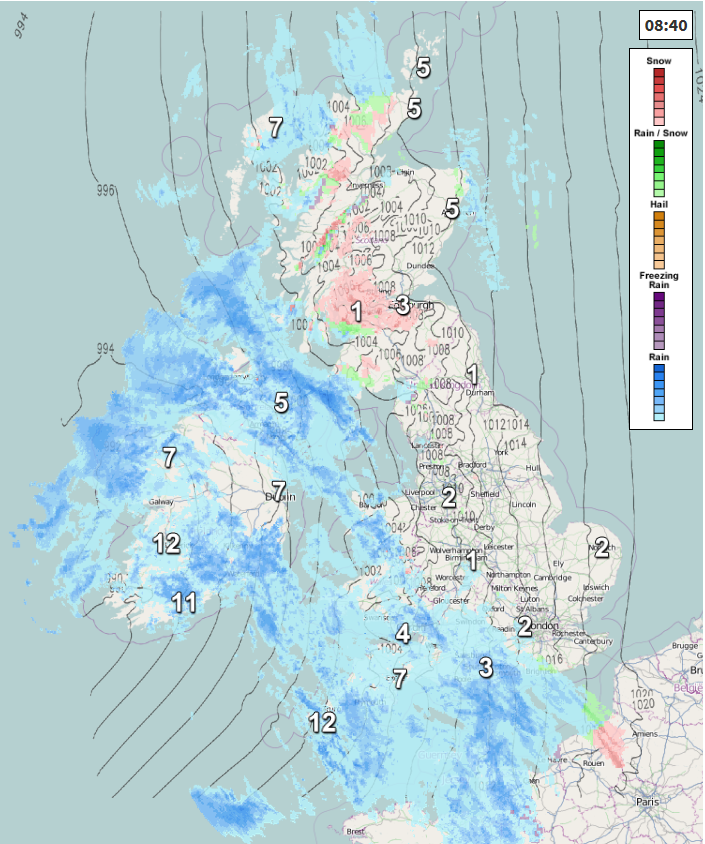 Outbreaks of rain across southern and western areas will intensify towards the west through the morning and into the afternoon, with locally up to 50mm falling by the end of the day across parts of SW England, Wales and Northern Ireland – this may lead to some flooding and treacherous driving conditions. Strong southerly winds will gust to 50-60mph locally, especially over hills and around coasts.
The rain, locally heavy, will progress northeastwards across many parts through the day, perhaps a little sleet or snow preceding it across southern and eastern England, but turning to snow and staying as snow through the afternoon and into the evening across inland parts of northern England and Scotland. The snow will turn increasingly heavy into the evening and with the strengthening south to southeasterly wind reaching gale force, blizzard conditions may develop, particularly over higher ground. 5-10cm are possible widely, locally up to 20cm and as much as 40cm over higher ground. This will likely cause travel disruption, with power supplies also affected by the combination of snow and strong winds.