The general theme for the next 7 days is for the Low Pressure to edge in across Western areas of Europe, with the High Pressure retreating further east largely over Russia and Eastern Europe.
Alps overview and temperatures
The Easterly over the Alps is set to continue over the start of the weekend and with remaining largely dry with High Pressure towards the north remaining in control. 850HPa temperatures -8c to -10c in Eastern Austria, -4c to -6c in Central areas, up to +3c in the South Western parts of the Alps.
For Sunday, Low Pressure edges in from the West, with some precipitation for the Western half of the Alps, turning milder across the Alps with Southerly to South Westerly winds. 850Hpa temperatures between +2c to -4c.
For Monday and Tuesday a ridge of high Pressure is set to quieten things over the Alps with any residual precipitation from the weekend quickly fading. 850HPa generally between 0c and -2c Monday, slightly milder for the far South West and colder for Austria. Milder on Tuesday for NW areas 850HPa +4c to +6c with a potential foehn wind, colder further South and East -1 to -3c here.
For Wednesday to Friday, Low Pressure from the Atlantic will attempt to edge in at times, this is likely to bring in some precipitation more likely for Western areas, with Eastern areas remaining mostly dry. 850Hpa Temperatures likely to be remain around freezing for the most part, generally 0c to +2c on Wednesday, -1c (Austria) to +2c on Thursday, -2c (North of Alps) to +2c (South of Alps) on Friday.
Precipitation –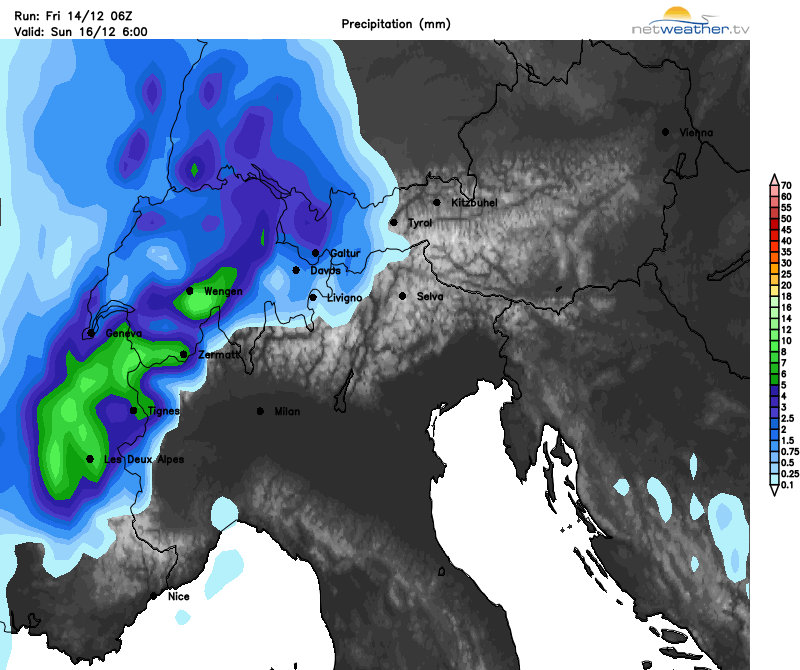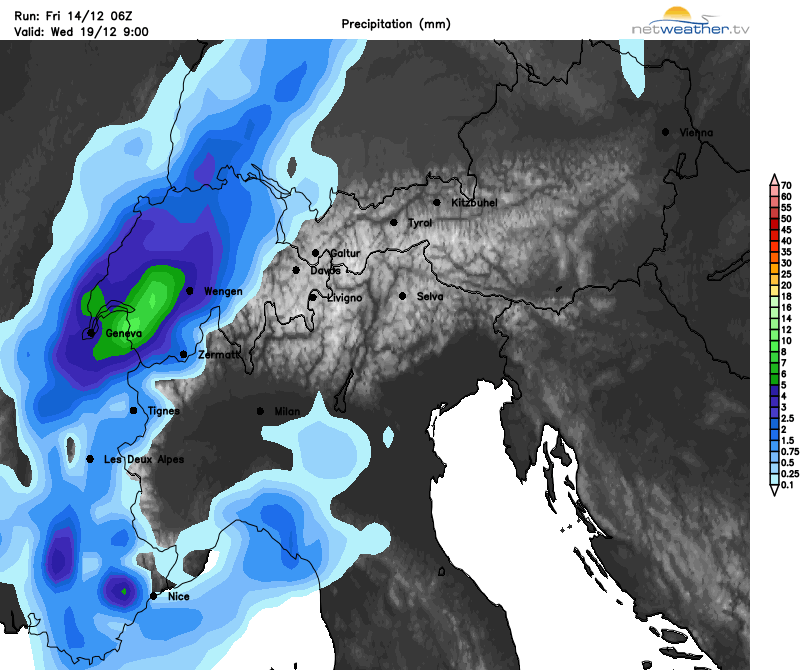 Sunday 16 December – Precipitation spreading in from the West for much of French Alps, Switzerland SW Germany and perhaps Western Austria. This slowly fading and edging South Eastwards later for S Switzerland, W Austria, French Alps and N Italy with some moderate precipitation expected later.
Monday 17 December – The precipitation edging further South Eastwards and becoming patchier as the day progresses and dry by evening and for Tuesday.
Wednesday 18 December – Precipitation spreading in from the West for the French Alps, N and W Switzerland and SW Germany, heavy at times for the morning but generally fading away during the day, with some precipitation over central areas of the Alps by evening.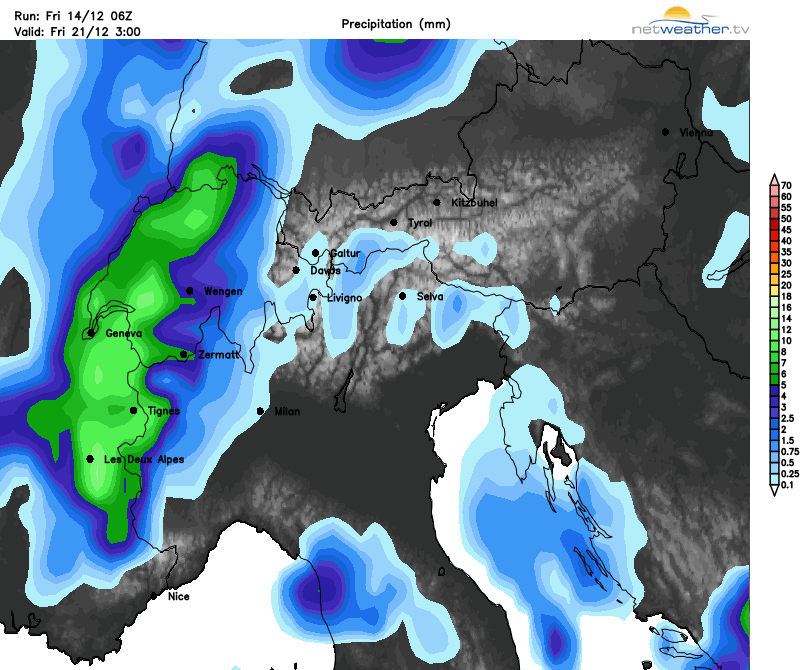 End of week – Thursday sees residual precipitation for Eastern parts of the Alps, for Friday another band of precipitation expected from the west, likely to move East and fragment as it does so.
Snowfall –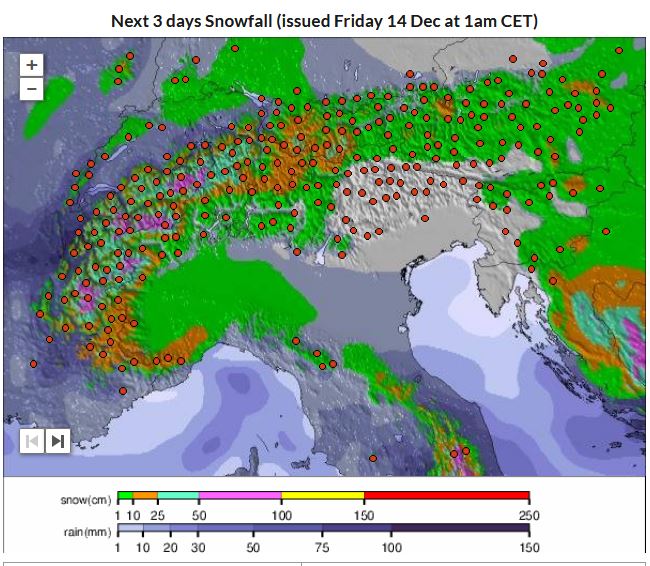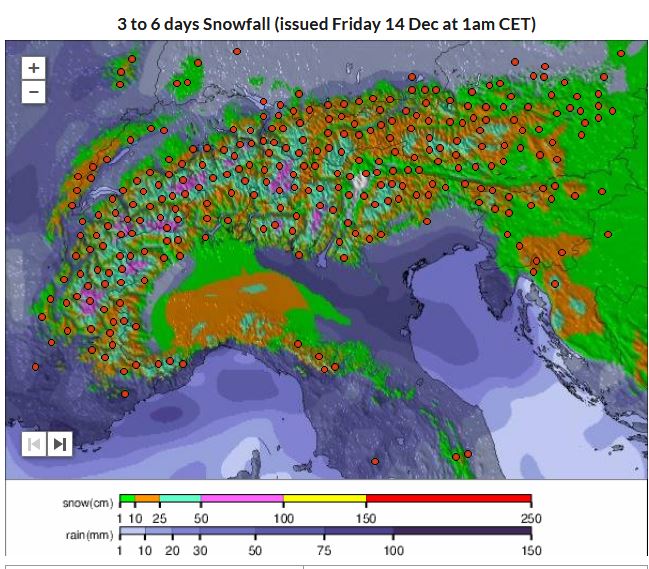 https://www.snow-forecast.com/maps/dynamic/alps
Looking at the expected snowfall charts, 25-50cm of snow is possible is some western areas over the next 3 days and over 50cm locally. With 850Hpa close to or above freezing, above 2000m it is largely a snow event, 1750-2000m mostly snow, 1250m-1750m a rain/snow mix, below 1250m a largely rain event, apart from late Sunday onwards.
Looking at the day 4-6 expected snowfall charts, 25-50cm of snow is possible is some western and central areas and over 50cm locally. Snow seems is likely to a lower level generally, with over 1500m a snow event, 1250-1500m mostly snow, 900m-1250m a rain/snow mix.
Summary
A mixed week but with decent further snowfalls above 1500m for Western and Central areas, drier further East but with colder temperatures so the snow machines should be in operation here.