We have some snow later in this forecast as a Scandinavian high begins to give way to advancing Atlantic systems, but the snow into the coming weekend will be a transient affair. It could cause a few problems for a while though during Saturday, mostly over hills and in the North and East, before milder air returns from the South West.
Apart from a few showers over North East Scotland wintry on hills and some patchy rain this morning over the Channel Islands, Isles of Scilly, Cornwall and across the West of Northern Ireland much of the country will be dry today, with the showers in the far West tending to peter-out. Central and eastern areas, in particular, are waking to a frost that'll clear in a day that'll see variable amounts of cloud, but with some sunshine in most parts. Across the far West though and over Northern Ireland, there'll be more cloud, although towards Belfast, in particular, you should see some hazy or watery sunny intervals coming through later.
An East or South Easterly wind will be moderate or fresh locally strong in the West and in exposed areas and will feel increasingly raw. As a result, temperatures will get no higher than a cold 4 or 5C in central and eastern regions and 6 to 8C in the West making it less mild here than of late.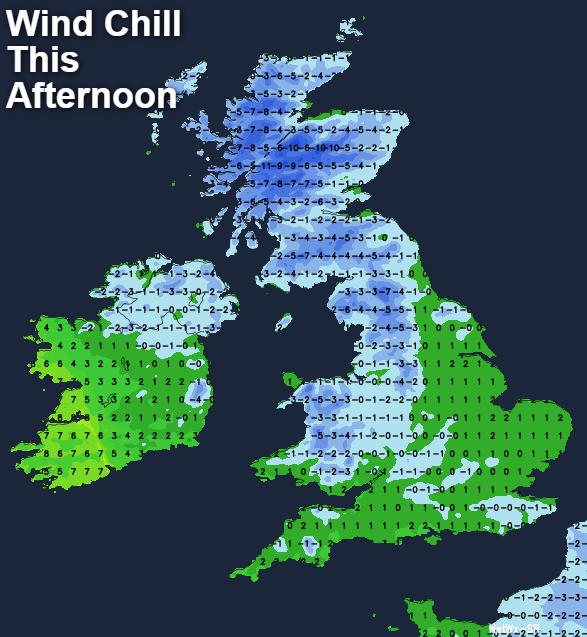 While cloud amounts will continue to vary, there'll be clear spells after dark leading to a fairly widespread and penetrating frost. With an easterly wind somewhat lighter, a few mist patches could form in sheltered rural valleys, as temperatures fall to between -2 and +2C. In the far West and towards Tyrone and Fermanagh any frost will be patchy due to more in the way of cloud and a fresher South Easterly wind. A few showers are still possible over Cornwall, the Isles of Scilly and the Channel Isles, but for the bulk of the country, it'll be dry evening and night. Lowest temperatures in the West 1 to 4C, but 5 to 7C across the far South West.