The start of this week has seen a lull in proceedings after a busy, often wet and windy start to December. Despite the quiet weather on the ground though, quite the battle is ongoing in the atmosphere at the moment, with high pressure, which is trying to build into Scandinavia doing what it can to repel Atlantic weather systems trying to push in from in from the west.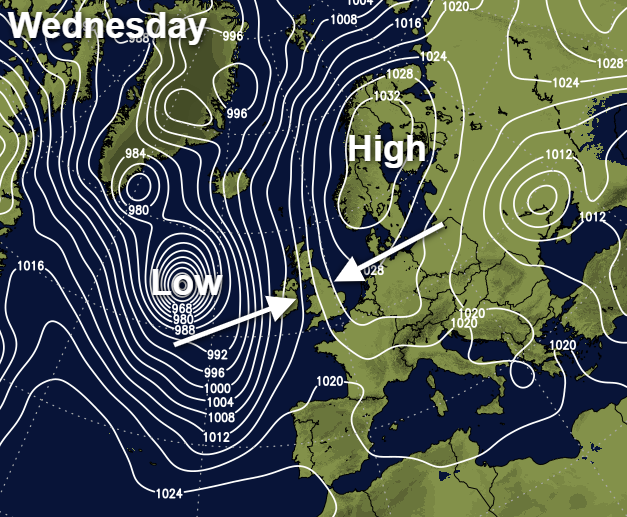 By Wednesday, the high will be in situ, and the fight will be on. Initially, the blocking high will win out - but some rain will make it into Ireland and the far west of Britain. By the weekend though, the Atlantic looks set to break through and take us back into a spell of very unsettled weather.
For today, we're set mostly fair. There's a lot of cloud in central and western parts, but further east there will be some sunny spells breaking through. Rain will be edging into the west of Ireland as the day wears on though, some of it on the heavy side, as the first, ultimately unsuccessful attempt from the Atlantic moves in. Temperatures will be quite chilly in eastern regions, with highs of 6-8c, milder further west though at 9-11c. There'll be a fresh, southeast wind everywhere, becoming quite gusty as the day wears on.
Overnight, the west-east split continues with the band of rain continuing to edge further east. The cloud from that will keep temperatures up in western and central regions, but further east with clearer skies there will be some frost and fog about by dawn.