Last week was really unsettled as wind and rain barrelled in from the Atlantic. This week high pressure tries to steady the UK weather but can't hold on properly. So, there will be spells of dry weather with lighter winds but still a few rain bands managing to work their way in from the west. Later this week, a colder tuck of air will reach in from the North Sea.
This morning the north-eastern half of Britain has a chilly start with frost with inland temperatures around zero. Northumberland and Perthshire have been down to -3C overnight. There is a central band around 4C as is Northern Ireland and then for SW Britain it is still mild enough at 7 or 8C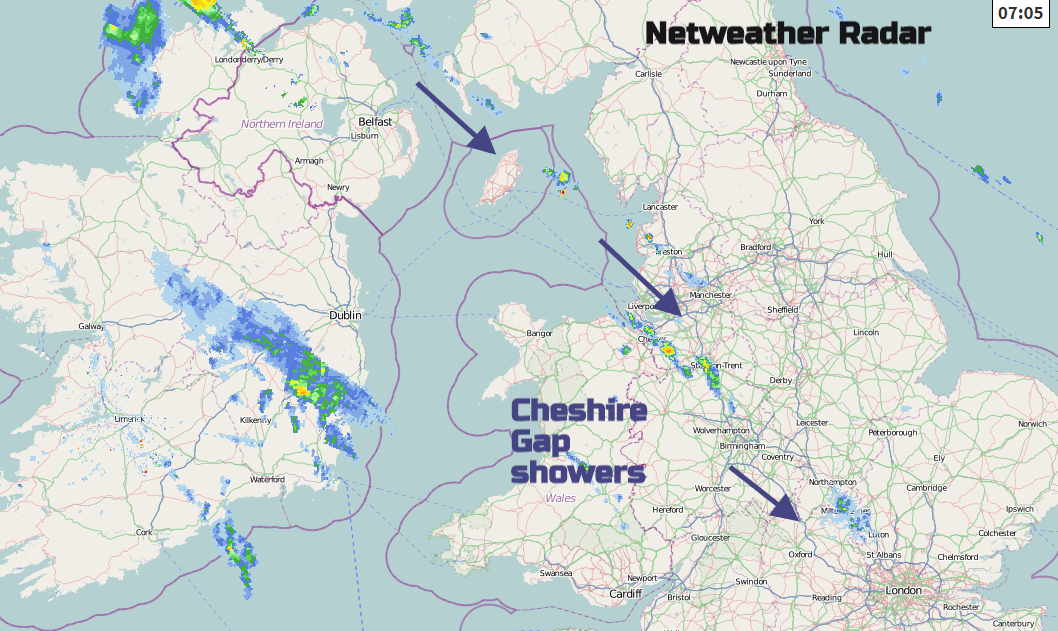 Today looks dry for most of the UK. There are just a few showers showing on the radar, lining up tthroughthe Cheshire Gap in the NW wind and reaching down to north London. Northern Ireland will also see a few showers today, but most places will be dry and fine with increasing cloud. For Britain, there is plenty of sunshine to start the working week with more cloud along the shower line.
So, a quiet fine start to the week with mostly light winds. A light to moderate NW wind for Kent, Essex, Norfolk and Suffolk. Temperatures will reach 7 to 10C for England, Wales and Northern Ireland, maybe 11C for the south coast of England and around 4C for much of Scotland.