Monday
So, a cold but sunny start on Monday morning for the commute or school run, perhaps locally frosty and icy in the north and east. Generally, it will stay dry and sunny or bright throughout the day, sunshine turning hazy in the west, thicker cloud spreading in across Northern Ireland and western Scotland bringing some patchy drizzle through the afternoon. Temperatures reaching a chilly 4-7C in the east, a milder 8-12C in the west.
Rest of the week
The rest of the week will see a battle between milder Atlantic air from the southwest trying to push east and colder and drier continental air trying to push west over the North Sea. Where the boundary between these two different airmasses ends up through the week remains a little uncertain.
Tuesday is likely to be rather cloudy and murky across many areas, though mainly dry in the east. Low cloud and patchy drizzle will affect western hills, before a band of more general rain spreads in from the west across the far west in the evening. Chilly across the east – where temperatures will reach 4-7C at best.
Possible frontal battleground snow later in the week? (Not to be taken literally, as probably will change)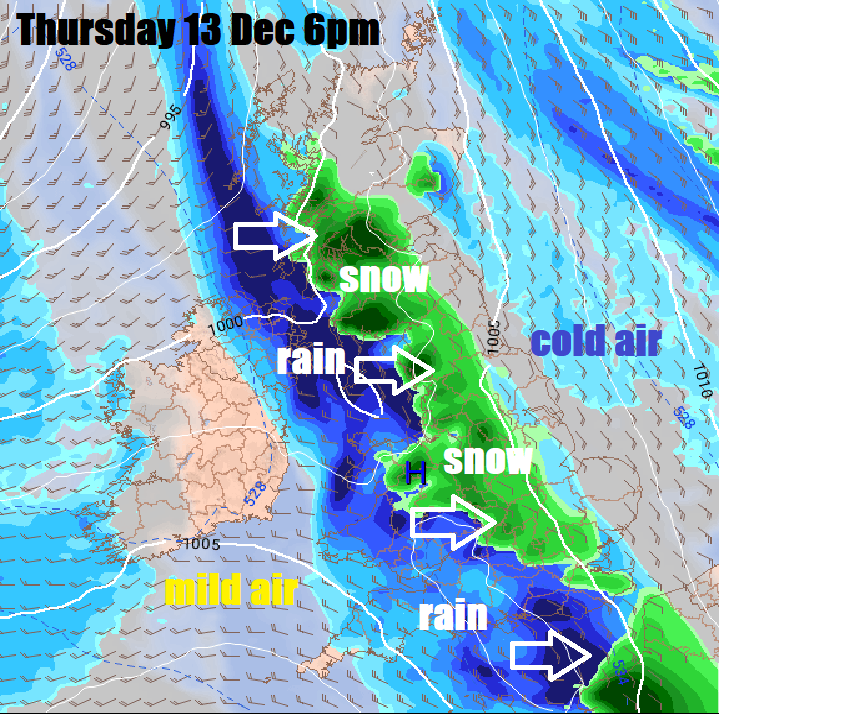 Wednesday likely cloudy again in the east, with a band of patchy rain reaching eastern areas in the morning before fizzling out. Brighter and drier conditions spreading in across the west. Some uncertainty on detail thereafter, but another Atlantic front with a band of rain tries to push east on Thursday, uncertain how far east, but may turn to snow, more particularly higher ground in the north, as it bumps into colder air across the east. Atlantic frontal systems eventually winning out by Saturday, spreading rain across all parts, perhaps preceded by a little snow before turning to rain, followed by milder air from the southwest.