It's been often wet and windy over the past week, thanks to a strong Atlantic jet stream aimed at the UK, bringing a succession of low pressure systems. However, we will see a change in the jet stream which see it buckle north across the UK as we start the new week, allowing a ridge of high pressure to build north bringing calmer and more settled conditions that will last until mid-week, when we will start to see Atlantic fronts push in from the west. However, there is increasing uncertainty how far east the fronts will get as high pressure builds close to the northeast over Scandinavia, which will try and introduce cold air across the east too.
Today
For now, we still have some showers this morning moving down across England and Wales on a strong northwesterly wind, though northern England is turning drier and brighter. Across southern coasts and particularly southwest England the westerly wind is reaching gale force with 45-55 mph gusts. Scotland mostly dry and bright this morning, though a few showers affecting the north that will fall as snow over higher ground. With lighter winds here, it's a cold start too, with temperatures not far off freezing to start, so a risk of some icy patches to watch out for.
Morning showers clearing the south to brighter conditions, but chilly in the northwesterly wind
The north to northwesterly wind will bring down colder and drier air from the north, which will chase away south the morning showers to bring a drier and sunnier afternoon for many, though some isolated showers will affect northern and western coastal areas at times. A noticeably cooler day given the change in wind direction, particularly in the north, temperatures reaching 6-9C in the north, 9-11C in the south.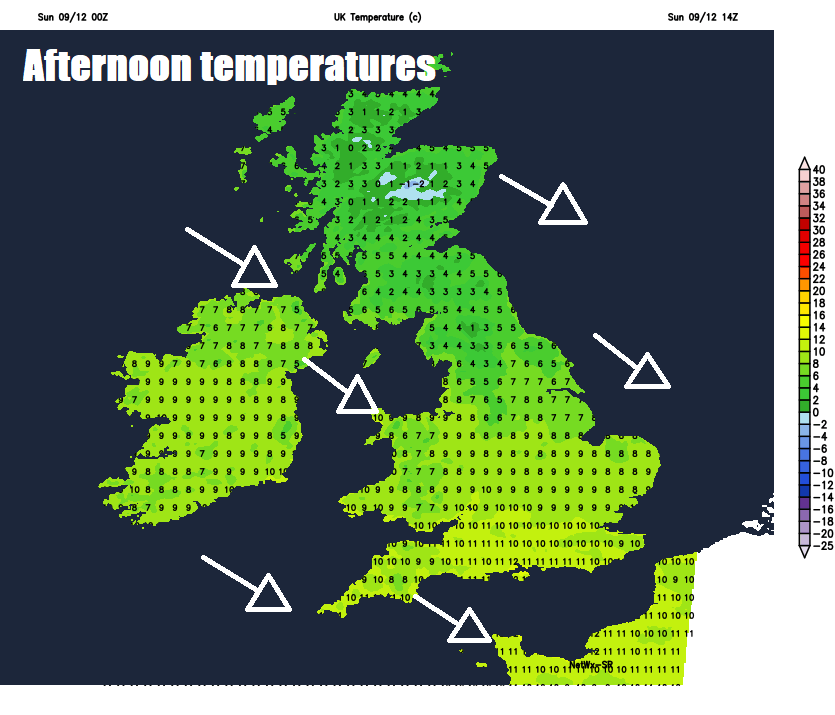 Tonight
Generally clear skies and light winds tonight away from western coasts, where there'll be isolated showers, will mean temperatures fall away in the cold polar airmass, temperatures dropping to low single figures in the south, perhaps locally close to freezing, but it's across Scotland and northeast England where the lowest temperatures will be, falling one or two degrees below freezing in some spots. So a risk of icy patches forming where wet surfaces linger.