Low pressure remains in control to start the week, so Monday will continue the weather theme of the weekend of sunshine and showers, which will today be heaviest and most frequent in the west, fewer in the northeast. The rest of the week is looking increasingly settled away from the northwest, thanks to the increasing influence of high pressure over continental Europe, but remaining very mild. Tuesday will bring dry and bright conditions after early showers fade, before rain moves in across the north and west Tuesday night and continuing here through Wednesday, the south staying dry. Further rain in the far northwest on Thursday, dry and rather mild elsewhere. Then a dry end to the week for most, as high pressure gains more influence across all parts.
Today
For now, western areas and southern counties of England have seen showers from the word go this morning, bringing a rather grey and damp start to the day here. Much of central and eastern England along with eastern and far north of Scotland off to a dry and bright start though, chilly in the far north and northeast too. Generally mild and breezy elsewhere though, gales along western coasts.
A brisk south to southwesterly wind will blow showers further inland at times across many parts through today, always heaviest and most frequent across the west and along southern-most counties of England – where they may produce hail, gusty winds and even the odd rumble of thunder. Eastern areas of England and far north of Scotland sunniest and most likely to escape most the showers. Highs today ranging from 10-12C in the north to 12-14C in the south, above average for the time of year.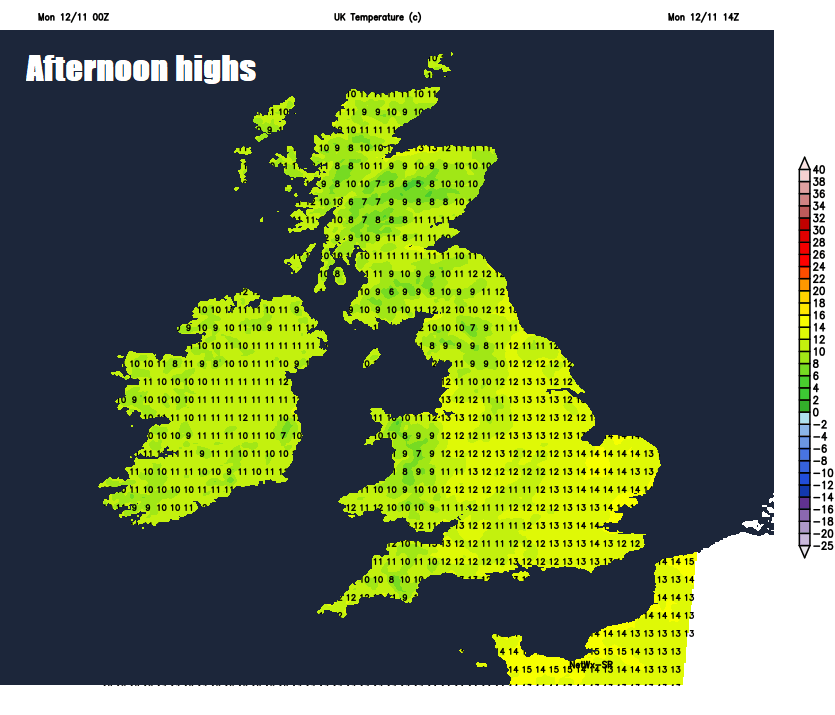 Tonight
Blustery showers continuing through the evening and overnight away from eastern England and far north of Scotland, before showers tend to ease and become increasingly confined to western and southern coastal areas by the end of the night, allowing increasing clear spells to develop.
Tuesday
Perhaps some showers across the west and south at first, before they fade through the morning, to leave most areas with a drier and brighter afternoon, though a few showers could continue across western coastal areas. A mild day and with lighter winds feeling pleasant in the sun, temperatures reaching 11-12C in the north, 12-15C in the south. Wet and windy conditions spreading in off the Atlantic across Ireland, Northern Ireland and far northwest through the evening.