With winds from the South or South West it'll remain generally mild over the next few days and into the coming weekend, but unsettled and very windy at times. This no doubt will prompt more yellow warnings of severe gales and heavy rain particularly tomorrow for the West, that'll lead to further flooding especially across Northern Ireland.
For East Scotland and the far North East of England it's been a chilly start, with a ground frost and a few fog patches first thing in some sheltered rural valleys and glens, but sunny spells this morning will soon lift temperatures.
Much of eastern England will stay dry today with sunny spells, but a few showers are expected, so keep that umbrella handy. You'll certainly need a brolly over Scotland at some time as a band of rain moves North across the country before finally 'petering-out'. We already have some showers this morning over the South West, Wales, the Midlands and central southern England, with North West England, Wales and the South West most prone to showers through the day, where some will become heavy and blustery giving hail especially in the South. Northern Ireland after a fine start also sees a few showers particularly later over Antrim and Down that could also be heavy.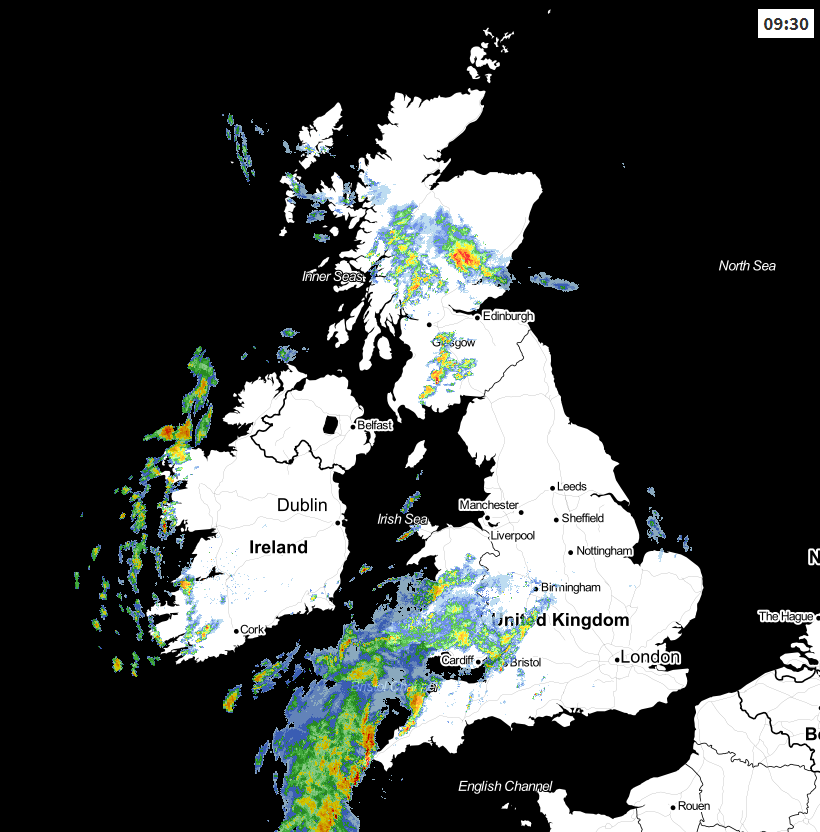 View the latest radar here.
The South West or southerly wind will be mostly moderate or fresh, but strong at times in the West, where gusts to gale force are likely over exposed coasts and hills and in the heavier more squally showers. It'll end up a mild day though everywhere, with top temperatures 9 to 11C in the North and 12 to 14C in the South and East.
Although not entirely settled with a line of showers some heavy at first through the South West, Wales, North West England, parts of Scotland and perhaps Antrim and Down, elsewhere apart from the odd shower it should become mainly dry after dark. Skies will break in places to perhaps give a few clear intervals in somewhat lighter breezes across eastern England for a time. Later in the night, a southerly wind will be freshening again across Northern Ireland and in the far West, ahead of more approaching Atlantic systems. Although perhaps turning a little chilly in some eastern areas for a while, pockets of ground frost are less likely with minimum temperatures mostly in the range 4 to 8C.
Friday becomes increasingly wet and windy in the West, with heavy rain moving into Northern Ireland through the morning giving some large totals, renewing the risk of further flooding here.