Scotland and later Northern Ireland see a cold front bringing some rain, initially to the North and West but other parts later as it works its way from the North West. There'll be some heavy bursts in the North and West with the rain mostly lighter and more patchy elsewhere. Later in the night skies will be clearing from the North in a mostly moderate or fresh Westerly wind, with minimum temperatures mostly in the range 3 to 7C.
Sunday sees that now weakening front moving into northern England and later Wales and the Midlands. On it though will be nothing more than a band of cloud and the odd light shower, with the North of England seeing some sunshine to end the day. Further South it'll be fine and dry again with sunny spells, once morning mist and patchy fog have cleared.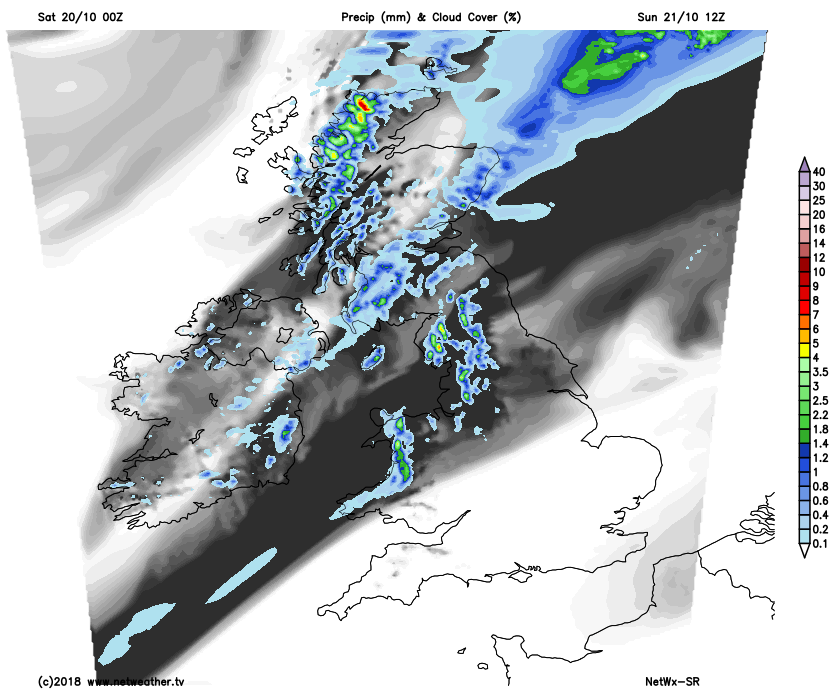 Winds'll be mostly light Westerly, with top temperatures 16 to 18C in the South and 12 to 14C further North. After some patchy rain towards Lothian and The Borders at first, Scotland and Northern Ireland are finer on Sunday with sunny spells. Apart from a few showers in the North, it'll also be mainly dry, but it'll feel chilly in a North West to West wind that 'll be fresh across the Northern Isles, with temperatures getting no higher than 9 to 12C.
Patchy cloud moves into southern England into the evening before clearing overnight, then apart from a few showers over North Scotland where it'll be breezy, most parts are dry with clear spells. A few mist patches may form in rural areas where a touch of grass frost is possible where you have shelter from a mostly North Westerly breeze, with lowest temperatures mainly in the range 2 to 6C.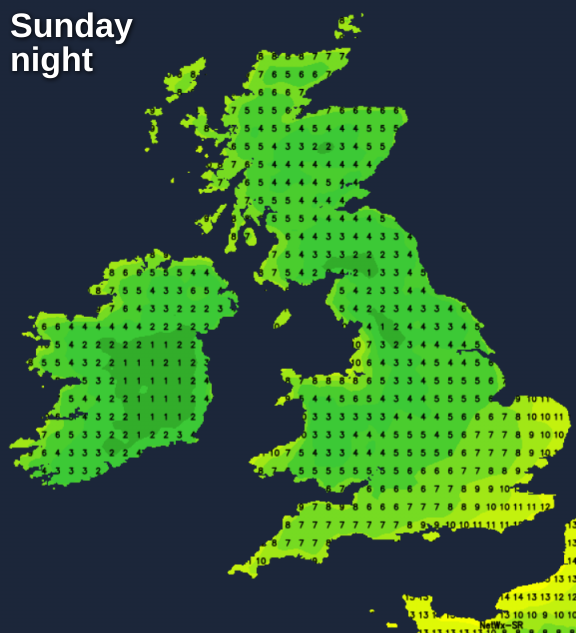 Pressure builds again early next week, giving England, Wales and much of Northern Ireland lot of dry, fine weather once more. Scotland particularly the North tends to be breezier and occasionally more unsettled, with the hint of the weather turning colder from the North later or into next weekend.