For much of England and Wales the winds will be light. Just along western coasts will the breeze from the north or NW make it feel a bit cooler. Northern Ireland and Scotland will feel cooler today with temperatures around 12C and a moderate west to NW wind. By this afternoon there should be bright skies over Wales, the Midlands and sunny spells for northern Britain and Northern Ireland, with a scattering of showers over the far north of Scotland.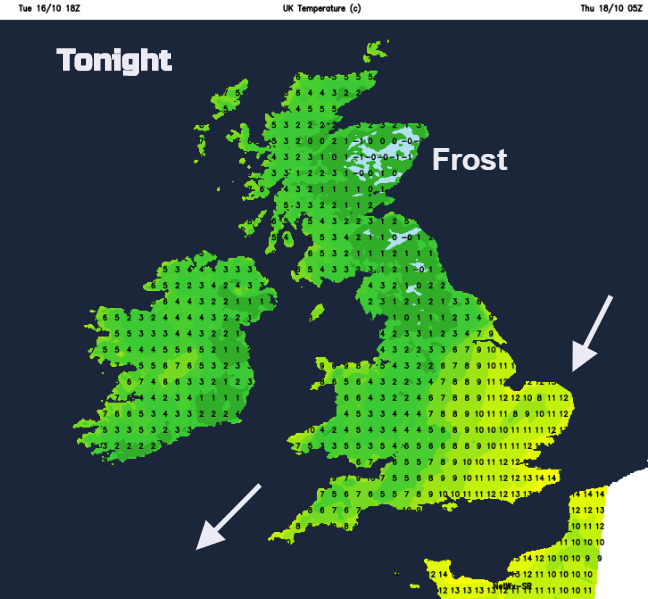 Last night the lowest UK temperatures were around +3 or 4C. Tonight it will be colder. The high takes hold with very light winds, mostly clear skies and fog and mist will appear. The frontal band of just cloud will lurk in the English Channel so cloudy skies remain for southern counties of England and the Channel Islands. This will keep the temperatures up into double figures for SE Britain.
A chilly start on Thursday, with frost in the north. Overall, once any fog patches have disappeared it will be a fine, cool day with temperatures of 12 to 16C a brisk NE Wind over Kent and the Thames estuary and a brisk SW wind for the Western Isles.
Friday brings another cool start but wet and windy in the far NW. A frontal band of cloud and patchy rain will wave over Northern Ireland and Scotland, maybe into Cumbria. Fine elsewhere.
Saturday will feel warmer but stay blustery in the north. A fine day again for many but still damp in the far NW and for Northern Ireland later.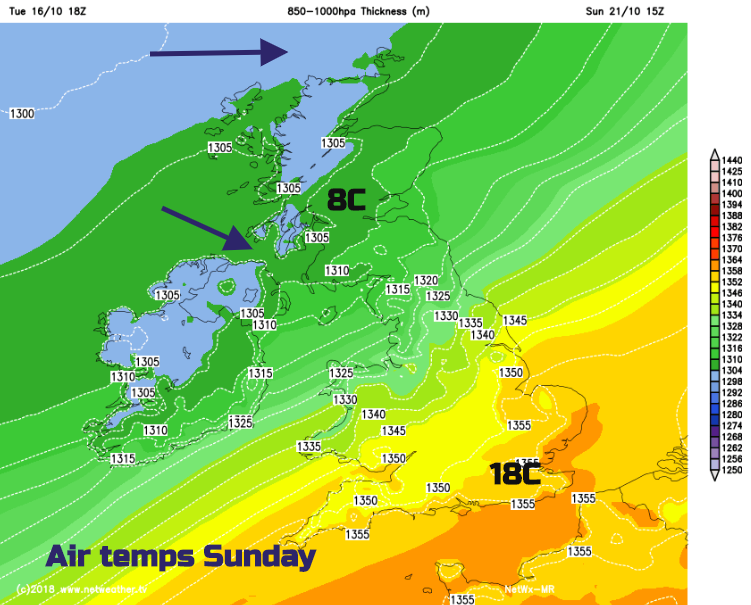 Early on Sunday a more likely set of cold fronts moves in bringing rain from the NW with more cloud and then colder air. This will be a noticeable change for the end of the weekend with NW then westerly winds. Prepare yourself for a colder start on Monday!