Flooding risk as rain continues Friday and Saturday, further disruption likely. Power outages and other services/schools affected.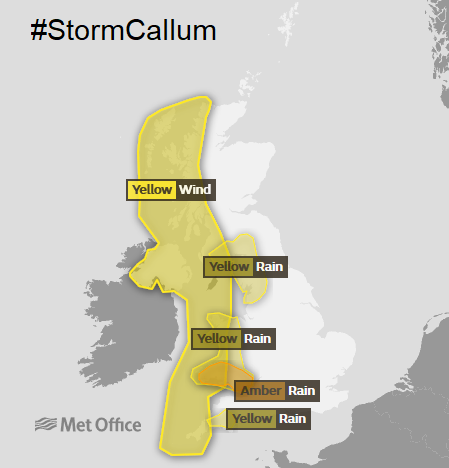 Ireland and western Britain will be affected most by Storm Callum as the low moves by in the Atlantic. SE Britain, London and Windsor will miss the worst of the weather with a mostly dry, warm but blustery picture. Saturday looks potentially very warm, into the mid 20sC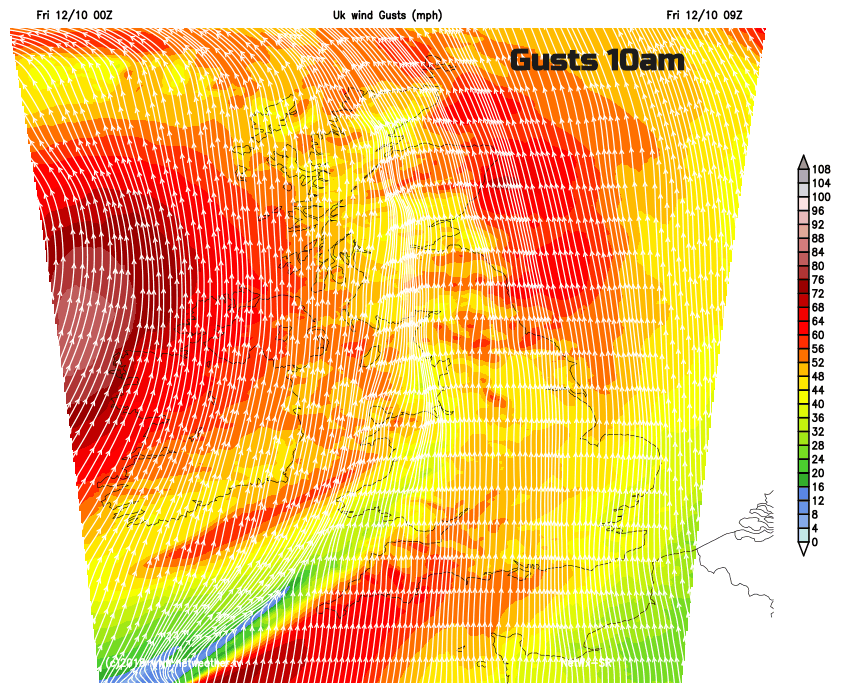 Winds
The isles of Scilly have already had a 76mph, an exposed site. It will be a windy day everywhere but with spells of gales, even severe gales and high gusts. There are yellow wind warnings from the UK Met Office today for Northern Ireland, and western Britain, particularly western Scotland. Met Eireann also have yellow and orange warnings for high winds today. A Co. Mayo coastguard recorded a gust of 90mph out in the bay and the strongest gusts will hit Mayo this morning, storm force southerly winds too along the coasts. This pocket of gales moves northwards and will affect the Western Isles at lunchtime and this afternoon.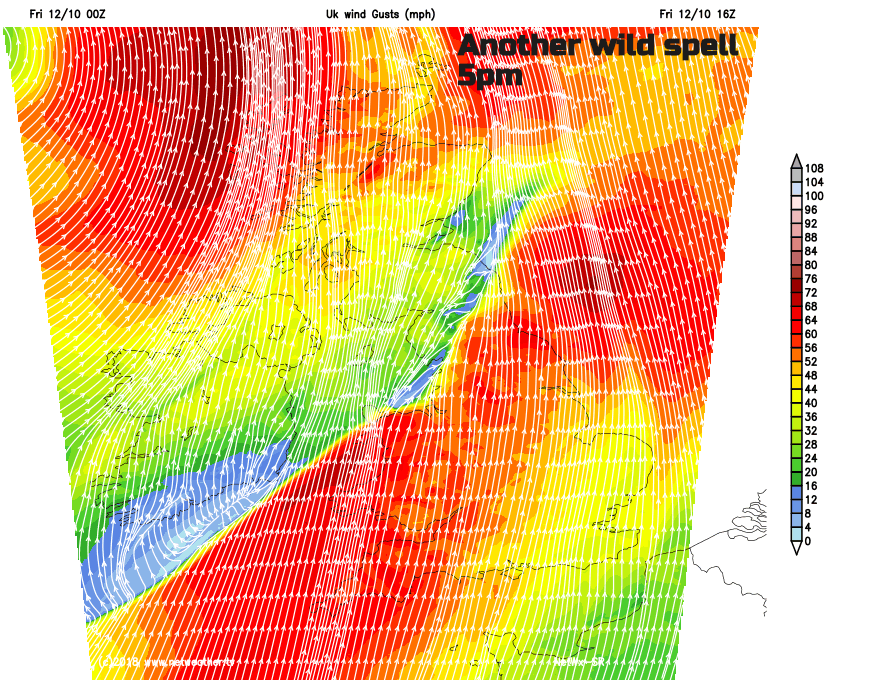 Southerly winds will reach gale to strong gale force today on all Irish coastal waters and on the Irish Sea. Winds will reach storm force this morning on coasts from Slyne Head to Malin Head with a risk of violent storm force for a time. Met Eireann
It's likely that some coastal routes, sea fronts and coastal communities affected by large waves and rough seas as high tides are near their peak.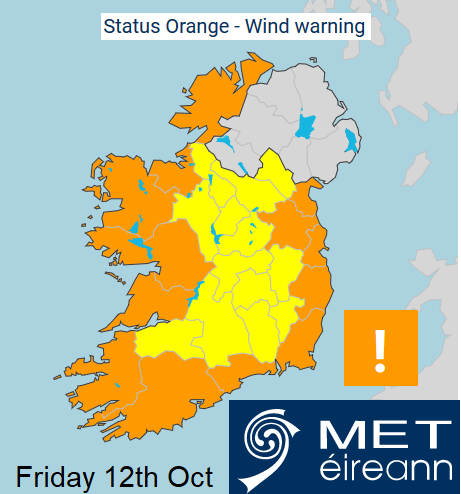 Over SW England and Wales the southerly winds begin to strengthen in the afternoon. It stays wild for the far NW of Scotland, but it will become more windy over northern England by Friday evening rush hour. If you are travelling today, you should prepare for some delays. The stormy weather in the far north clears away tonight as the low pressure centre moves over the Faeroe Islands.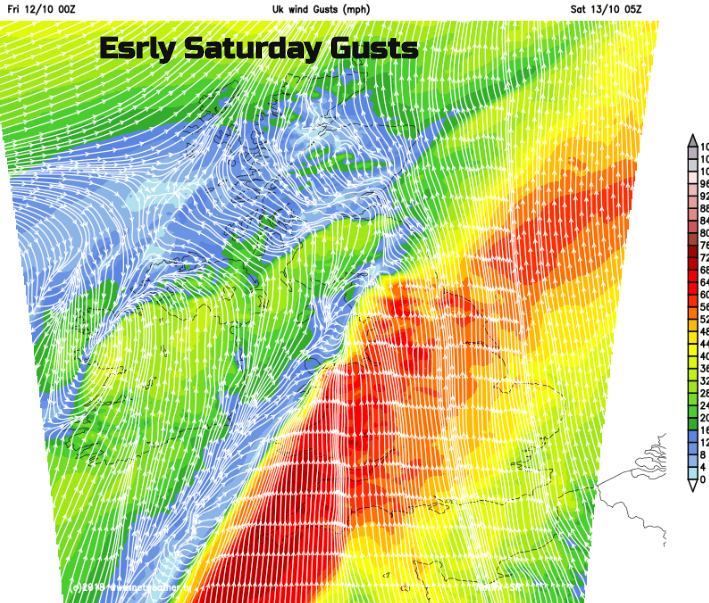 It will still be very windy for SW England and Wales by Saturday morning. Much of England and Wales will be blustery but warm, very warm in the east and SE. Scotland will have had a cooler night, but the winds will have eased although there will be a lot of cloud and rain across the UK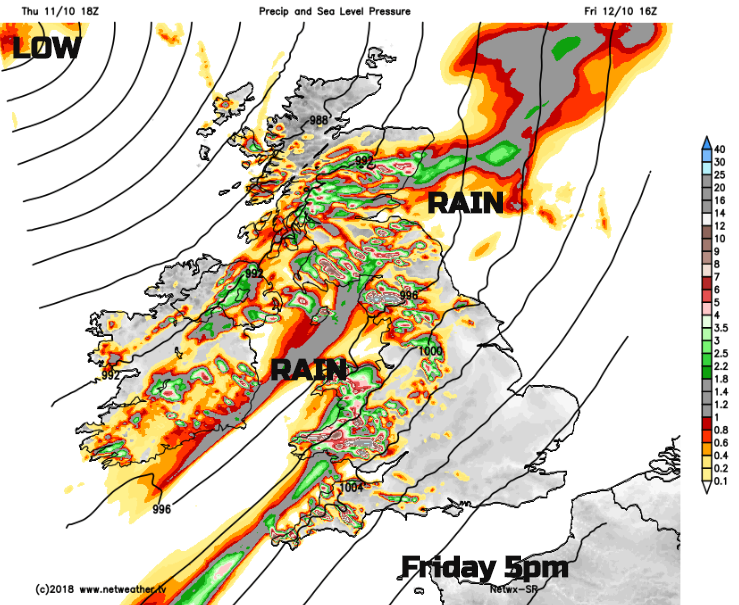 Rain
Driving conditions will be difficult, there is the risk of flooding. "Rainfall totals will reach 40-80 mm widely with 120-160 mm likely over the high ground exposed to the south and south west" Met Office
Prolonged heavy rain is expected across much of the country on Friday and again on Saturday. SEPA is expecting to issue a number of Flood Alerts for much of southern Scotland and the Central Belt over the next few days. SEPA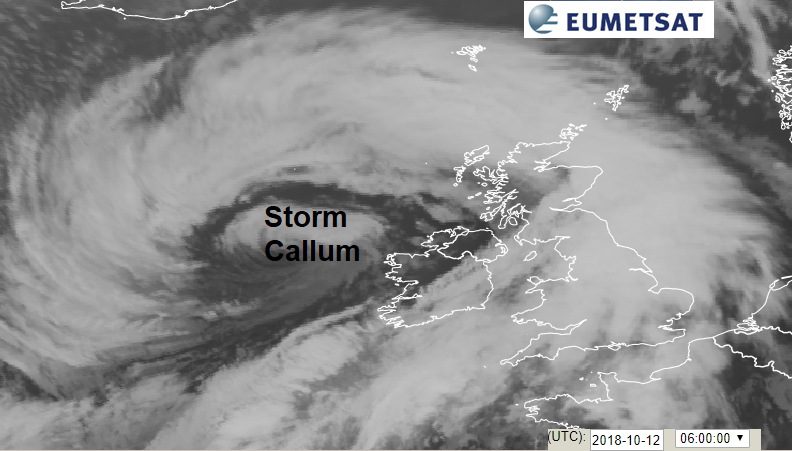 The occluding fronts from Storm Callum have already brought a band of heavy rain across the UK, moving from the SW up over Scotland this morning. Trailing fronts linking from this will bring more and more rain during today and tomorrow. This is causing flooding concerns with over 100m of rain forecast and south facing slopes looking prone to the highest totals. There is an amber warning for rain over southern Wales and other yellow warnings for western Britain. Wales, Cumbria Pennines, Southern Uplands, Moors of SW England are all forecast to see a lot of rain from this.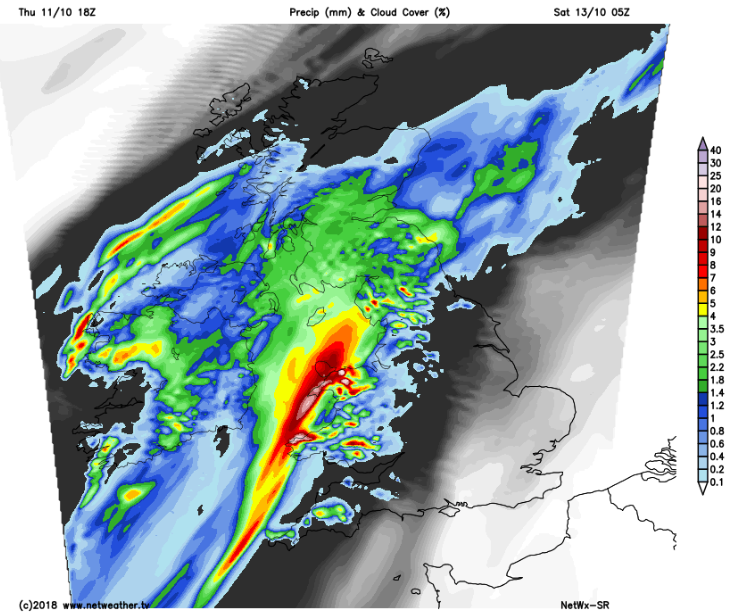 The issue is a continuous feed from the SW of heavy rain. This waving frontal band will sway north and south, but Wales is often right under it.
Widespread flooding from surface water and rivers is probable across south Wales on Friday and Saturday and is possible elsewhere in Wales and parts of western England. Natural Resources Wales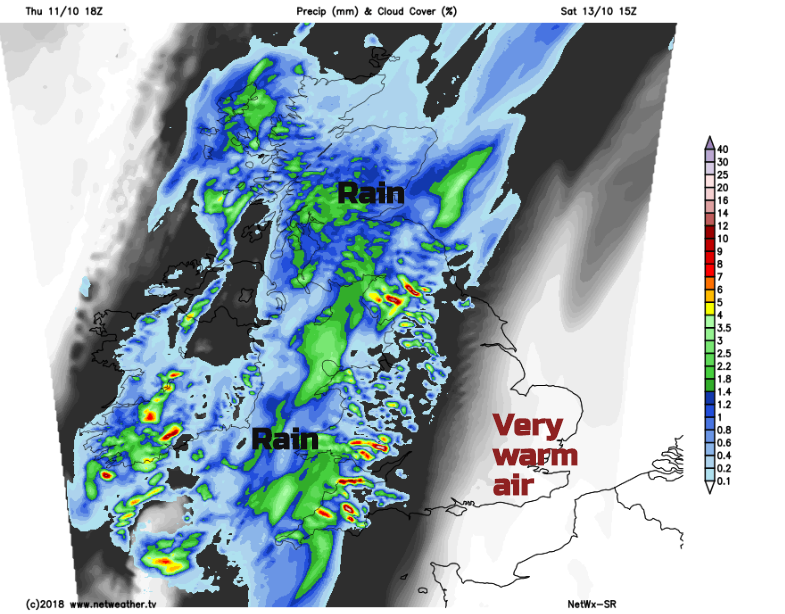 By Sunday it will feel cooler everywhere and the rain will have shifted. So, becoming drier for the soaking areas and cloudy and wet over SE Britain, a real change from the warmth and sunshine of Saturday. The rain band finally clears Kent and Suffolk on Sunday evening. That then leaves a much colder Sunday night with the risk of frost. 26C possible on Saturday afternoon and down to 0C by Monday morning.
Next week looks cooler with spells of wet and windy weather as you would expect for Autumn. However, caught up in a brisk flow across the Atlantic will be what was Hurricane Michael, the one that hit the Florida panhandle on Wednesday 10th and give some extra oomph to our UK weather. Not a hurricane but maybe more stormy weather.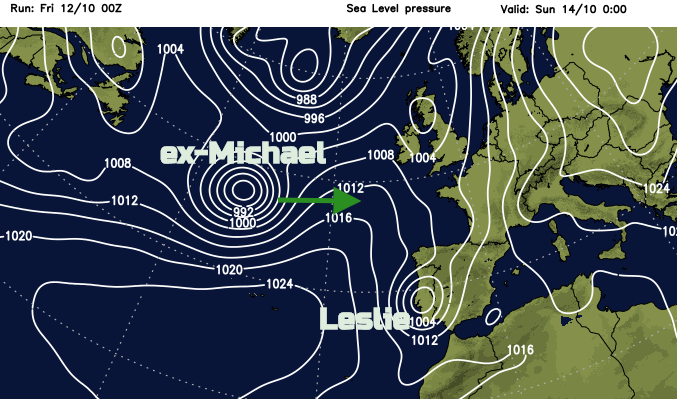 That will be influencing the weather for western Europe by the start of the new week. Low confidence around the forecasts for Monday and Tuesday. Hurricane Leslie, which has been wandering around in the Atlantic for days, maybe also head eastwards. All an interesting mix. Stay tuned
Community forum chat Callum, Michael and Leslie