The latest hurricane to hit the U.S. made landfall across the northeast Gulf of Mexico coast in the Florida Panhandle yesterday as a category 4 hurricane with winds as high as 155 mph, causing widespread devastation across that part of Florida and adjacent parts of Alabama and Georgia. #Michael has now weakened to a tropical storm, as it continues to track northeast over Georgia, with maximum sustained winds down to 60mph. The storm is still expected to bring heavy rainfall and flash flooding as it continues to move northeast across the mid-Atlantic states of the U.S.
Closer to home, although not quite as threatening, there will be a deepening depression, named #StormCallum by Met Eireann, moving northeast to the west of Ireland tonight and to the west of Scotland on Friday. The strongest winds from Callum will be across western Ireland – where gusts of 60-80mph are likely, however severe gales are also likely across the northwest for a time and later developing up through the Irish Sea on Friday to affect western areas of Britain, with gusts of 60-70mph possible for a time.
Today
Yesterday saw blue skies across most of the UK and, with a southerly flow, temperatures soared in the sunshine into the low twenties, the highest official temperature of 24.6C at Northolt in northwest London, making it the warmest October day for 7 years. Still warm today, but not quite as warm or sunny as yesterday, as it will turn more unsettled and windy, as spells of rain spread from the west across most parts by the evening.
The warm and moist southeasterly flow is bringing some fog across northern and western hills to start the morning, while there are some showers affecting SW Scotland, northern and eastern England moving north. Otherwise, it's been a dry and bright start to the morning across many areas, very mild too, with temperatures in the low to mid-teens at dawn.
Showers will continue to move north across Scotland this morning, clearing northern and eastern England to leave much of England and eventually eastern Scotland largely dry with some warm sunshine this morning and into the afternoon. However, further west, a band of showery rain already across Ireland and arriving over SW England, will spread in across western areas through the day, heavy and persistent in places and accompanied by a strong southerly wind.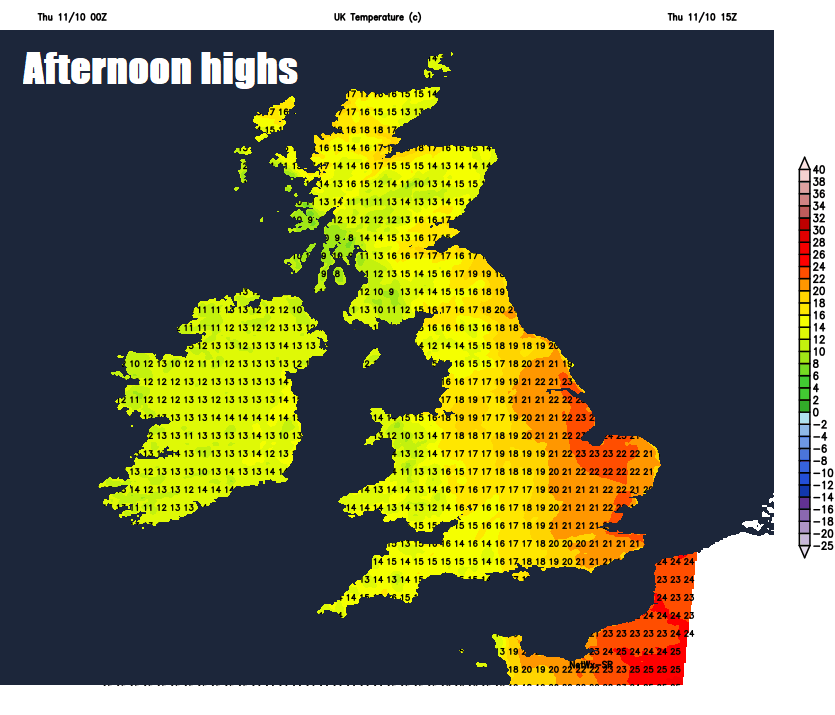 Temperatures towards eastern England reaching 20-21C this afternoon in the sunshine, 16-18C across Scotland, northern England, Midlands and east Wales, turning cooler in the far west as the rain clears Northern Ireland, west Wales and far southwest of England this afternoon.