It will feel summer-like in the sunshine across the south today, with temperatures reaching the low twenties centigrade, but colder air spreading down across the north behind a cold front today will spread south across all areas for the weekend. Across southern and eastern England tomorrow, the weather will be quite a contrast to today, with persistent and perhaps heavy rain and temperatures struggling into the low teens. Brighter conditions in the north spreading to the south on Sunday, but all areas feeling chilly and cloud and rain will return to the north by late afternoon. The good news is it will warm up again and stay generally dry for England and Wales next week away from the far west, while Scotland, Ireland and N. Ireland experience wet and windy conditions at times.
Today
Rain affecting northern areas on Thursday has pushed south with a cold front overnight and is now a band of cloud and outbreaks of rain across southern Scotland, northern England and north Wales, bringing a damp start to the day here. To the north, clear skies chasing south yesterday's rain overnight across Scotland means a chilly start here, with a touch of frost in more rural areas. However, across the southern, central and eastern England along with south Wales – it's a mild and murky start with light winds and some fog patches again, dense in places.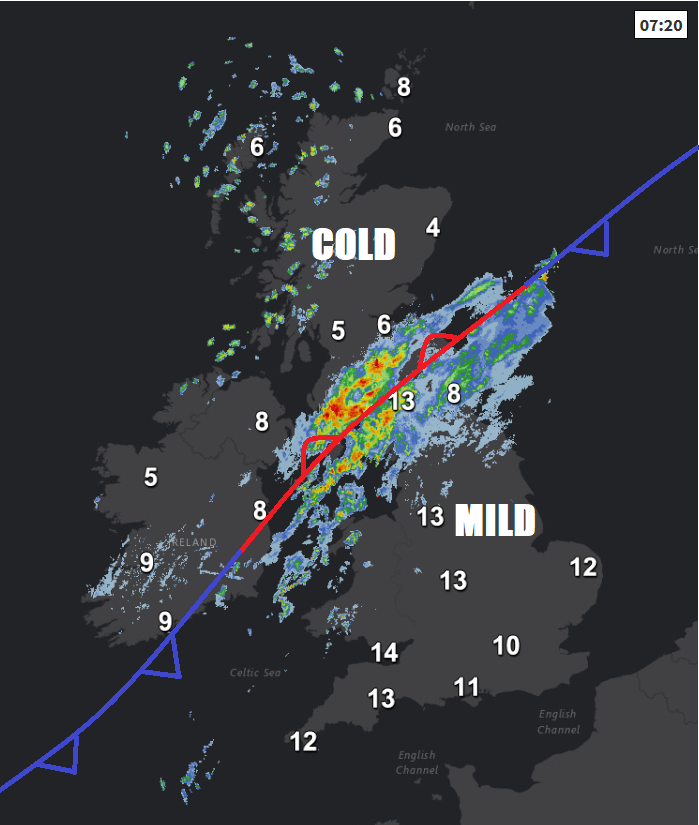 The frontal boundary separating colder air to the north and milder air across southern areas will tend to wriggle around across central areas and not move very far today. So, outbreaks of rain will continue across northern England, northern and western areas of Wales, though the rain clearing southern Scotland through the morning. Dry for southern England and East Anglia, with warm sunny spells developing – once early murky skies with fog patches clear. Scotland and Northern Ireland chilly with sunny spells this afternoon, patchy cloud and a few scattered showers across the west.
Quite a north-south contrast in temperatures today. Across southern England and East Anglia we could reach 20-22C in the sunshine – so feeling more like summer. 15-19C further north and west across England and Wales where it will be cloudier. Across Scotland and N. Ireland to the north of that frontal boundary - a chillier 10-12C at best.