The Daily Express, in true fashion without much to back it up yesterday, proclaimed that: "TROPICAL storm Leslie is set to batter the UK with gale force winds and heavy downpours, with the powerful Atlantic cyclone expected to plunge the country into weeks of punishing early-winter weather."
True there is a hurricane named Leslie way to the southwest in the western North Atlantic and it is forecast to drift eastwards over the Atlantic into early next week.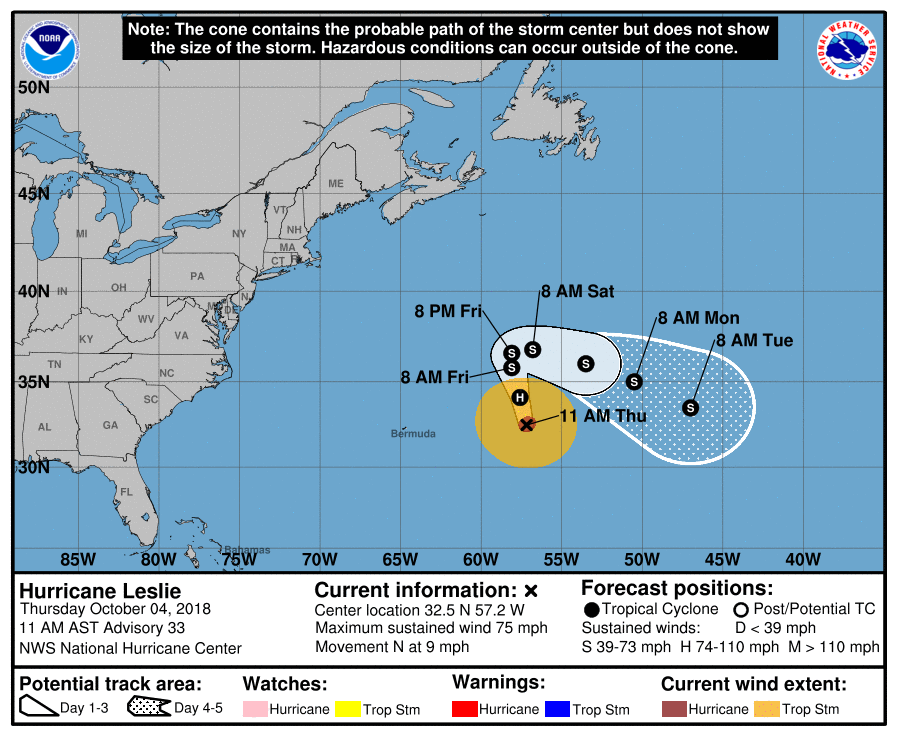 Leslie is the latest and 6th hurricane to be classified in the 2018 Atlantic season, 10 days after forming as a subtropical storm. Leslie hasn't moved much over the past week, meandering over the central North Atlantic with a southward shift over warmer waters – which has allowed the storm to strengthen into a category one hurricane. A northward drift in its track towards the end of this week will take it over cooler waters, weakening the system.
Some recent model runs have shown the ex-tropical remnant low that Hurricane Leslie becomes eventually picked up by the jet stream as it veers northeast next week and loses its tropical characteristics, before tracking northeast across the North Atlantic, perhaps rapidly deepening into a deep depression. But not until later next week, which means model reliability of the track and depth of this low should be treated with low confidence for now.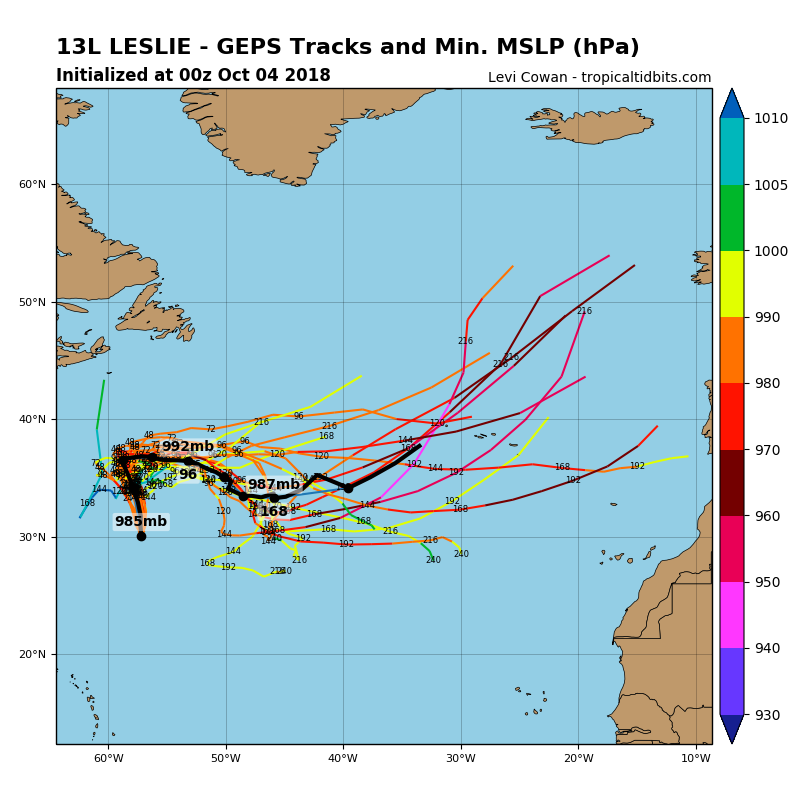 The 00z operational run of the GFS model this morning accelerated Leslie as a deep post tropical storm northeast from near the Azores on Thursday towards Iceland by the weekend, whilst the 00z ECMWF prefers the jet stream not to pick it up and instead tracks Leslie east/southeast to the south of the Azores eventually by day 10. 06z GFS operational run tracks Leslie right over the Azores Friday next week, before tracking northeast across Ireland as a fairly innocuous looking low. The 12z GFS similar to the 00z ECM in tracking Leslie east or southeast to the south of the Azores, though it does spawn a few deep lows to move northeast close to western Britain next week.