Wednesday
Generally cloudy and windy with further spells of rain for Scotland and N. Ireland, cloudier day for northern England and north Wales with perhaps some light rain or drizzle over western hills. Best of the sunshine across south Wales, central and southern areas of England – where lighter winds will mean it will turn warmer too, with temperatures reaching 19-21C where we see the sun. Further north under the cloud still 17-19C, perhaps 20C along east coast of Scotland where the sun may appear at times.
Thursday
An area of cloud and rain, locally heavy at first, along a cold front will spread southeast across Scotland and N. Ireland Thursday morning, before petering out as it reaches northern England in the afternoon. Colder and clearer conditions with sunny spells following the morning rain from the northwest. A fine day with good sunny spells further south for the rest of England and Wales on Thursday – where it will be quite warm too, with temperatures reaching 19-23C. Only 11-15C across Scotland and N. Ireland, as cooler and clearer conditions arrive here in the afternoon.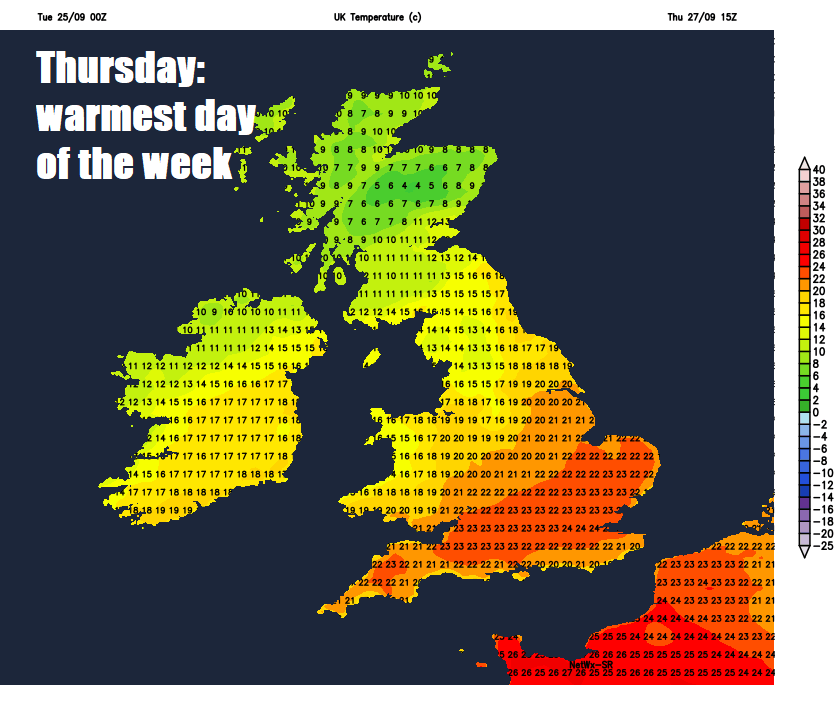 Friday
The colder air arriving across the north by Thursday evening will then spread southeast across all parts into Friday, pushing away that warmer air across the south, so Friday will be much cooler and fresher in feel for all in the keen northwesterly wind. Though for many it's looking largely dry and sunny.
Cooling down from the north into Friday
Weekend
The weekend then sees a large area of high pressure build in from the west, bringing largely dry and settled conditions will sunny days but perhaps some chilly nights developing under clear skies. Perhaps a risk of some showers affecting the far north and low risk of showers reaching the far southwest too.