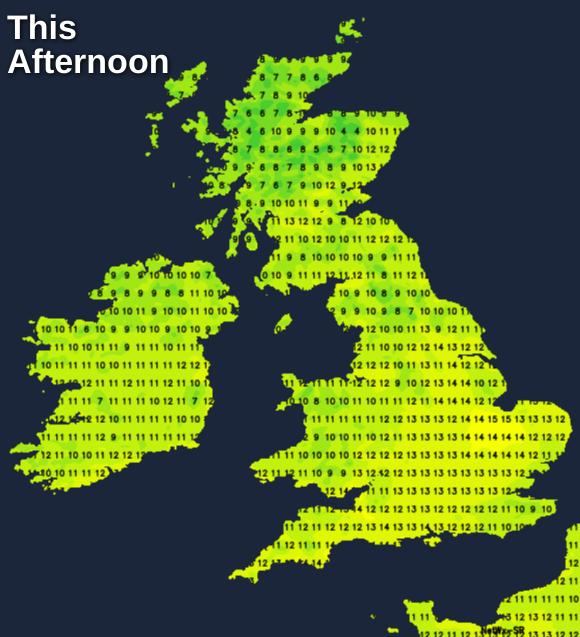 Showers continue to fade into the evening, becoming confined to the Northern Isles and the North of Scotland overnight, as pressure rises strongly across the country. This'll leave clearing skies and as a North West or Westerly wind decreases it'll turn quite cold, with temperatures widely falling into single figures. There'll be a ground frost from the Midlands northward, with temperatures dropping below freezing around dawn in some Scottish glens, vulnerable rural valleys of northern England and also perhaps around the Welsh borders. A few mist or fog patches will form as well, but these'll be relatively short-lived, with minimum temperatures mostly 3 to 6C in the North and 4 to 8C in the South.
There'll be a few showers across Orkney and Shetland tomorrow morning where a Westerly wind will moderate later, but as an anticyclone becomes established over England and Wales, it'll become mainly dry into the new working week. There'll be sunny spells particularly at first and later in the day, and while some patchy cloud will develop, this shouldn't spoil an agreeable day too much. Lighter winds will make it feel quite pleasant by the afternoon in most parts, but it'll feel chilly in any breeze, with top temperatures only 12 to 14C in the North and 16 to 18C in the South.
A mainly dry evening and night will follow with clear spells developing over the bulk of the country. Light winds will allow it to turn chilly again after dark, with a ground frost, mist and few fog patches forming towards dawn mostly in rural valleys. Lowest temperatures 3 to 7C, but 0 to 2C in the coldest spots. The exception will be Highland and the North of Scotland where the patchy cloud could give some drizzle across the Northern Isles. There'll also be more of a South Westerly breeze, that'll keep it milder, with temperatures here unlikely to fall below 8 to 10C.