Although unsettled at the moment, the final week of September has a more settled look about it especially over England and Wales as pressure rises strongly across the country. By tomorrow an anticyclone becomes established, so we can expect lots of dry, quite pleasant weather during the coming week when it'll become progressively warmer.
There'll be some chilly nights though at first, with further mostly ground frosts in sheltered rural valleys as far South as the Midlands. The North and West of Scotland and Northern Ireland will be breezier and more changeable at times.
This morning sees a complex area of low pressure in the English Channel giving dull, wet weather across South Wales, much of the Midlands, East Anglia and the South. Some places will have drizzle, others heavier bursts of rain, before the weather clears from the West this finally reaching East Anglia and the South East mid-late afternoon. There'll then be some sunshine but also scattered showers.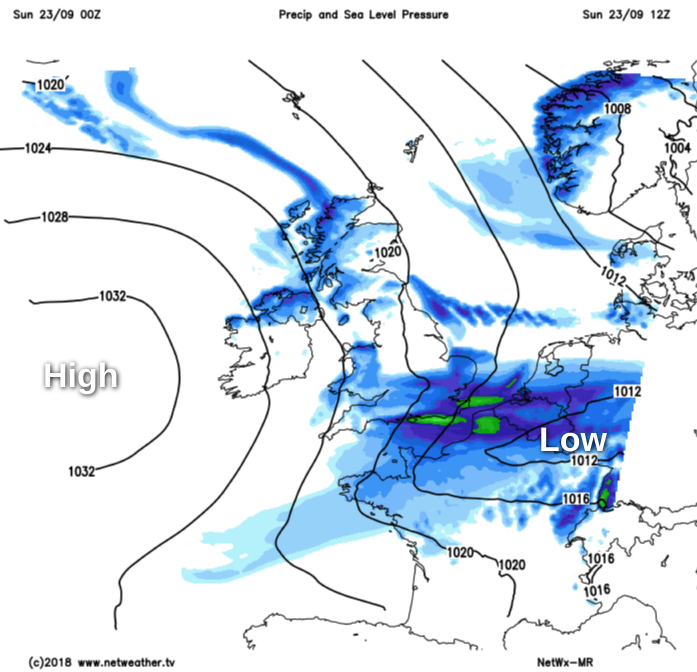 Winds'll freshen from the North or North West making it quite blustery later, with gusts of 40 to 50mph likely along exposed coasts of Norfolk and Kent for a while into the afternoon. This'll make it feel particularly cool for late September, with top temperatures at best only 13 to 16C.
North Wales and the North Midlands are also beginning cloudy with patchy rain possible here too for a while, but across most of northern England, Scotland and Northern Ireland, it's a bright start but a cold one. Braemar saw -2C first thing, but sunny spells will soon lift temperatures, but with a scattering of showers. These are mainly in the West at the moment, but showers will develop elsewhere through the morning. Not everywhere will see them, but a few will be heavy giving local hail. The showers could even be wintry on the highest hills before beginning to fade from in the West, with Northern Ireland, in particular, seeing lengthening sunny spells towards evening. It'll be chilly though in a North West wind that'll be fresh and blustery at times, with top temperature mostly in the range 10 to 14C.