Storm Ali, the first named storm of the autumn, hit Ireland and northern areas of the UK on Tuesday, bringing severe gales which brought travel chaos, falling trees, damage to buildings and unfortunately two fatalities. The peak of the storm brought a gust of 91mph at Killowen in Northern Ireland and 78mph at Dundrennan in SW Scotland.
It will stay stormy at times for the next few days. A new system moving in from the Atlantic will bring heavy rain and strengthening winds reaching gale force across England and Wales today. Friday will turn cooler, drier and less windy from the northwest. Saturday looks to be the drier and sunnier half of the weekend, with another perhaps deep low pressure system bringing wet and windy weather on Sunday, though low confidence on its track for now. However, by Tuesday, we should see drier and more settled conditions take over for the rest of the week, as high pressure builds.
Today
For now, it's a windy start across Scotland after very windy night with gales and blustery showers as Storm Ali moves away. However, the wind will gradually east and it will be a day of sunny spells and showers, already some sharp ones affecting the Highlands and they will continue to be heavy and frequent across the north and west.
Further south across England and Wales, another low pressure system will move in from the southwest later, already bringing outbreaks of heavy and persistent rain across SW England, Wales and central parts of England and further pulses of heavy rain will keep coming across Wales, southwestern, central and eventually northern parts of England through the day, bringing up to 100mm (4 inches) over northern and western hills. Southeast England and East Anglia likely to stay mostly dry with sunny spells and warm after a little light rain first thing. Becoming increasingly windy across southern and western areas, with coastal gales developing by the evening.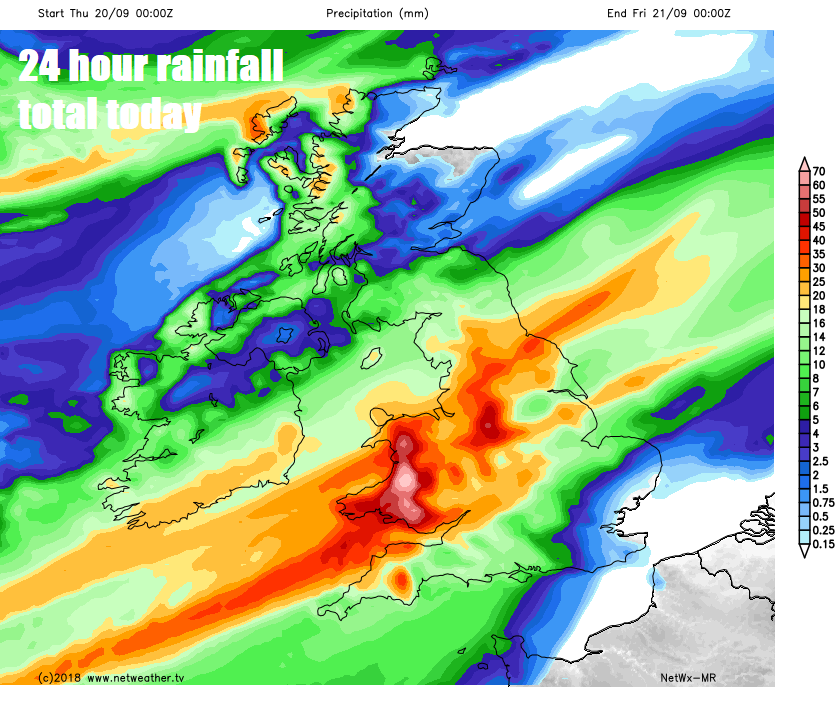 Temperatures in the sunnier and drier southeast and East Anglia reaching 19-21C, under the cloud and rain across Wales and northern England reaching 15-18C, further north 13-15C across Scotland and N. Ireland.
Tonight
Area of low pressure bringing today's heavy rain across England and Wales will continue to deepen as it moves out into the North Sea tonight, so winds across southern and eastern England may gust to 50-60mph for a time, particularly around coasts. A spell of heavy rain for a time across eastern England overnight, before clearing in the early hours, followed by cooler air, clear spells, but also blustery showers in the north.