There'll also be the winds to watch. They'll peak first across the southwest of Ireland, then heading up through the Irish Channel, affecting western coasts of Britain. They'll then transfer across northern England, southern Scotland and north Wales into Monday evening and overnight, before easing away into the North Sea. There is still some uncertainty over the precise track of the low pressure centre though, so there may be some change to the areas with the strongest winds.
After a wet start, many parts dry out during Tuesday, although there'll be some blustery showers blowing into Western regions. It'll be another warm day across much of England, Wales and eastern Scotland with maxes again making it into the mid-twenties in the southeast.
Another low won't be far away at this stage though, organising the showers across Ireland initially, then pushing those into Western Britain later in the afternoon and evening. At the same time, winds really increase across the northwest, with gusts perhaps exceeding those from Storm Helene during the latter part of the day and overnight.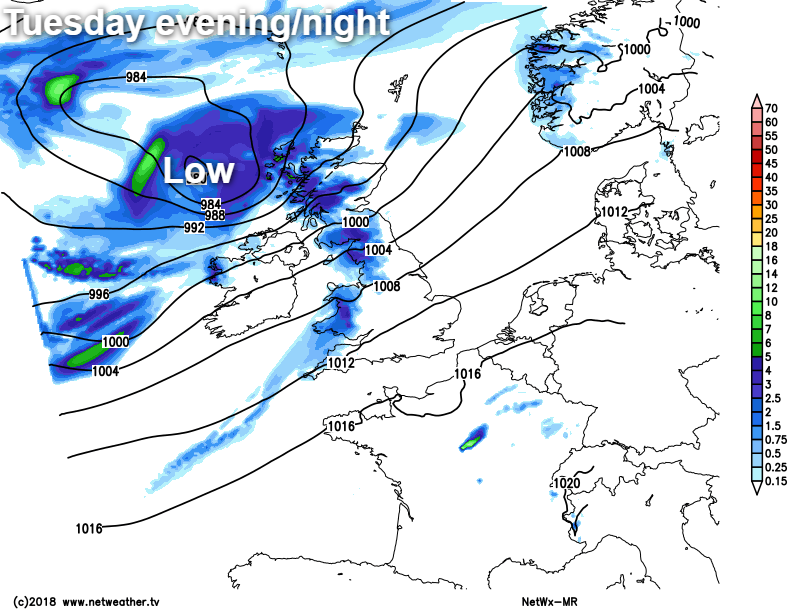 There is some uncertainty over developments of this one as well, but currently, it's the north and west of Ireland and Northern Ireland, then western and northern Scotland forecast to see the peak winds, which could exceed 80mph with exposure.
That should all clear out during the first half of Wednesday, to leave all parts similarly placed in blustery southwest winds. There'll be showers affecting the north and west in particular, with the best of the drier and sunnier weather further south and east. It'll still be warm in eastern and central parts too, with temperatures into the high-teens or low-twenties for many - cooler in the north and west though.
The rest of the week looks mixed, with another deep area of low pressure potentially set to arrive late on in the week, or into the weekend.