The weather settles down and most of the showers disappear, just a few blown into western counties. It will turn chilly with a touch of frost for inland and NE Scotland with the clearest skies. The winds also ease off. This is the coolest air for the weekend, it will become much warmer especially in the south by Sunday
Saturday
Saturday morning looks fine with the bright weather lasting over central and eastern Britain. There will be a cool start but with lighter winds and some sunshine, it will seem okay. Cloud begins to increase from the west and then frontal rain moves over Northern Ireland by the afternoon. That rain really gathers itself over Ireland and Scotland by Saturday evening with fresh to strong southerly winds.
Saturday night looks a bit wild with wind and rain through the Irish Sea and across Scotland and by morning there could still be a trailing cold front across the UK, probably Wales into northern England with blustery SW winds. Through all of this SE Britain will stay dry and fine up to 24C
Monday sees pressure rising and a lot of fine, sunny weather, feeling a bit warmer with rain skirting the far west and NW.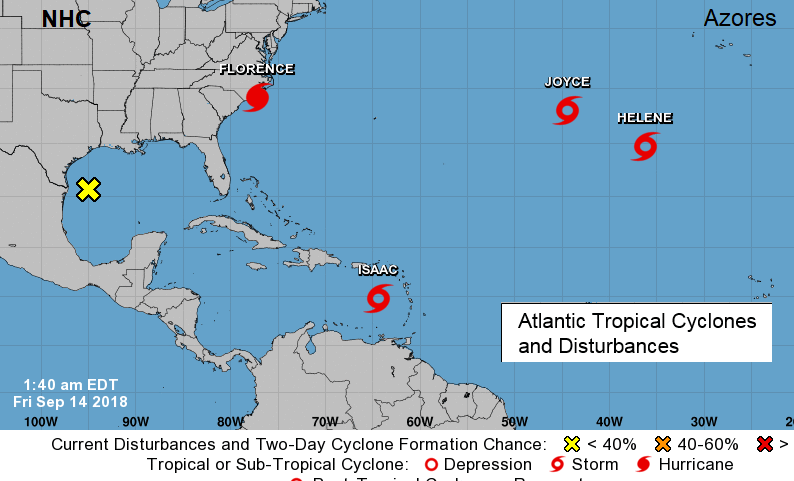 Tropical Cyclones
Hurricane Florence is now affecting the east coast of the US with
LIFE-THREATENING STORM SURGE AND HURRICANE-FORCE WINDS OCCURRING ALONG THE NORTH CAROLINA COAST... CATASTROPHIC FRESHWATER FLOODING EXPECTED OVER PORTIONS OF NORTH AND SOUTH CAROLINA -NHC
Typhoon Mangkhut, aka Typhoon Ompong will hit Luzon, north Philippines tonight (Saturday local time)
Winds of greater than 121 kph up to 170 kph may be expected in at least 18 hours. Many coconut trees may be broken or destroyed. Almost all banana plants may be downed and a large number of trees may be uprooted. Rice and corn crops may suffer heavy losses. Majority of all nipa and cogon houses may be unroofed or destroyed and there may be considerable damage to structures of light to medium construction. PAGASA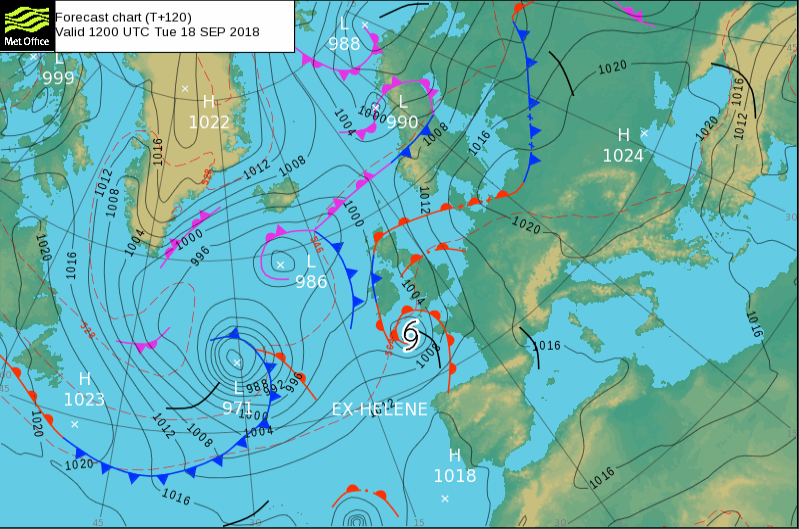 What forecasters in the UK are watching is Helene. This was a hurricane in the mid-Atlantic and is moving towards the Azores this weekend. As it moves over the cooler waters further north it will undergo changes, move into its post-tropical phase or maybe just get mixed up into other Atlantic systems and its remnants then head our way. It does look like the tropical energy will result in heavy rain and gales but there are variations in the path and timings, so if this stormy weather will reach the UK or miss. Tuesday looks most likely, but the forecast could still change.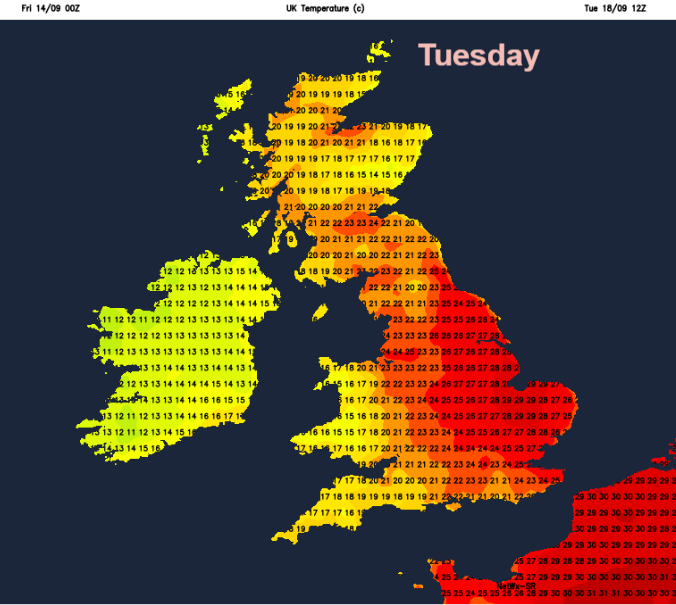 Along with the potentially wet and windy weather, there could be some real heat, very warm and humid air drawn up ahead of the system with temperatures up into the high 20sC. Don't put away your summer clothes just yet.