It's still quite humid over England and Wales and will remain so today although, by Thursday, all areas will have turned cooler and fresher from the North West. The transition will bring some rain or showers to the North and West, while the East and South see patchy mostly light rain apart from a few isolated sharper showers.
There's a lot of grey, murky weather about this morning, with very misty conditions over coasts and hills exposed to the South and West. While Scotland and Northern Ireland are mostly cloudy, it's dry apart from a few showers in the far Northwest. Most parts will keep a lot of cloud, although Fife, Lothian and The Borders should see a few bright or sunny intervals coming through by the afternoon. Later in the day though Northern Ireland and the North and West of Scotland will see some rain moving in as winds begin to freshen from the South. Top temperatures 14 to 16C in the North and West, but 19 to 21C towards Lothian and The Borders.
England and Wales also have a lot of cloud this morning, with a few light showers across the North. There'll be some sunshine in places, but that'll tend to come and go. It'll be mostly dry although like yesterday, a few showers will develop, you'll be unlucky if you catch one. Winds'll be mainly light South Westerly in a humid day, with temperatures reaching 20 to 23C fairly generally and 25 or 26C in the East and South where you see the best of the sunshine.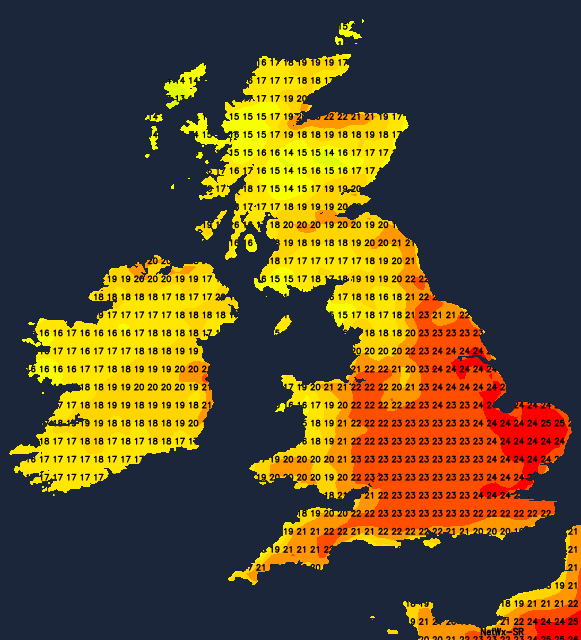 Apart from rogue showers, England and Wales stay dry into the evening and overnight. Cloud amounts continue to vary, with the best breaks in the East and South where it'll turn misty in places in a gentle South Westerly breeze. Scotland and Northern Ireland will be turning more unsettled, with showery rain spreading to all but probably Lothian and The Borders by morning in a moderate or fresh South Westerly wind. It'll be another humid night over England and Wales, with temperatures generally not falling below 14 to 17C. Somewhat cooler, fresher air will be moving into Scotland and Northern Ireland however, with temperatures here probably in the range 9 to 12C by morning.
Tomorrow sees a weakening cold front moving into the North and West of England and Wales bringing showery bursts of rain. Elsewhere it should stay mostly dry and humid, with skies breaking at times to give some very warm sunshine most likely across the East Midlands, East Anglia and much of the South. Behind the front, Scotland and Northern Ireland will be cooler and fresher with sunny spells and a few showers these mainly in the West, this spreading to North West England through the day.
Winds'll be light southerly towards the South East, with a moderate or fresh South West wind veering Westerly elsewhere. This'll introduce cooler, fresher weather with temperatures generally getting no higher than 14 to 18C in the North and West. In the East and South, however, a humid 22 to 25C is likely. With 26 or 27C possible over parts of East Anglia where you see the best of the sunshine.