During the weekend we've experienced warm and humid air as it was pulled up from the south and some areas saw a wet Sunday thanks to the remnants of Tropical Storm Ernesto. It rained all day long for me in SE Scotland. Moderate persistent rain, great. The Scottish Borders recorded 25.4mm of rain on Sunday, that's an inch.
A weather divide remains across the UK, north-south. There is still the trailing front, just of cloud this morning and a little patchy rain but the temperature contrast is more pronounced. To the south is the warm, humid air with temperatures into the 20s Celsius and to the north cooler, fresher conditions in the mid to high teens. Where the sun comes out in the north it will feel pleasantly warm, in the south, it will feel quite muggy. Tuesday and Wednesday will be the warmest days this week for East Anglia and SE England. Temperatures could rise to 26 or 27C, maybe a degree or so higher.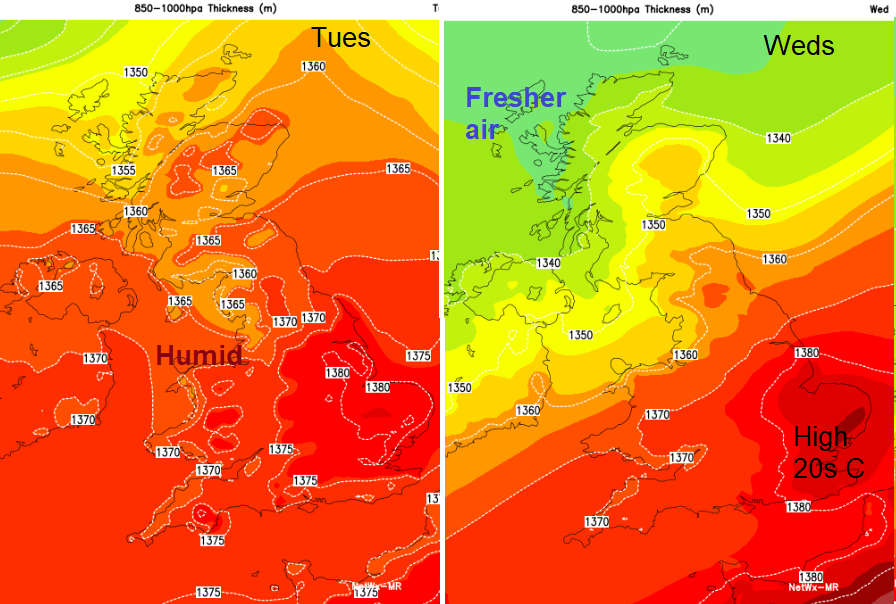 Later in the week, everywhere will feel fresher as the cooler air sinks down from the NW. By Friday 20C could be the top temperature with many places only reaching the mid to high teens in a freshening NW wind. Friday night will bring a nip in the air.