24hr Rainfall totals by Sunday 6am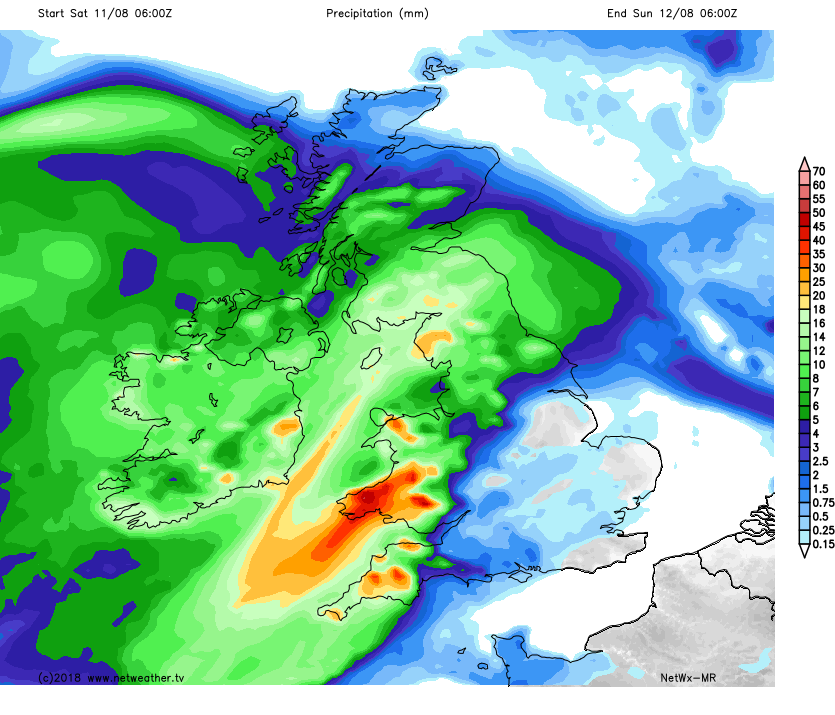 Surge of warm and moist air ahead of cold front bringing rain in from the west may allow temperatures to reach 25-26C across SE England and East Anglia, before rain moves in from the west here to end the day.
Next week - staying changeable from the west, though warming up in the south, but NOT a heatwave
Next week we continue to look to the west for our weather, as a fairly strong jet stream continues to move west to east across the UK. The jet stream across the north initially, so after some showers across the east on Monday, cloud and rain mostly confined to northern Britain Tuesday to Thursday, before the jet looks like dipping further south briefly towards the end of the week, bringing cloud and rain south with it on Thursday, before dry and settled weather resumes across the south on Friday. With the wind direction generally from the west off the cool Atlantic ocean, don't expect the kind of heat we've seen (temperatures in the low 30s) to return again in the next seven days. Having said that, southern counties of England, particularly towards SE England and East Anglia, could see temperatures reach the mid-twenties Celsius apart from Monday. Temperatures in the high teens across Scotland and N. Ireland to low twenties across northern and western England along with Wales.
Apart from showers on Monday and band of rain spreading southeast on Thursday, much of southern UK dry for much of next week while turning increasingly warm, though no heatwave.
Still no signs of heatwave returning next weekend
Next weekend looks to continue seeing the influence of Atlantic low pressure close to the north, driving a changeable westerly or southwesterly flow, bringing spells of rain or showers at times, but where the sun comes out, still feeling pleasantly warm in the south – with temperatures in the low to mid-twenties Celsius, cooler in the north closer to low pressure.
So no solid signs of another heatwave returning, as defined by the Met Office, though I suppose personal definitions of a heatwave can vary depending on how one copes with heat, for me a spell of more than a few days where temperatures exceed 30C.