Today's forecast is relatively straightforward, but after then, the charts become somewhat of a meteorological mess. July often brings winds between West and North and to some extent, that is what the models are showing. The current unusual events, however, are disturbing this pattern, making it on the whole much drier and warmer than average. Atlantic systems will be bringing some rain later today and tomorrow though. Mostly to Scotland, Northern Ireland and the North West, with the risk of the South East catching some hit and miss sharp showers or thunderstorm later tonight and for a while on Friday.
Most parts are waking to a dry morning, but with varying amounts of mostly medium and upper-level cloud. England, Wales and East Scotland remain fine with sunny spells through the day made hazy at times. Nevertheless, it'll still be a very warm or hot afternoon in generally light winds, making it feel humid later. Top temperatures 24 to 26C, with 27 or 28C likely in the sunnier spots and across parts of the South East. The odd sharp shower could break out later, but for the vast majority, it'll be yet another dry day, with sea breezes keeping some coasts refreshingly cooler.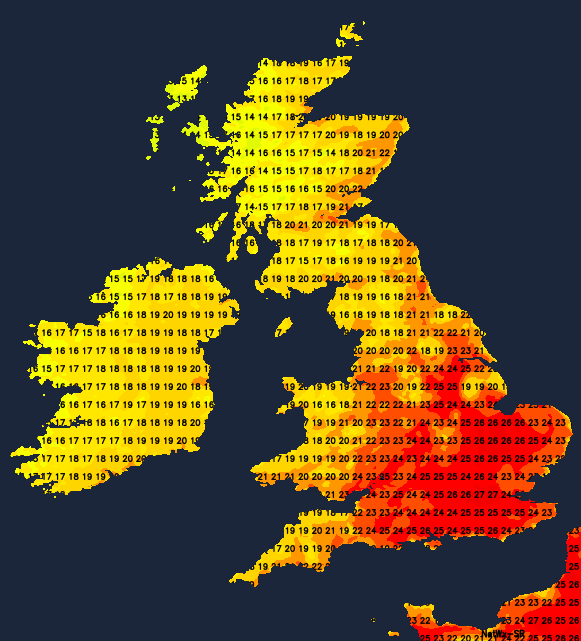 After a fine, sunny start over much of the remainder of Scotland and the East of Northern Ireland, you'll see a freshening southerly breeze bringing increasing cloud by the afternoon. This'll eventually bring locally heavy rain to Highland and Outer Isles, this probably spreading as far East as Tyrone, Fermanagh and parts of Strathclyde and Ayrshire by late afternoon. Here temperatures will get no higher than 16 to 18C, but towards Down and central Scotland, 21 to 23C seems more likely.
Most of England and Wales continue dry with clear intervals overnight, after a warm summery evening. Light winds allow a few mist or fog patches to form in some rural areas, but these'll be short-lived. The exception will be Cumbria, the far North of England and Clwyd where increasing cloud and a southerly breeze could bring bursts of rain towards morning. Elsewhere it'll be mostly dry, but to the South and East of London, there's a risk of catching a heavy shower or thunderstorm later in the night.
For Scotland and Northern Ireland, it'll be a cloudy evening and night with occasional rain giving heavier bursts, after a dry evening towards Fife, Lothian and The Borders. It'll become misty in places, with hill and coastal fog patches in a mostly moderate South to South West wind. In a very mild, humid night across the country, temperatures generally fall no lower than 11 to 17C.
The East and South of Wales, central and southern parts see another agreeable summers day tomorrow. Cloud amounts will continue to vary with a few sharp showers breaking out later, but they'll be 'hit and miss'. South Yorkshire and Lincolnshire should also be fine at least for a time, while remaining parts of northern England and Wales see cloud and patchy rain, with the odd heavier shower developing over the Pennines later. Winds remain light as temperatures reach a very warm or hot 25 to 29C, with 19 to 22C more likely in the cloud further North. Meanwhile, Scotland and Northern Ireland remain rather cloudy, with further occasional rain or showers. There'll be heavier bursts, to begin with, before the rain tends to peter-out from the North West through the day. Not surprisingly it'll be cooler here in a mostly light or moderate South West or West wind, with top temperatures mostly between 17 and 20C.