Monday's highest temperature was 31.5C at Gravesend in Kent, however the heat is briefly leaving centre stage, as a cold front clearing east, triggering some hefty thunderstorms across Wales and northern England as it moved through yesterday evening, introduces cooler and fresher conditions for all today. The next few days will bring more comfortable summer weather, dry for many and less warm than of late but still warm, though there will be a few showers around, mostly in the north and west. However, hot air will push back in across the south to end the week, with temperatures returning back into the high twenties Celsius on Friday. Hot and dry conditions likely continuing through the weekend across the south, with very little rain, cooler in the north, with a risk of rain.
Today
For now, a fresher feel for all of us this morning, dry and bright to start for many, though there are some scattered showers across Scotland and far southwest of England. For many it will stay dry with sunny spells, however, some showers are likely to develop, as the cloud bubbles up through the day. These showers most likely across eastern Scotland and NE England – where they may turn heavy with the odd rumble of thunder, though a few passing showers on the westerly breeze can't be ruled out elsewhere.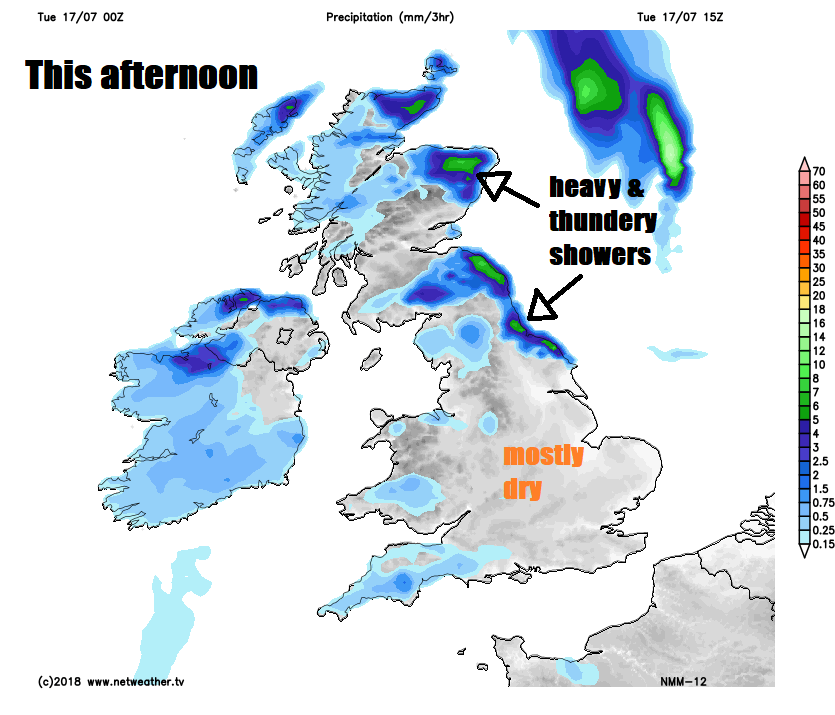 Feeling more comfortable than of late in the south, with the humidity gone, but still warm, cooler in the north. Temperatures reaching 16-19C across Scotland and Northern Ireland, 19-23C across England and Wales, perhaps as high as 25C in London.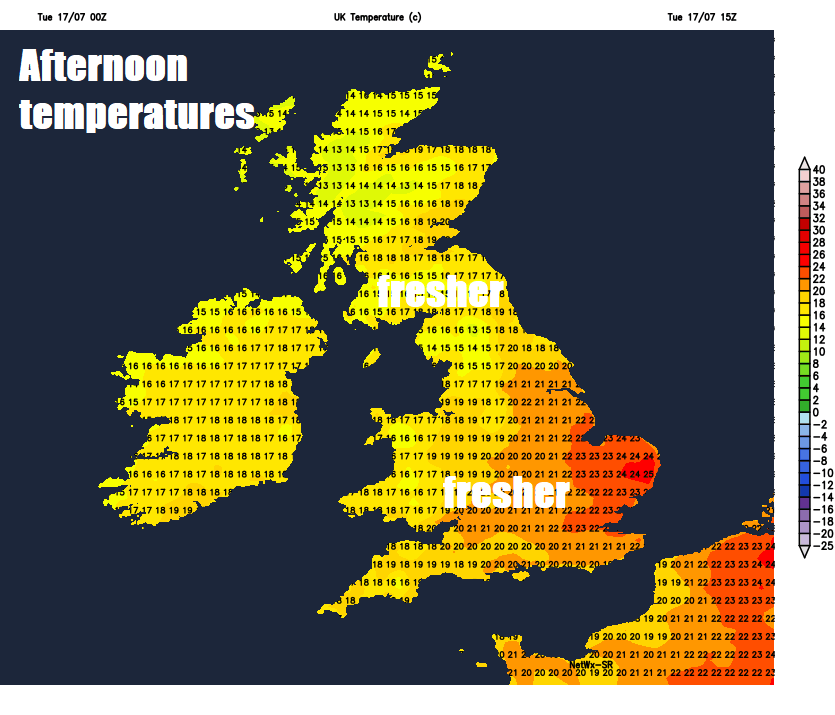 Tonight
A few ingering showers across eastern parts at first before fading into the night to join most areas to a dry night with clear spells, more comfortable than recent nights, A few showers may move in across western areas in the early hours though.
Wednesday
High pressure building into the middle of the week should ensure most stay dry on Wednesday with plenty of sunshine, though the westerly breeze will blow in some hit-and-miss showers across Wales, western parts of England. Temperatures ranging from 16C in the north of Scotland to 25C in SE England.
Thursday & Friday
Thursday should be mostly dry again, with plenty of sunshine, just an isolated chance of a shower, cloud looks to thicken from the northwest across Scotland and Northern Ireland through the afternoon, with outbreaks of rain off the Atlantic across Northern Scotland and perhaps N. Ireland by the evening. Temperatures ranging from 21C in Edinburgh to 27C in London.