Today will be dry, sunny and warm for England and Wales, hot in the southeast. However, a cold front arriving off the Atlantic will bring outbreaks of rain across Scotland and Northern Ireland, before edging further east across northern and western parts on Monday. Staying dry and hot again towards SE England and East Anglia on Monday. Fresher conditions for all moving through overnight for Tuesday as the cold front clears east, with a mix of sunny spells and heavy thundery showers, but not everywhere will catch one. Perhaps fewer showers and more in the way of sunshine on Wednesday and Thursday, more in the way of showers returning for central and southern areas on Friday. After a cool down on Tuesday and Wednesday, turning very warm again across England and Wales towards the end of the week, locally hot in the south. Not much rain in the south all week, some places perhaps staying dry all week.
Sunday
For now, it's a warm and dry start for many, after an uncomfortable night for sleeping in the south, however it's a dull and wet start across the far northwest, with a band of rain edging in across wetsern Scotland and Northern Ireland.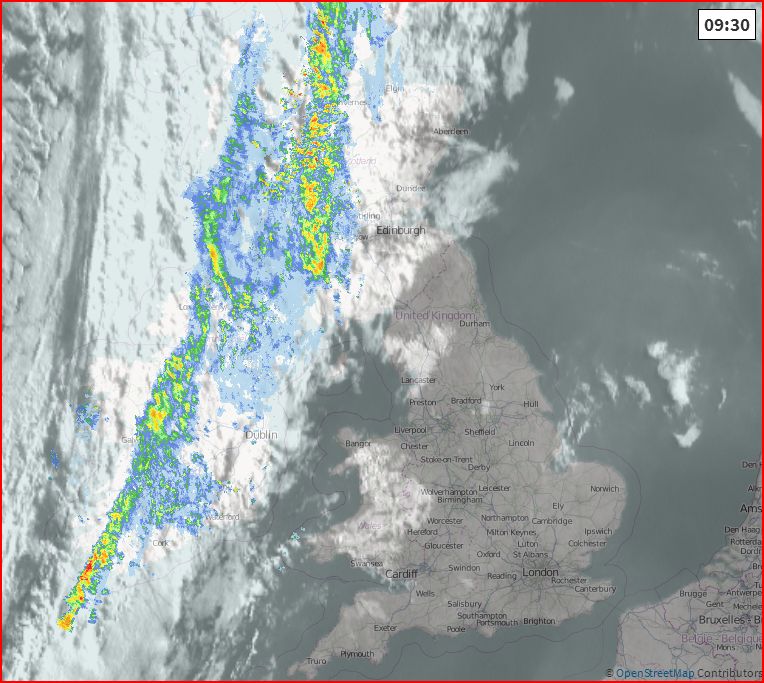 Another dry, sunny and very warm day for most of England and Wales, blue skies for most away from Cumbria and west Wales, where cloud will increase to bring some splashes of rain by early evening. Very warm in the sunshine, hot towards SE England where we will could see temperatures reach 30-31C locally, elsewhere 24-28C.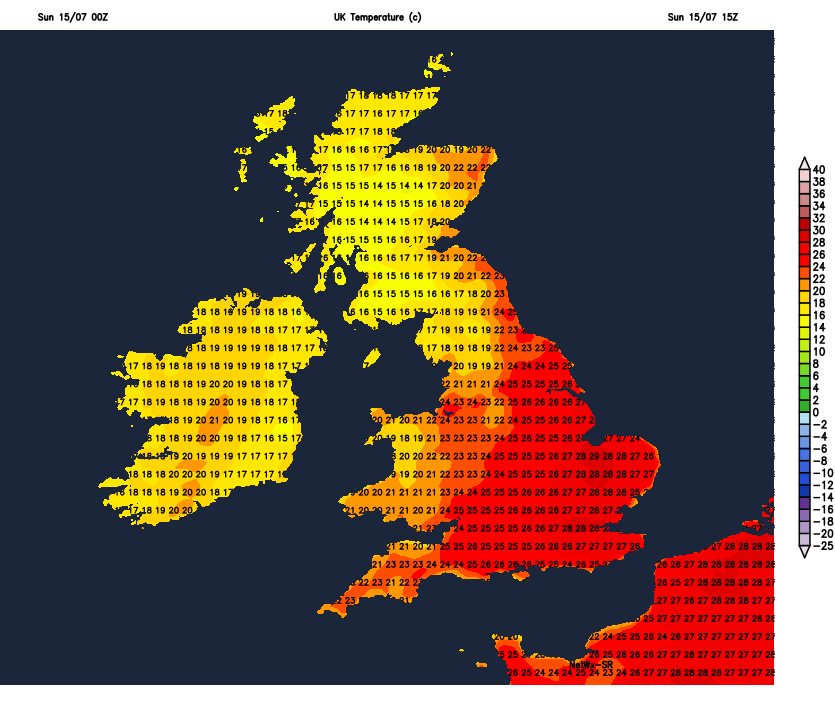 Cloudy skies and fragmented band of rain will slowly edge east across Scotland through the day, after a dry and bright start across the east, staying on the cloudy side across Northern Ireland, though early rain tending to turn more showery, with perhaps some brightness later. Temperatures reaching 17-21C.
Tonight
A fine end to the day and balmy evening across much of England and Wales, leading into a mostly dry and warm night. Cloudy and damp across Scotland and N. Ireland, with further showery outbreaks of rain at times, these edging in across NW England, Wales and SW England by the end of the night. Drier and fresher conditions moving in across the far northwest.