Thunderstorms are the main weather story today, taking the spotlight away from heat and sunshine for a change. As usual with these things, while there's quite a wide risk of storms or heavy showers across England and Wales today, not all will see one, but where you do, there could well be flash-flooding, hail and frequent lightning.
A storm forecast has been issued for the today with more details on all of this, click here to read it.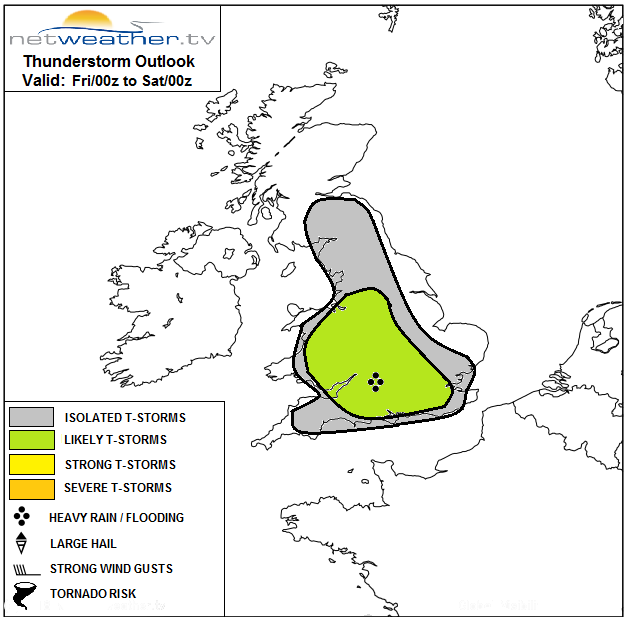 Away from the main risk zones highlighted on the map, there are still likely to be a scattering of showers, but here and in the risk areas, there'll also be some good sunny spells. They'll allow temperatures to climb up into the low-mid twenties widely, and with many of us getting away with a shower-free day. That'll make it a repeat of virtually every day for the last two weeks, leaving some wondering what all the thunderstorm fuss is about!
This evening and overnight, any remaining showers will die out to leave the majority with a dry night. But, as you may have spotted on the animation above, rain will be headed into the northwest of Scotland, which will set us up for a 2-way split this weekend.
For much of England and Wales, it's going to be a fine one, with just a smattering of very isolated showers, lots of sunshine and temperatures heading into the high-twenties, maybe even low-thirties once more. But that rain in the far northwest will be spreading a little further south and east as time wears on, bringing more of Scotland and Ireland (Northern and Southern) into play.
For Saturday it will just be the north and west of Scotland and Ireland seeing the rain, although the cloud will spread further southeast than that. Elsewhere, it's sunny skies with just western facing coasts perhaps seeing more in the way of cloud coming inland at times and keeping temperatures down a touch. There could be the odd shower in eastern parts of England, but for the vast majority, it's dry.