---
Storm Forecast issued for today - read it here.
---
Cloud amounts will vary, but for most, it'll be a summery evening, with some further sunshine to end the day. The showers will largely fade after dark to leave a mainly dry night, but with low cloud and mist 'rolling-in' off the North Sea to affect many eastern counties again by dawn. Elsewhere there'll be clear spells, and with only a light breeze mostly from a northerly quarter, a few short-lived mist patches may form in some rural valleys towards morning. It'll be a very mild slightly humid night in the South where temperatures shouldn't fall below 14 to 16C, with 10 to 12C more likely further North.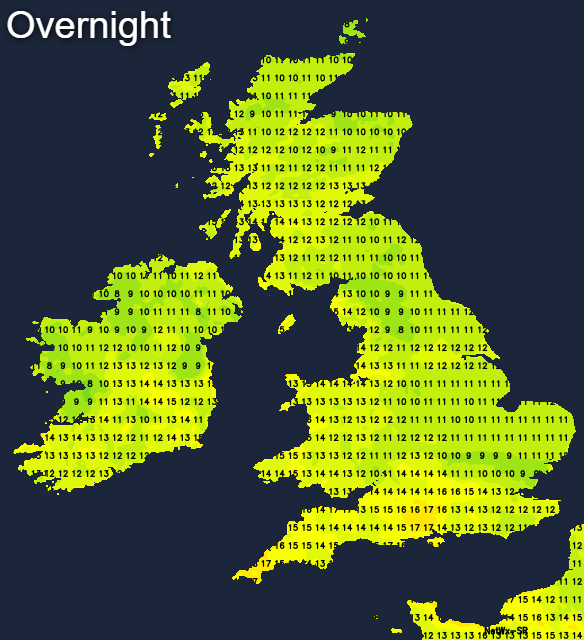 While there'll continue to be a good deal of fine weather on Friday and most parts will stay dry, the risk of catching a heavy shower or thunderstorm from mid-afternoon will be more acute. Cloud mostly in East will lift and clear during the morning, allowing spells of very warm sunshine to come through again in most parts. Showers will develop through the afternoon, however, mostly over Wales, central southern England, the West Country, the West Midlands and in hilly areas further North. Some will again give local torrential downpours and with light winds, will be slow moving. This'll mean that some parts get a deluge, while others just a few miles 'down the road' see nothing.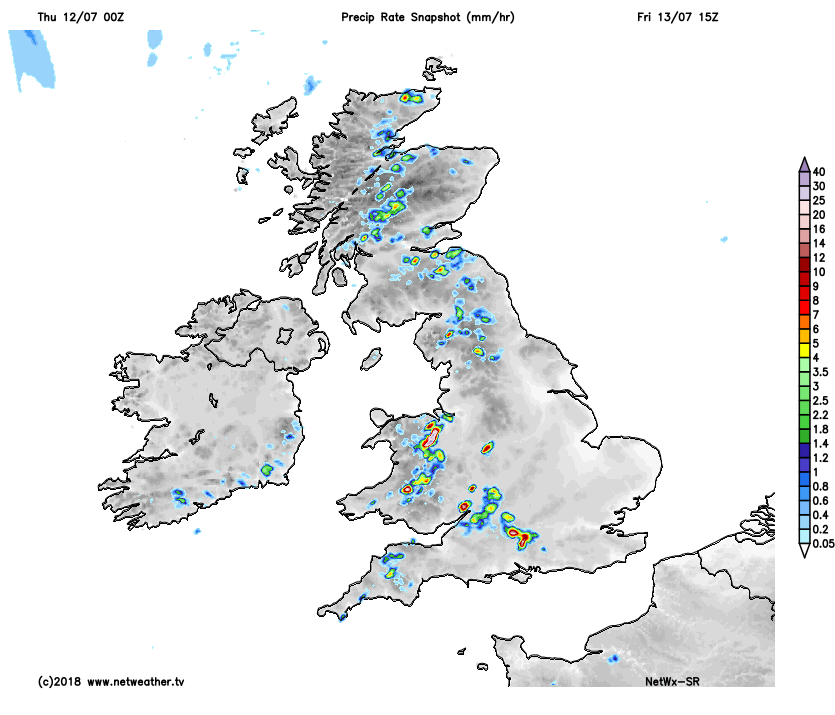 Most of Scotland and Northern Ireland will see sunny spells, and it'll become very warm where you have the best of the sunshine, with perhaps the odd heavy shower 'breaking-out' over the Southern Uplands later. Towards Donegal and Highland, however, a freshening southerly breeze will bring cloud and some patchy rain through the afternoon. Top temperatures here only 15 to 17C, with 18 to 24C more likely elsewhere. Over England and Wales temperatures should reach 23 to 26C fairly generally, with 27 or 28C possible in the sunnier spots across the South.
The showers will fade into the evening, leaving much of England and Wales with a dry night. Clearing skies and light winds will allow a few mist or fog patches to form again in rural areas towards dawn, but these'll be short-lived soon clearing after sunrise. The North and West of Scotland and Northern Ireland though will be cloudy in a southerly breeze, with patchy rain. It'll be a humid night over southern England, where temperatures shouldn't fall below 15 to 17C, but it'll be somewhat cooler further North where 10 to 13C is more likely.