It's been a while, but as Nick blogged about last night, a change in our weather increasingly likely, with the end of the extended dry spell in sight. One of the drivers of that change will be Tropical storm Chris hitching a ride across the Atlantic with the jet stream with its remnants eventually moving closeby to the UK and Ireland.
The details of all this are still very uncertain, as you have a couple of the trickier to predict things happening at once: the breakdown of blocking high pressure and the track/intensity of an ex-tropical storm. But with changes starting to show up in the west already, and rain likely to move down from the northwest early next week, a less settled spell of weather is on the way, it's just the extent and length of it which is still up in the air. The wettest weather is expected to be in the north and west of the country, with the east and south continuing to see more dry, fine, and still very warm, if not hot weather at times.
For now, we do have some rain around this morning, affecting the west of Scotland, Northern Ireland, with a few bits and pieces as far south as North Wales. It's all thanks to a weather front which is going to weaken over the next 24 hours, but not really go anywhere. So although a lot of the rain will eventually fizzle out, there'll continue to be plenty of cloud.
Check the live weather radar here.
Away from the cloudier, wetter area in the north and northwest, there's also some cloud that's drifting into eastern regions overnight. It will thin and break through the day, especially inland, to leave a good part of England, Wales and southern Scotland with plenty of sunshine once again, with just the risk of an isolated shower. It's the sunnier bits which will see the warmest temperatures with highs up into the mid-twenties. For other regions, the high-teens or low twenties, but perhaps only the mid-teens in the north of Scotland.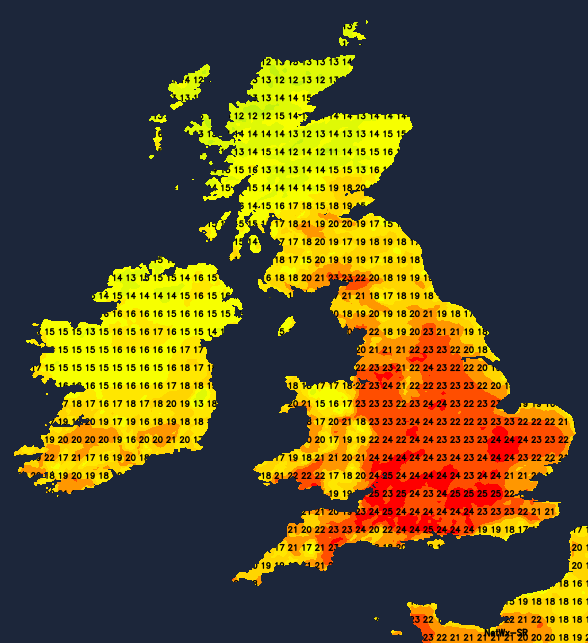 Tomorrow and Friday will be ditto days, so still a lot of cloud in the north, with some patchy rain at times. Elsewhere, lots of sunshine, but with an increased risk of a shower, perhaps heavy and thundery in western England and Wales, with a low chance of a few getting going elsewhere.