High pressure is set to dominate our weather throughout the coming week and possibly through next weekend too. So, there will be little in the way of cloud away from the far north – bringing prolonged sunshine by day and clear nights. Temperatures will rise through the week too, as the high pressure system drifts northeast, allowing a dome of warmer air from the near continent to spread north, so by Thursday we could see some places hit 30C and generally many areas, away from the far north, widely reaching the mid-to-high 20s Celsius. No rain to speak of this coming week and likely the rest of June, so some parched gardens with grass in many areas turning to straw-coloured hues, following a very dry month in many areas.
High pressure dominating this coming week, dome of warmer air to the south spreading north from mid-week, 30C possible.
Today
Temperatures have dropped away into single figures overnight across north and west of Britain under clear skies, falling as low as 3C across northern England. However, away from northwestern Scotland, many areas will have plenty of sunshine this morning, so it will quickly warm up.
Sunday will be fine and dry for all, with lengthy spells of warm sunshine across much of the UK, though high cirrus cloud may make it hazy at times in the south. More in the way of cloud across NW Scotland and the Northern Isles though, where it will be breezy. Winds generally lighter for most today, it will be a touch warmer today away from coasts where onshore breezes will develop, temperatures reaching 21-23C widely, perhaps 24-25C across SE England, cooler across northern Scotland – with 13-17C here.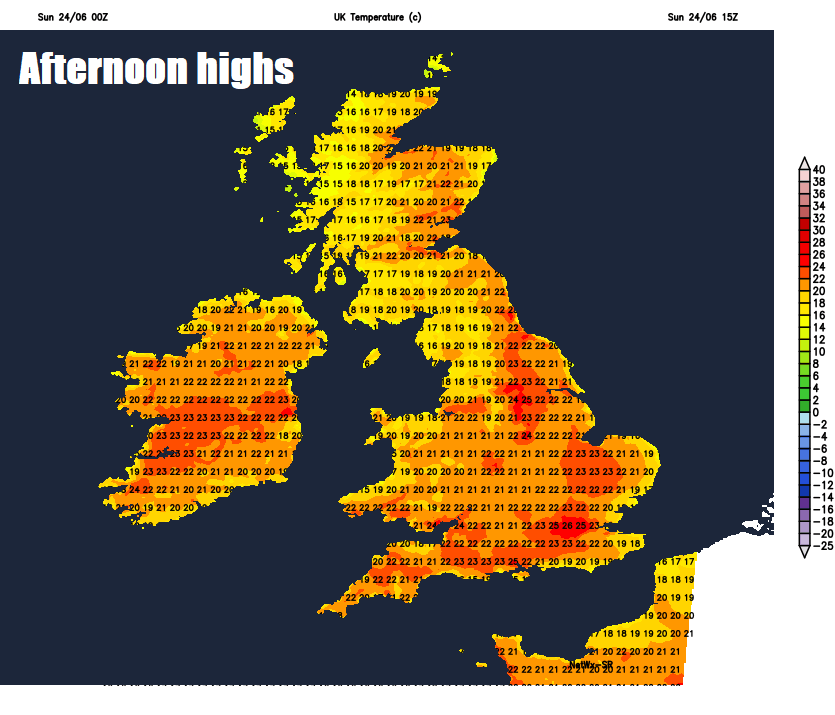 The UV index will be very high across much of England and Wales today, so ensure suncreen is put on. Pollen levels will remain very high across much of the UK too today.
A fine and warm end to the day which will lead into a dry night with clear skies and little in the way of cloud. With light winds, some patchy mist may develop in places. Not turning quite as chilly as light night, with temperatures generally holding up into double figures.
Monday & Tuesday
High pressure will be centred over the west of the UK to start the week, so fine, dry and very warm on Monday and Tuesday. Little in the way of cloud and light winds away from the far northwest of Scotland and the Northern Isles – where a weak front will bring more in the way of cloud. So temperatures widely reaching the low to mid 20s Celsius, across south Wales and southern England reaching 25-28C. Cooler along coasts with onshore breezes.