Although so far not as sunny as May, June has been a decent month to date, and with high pressure set to dominate the remainder of the month, the summer has certainly got off to a good start. It's very dry though, and with the sun at it's strongest at this time of year, we could well be heading for a drought situation before the end of the month. Temperatures will also be climbing over the next few days, with a heatwave on the cards into next week. For the moment though conditions are tolerable in a fine mainly dry weekend, that'll see increasing warmth, as an anticyclone currently situated just to the West of Ireland becomes firmly established across the country.
The only exception to the fine weather today will be northern Scotland and the Northern Isles, where weak Atlantic systems will give cloud and some rain chiefly this morning. This'll eventually clear from the mainland to leave brightening skies through the afternoon, with the sun coming through in places later. Top temperatures here only 12 to 14C in a moderate South Westerly breeze. For the remainder of the country it'll be fine and dry again, but with cloud amounts somewhat more variable than yesterday that saw some places record more than sixteen hours of sunshine. Much of the cloud though will be quite high and mostly in the North and East, often just making the sun rather milky but this shouldn't spoil another fine summers day too much.
After a chilly start particularly in rural parts of Wales where temperatures at Sennybridge fell to 3C last night, there'll be increasing warmth through the morning in a light breeze between North West and South West. This'll lead to a warm or very warm afternoon with top temperature mostly in the range 20 to 24C, although sea breezes later will keep some coastal areas cooler.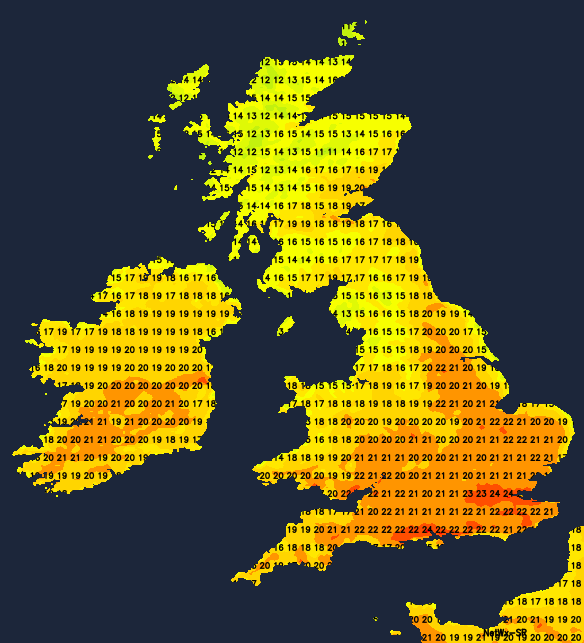 Most parts see further sunshine into the evening, with patchy cloud tending to melt-away towards dusk across all but the far North of Scotland. Here a moderate West or South Westerly breeze could give further patchy drizzle or light rain in places, this mostly across Orkney and Shetland. For the bulk of the country though, it'll continue dry after dark with clear spells. Winds'll be light allowing it to turn chilly in some rural valleys once more particularly around the Welsh borders, where there'll be a few short-lived mist patches around dawn. Here temperatures locally temperature could fall close to 4 or 5C in the coldest spots, but 8 to 12C will be a more general minimum.
Sunday will be another lovely summers day, the exception again being the far North of Scotland where a South Westerly breeze will continue to bring some cloud, thick enough at times to give patchy drizzle mostly over the Northern Isles. As a result, it'll be cooler here, with temperatures getting no higher than 13 to 15C. For most though it'll be another cracking day, with virtually un-interrupted sunshine from dawn until dusk in many places in generally light winds. This'll lead to particularly high U.V and pollen levels, so don't forget to slap on that vital sun cream. Temperatures should be up a notch on Saturday reaching between 21 and 25C, although sea breezes will again make it feel chilly along some beaches.