Today will bring fine, bright but breezy weather with some warmth. Then the wind and rain take hold for Northern Ireland and northern Britain lasting into Thursday. Gradually cooler conditions arrive as the week ends with more rain from the Atlantic. The southeast will remain quite sheltered.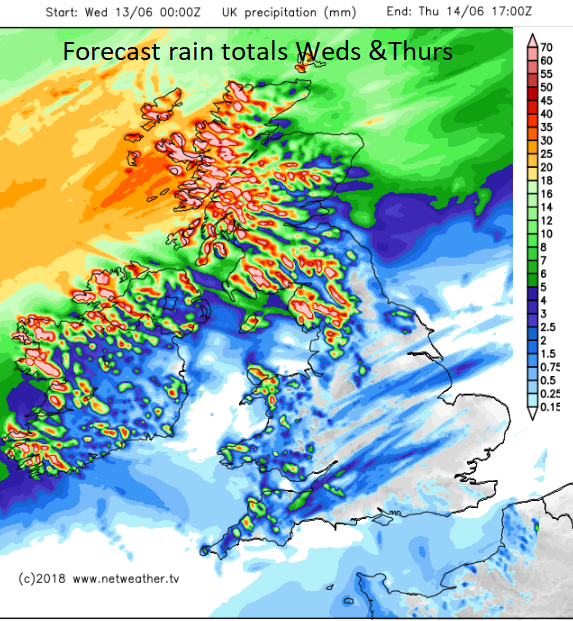 The frontal rain is already appearing on the radar. This is quite a change from the settled warm south-easterly flow. As the winds swing around to the SW, it will be blustery today, very windy for the far NW of UK. Pulses of rain will move through lasting into tomorrow. The forecast rainfall totals for Weds and Thursday show the areas which will be most affected and much of the SE half of UK hardly seeing any rain. So, carry on your watering gardeners and growers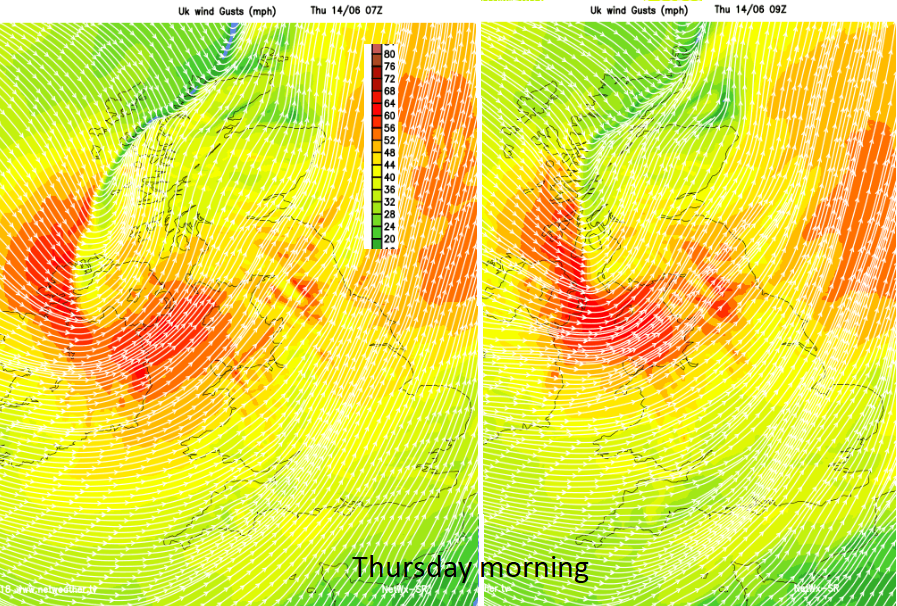 It will become windy through the day although southern England keeps light winds during daylight hours. Tonight, the SW winds will strengthen for Northern Ireland, southern Scotland and through the Irish Sea with gusts around 60mph. BY the start of the morning rush hour there will be gusty winds over Pennine routes as the winds begin to veer for Northern Ireland and crank up. Gales are forecast, severe gales are possible around the coasts of Northern Ireland, for the North Channel, Solway Firth, Isle of Man and the Irish Sea.
Northern Ireland, Scotland and the far north of England are under a yellow wind warning from the UK Met Office with warnings for parts of Ireland too from Met Eireann The low pressure has now been named Storm Hector by Met Eireann as their wind warnings are amber, their criteria for naming a storm.
Through the morning into lunchtime on Thursday the strong gusty winds will blow across northern Britain with blustery westerly winds for the rest of the UK.