For the start of this week we have more settled, dry weather under an area of high pressure. However, by Wednesday an Atlantic low sweeps across the UK, we haven't had one of those in a while. So finally, a shift from the easterly flow. Western areas have been warm, often sunny and apart from the thundery showers, there hasn't been much rain across the UK.
Growers and farmers, still recuperating after the cold start to 2018, now have dry conditions with a good deal of sunshine.
This week's rain will mostly be over NW Britain and Northern Ireland where it will be very windy at times too. Another change for this week. A series of low pressures begin to line up from the west as the jet stream begins to shift, aiming the lows near to the UK. It was away to the north previously, split and weaker around the high pressure over western Europe.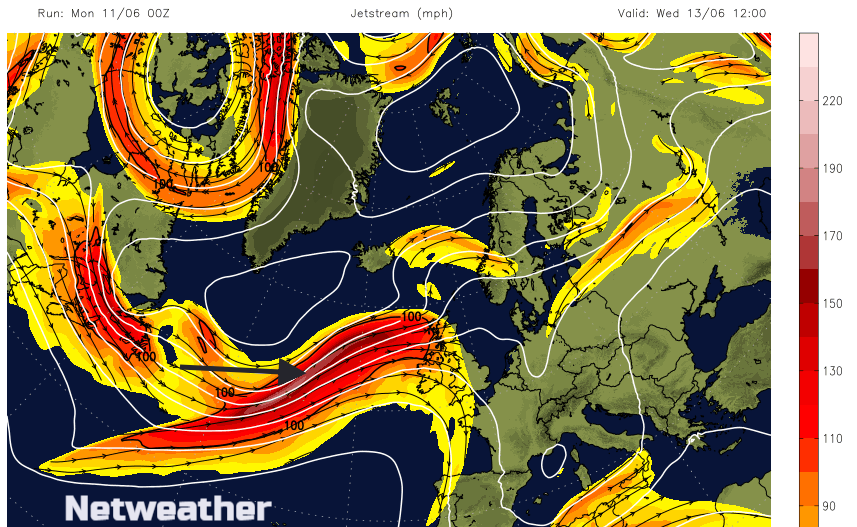 Today
There are blue skies and sunshine for a good part of Britain for Monday morning. We have more cloud for northern Britain and over Northern Ireland (although with some sunny breaks) and through the English Channel with cover over SE England. This is thick enough in places to give light rain. Most areas will remain dry and fine. The wind has a northerly component and it will feel cooler for much of Scotland and Northern Ireland and exposed coasts of Wales. Southern Britain will feel warm at 21 to 25C and northern England, away from the coasts, could reach 20 to 23C. There will be a scattering of showers inland by this afternoon. These look most likely for the southern Pennines, Peak District across to eastern/NE England. Also a few for SW Britain and central western Scotland. Watch the radar for these as there could be some hefty downpours, even thunderstorms.