So far this Bank Holiday weekend has brought: heat, sunshine and thunderstorms. London and Merseyside saw top temperatures on Sunday of 27.6 and 27.5C (around 81F). It's still 17C in southern England this morning and feeling warm and humid.
There has been sunshine and it's back today although more places are starting Monday with low cloud and mist and murk. There was heavy, thundery rain resulting in flash flooding. Birmingham, Welshpool and Northampton were just a few places that experienced floods yesterday. There will be more storms today, but they will be more scattered.
There was also the most cracking lightning show from a lone cumulonimbus parked NW of London yesterday evening. Visible for miles, this impressive tower stood against the evening sky and produced bolt after bolt whilst people watched in awe.
Not everywhere enjoyed sunshine and warmth. The above video was taken by STV director who I work with when I present the weather from the Edinburgh studios. Keith did make a good decision to spend the long weekend down south as it was cold and grey along the Forth. Edinburgh's maximum was a measly 10.7C as parts of NE Britain sat under low cloud, haar or sea fret. It was cold, gloomy and damp. The low cloud has come further inland overnight and will burn back again today but as the easterly continues so a few spots will stick with the greyness again today.
The cloud will break up inland, retreating steadily to the North Sea. It will be hot again, especially for southern Britain with 28 or 29C possible and warm again for western Britain and much of Northern Ireland. Overall winds are very light, but there will be a breeze off the North Sea keeping some areas cool again.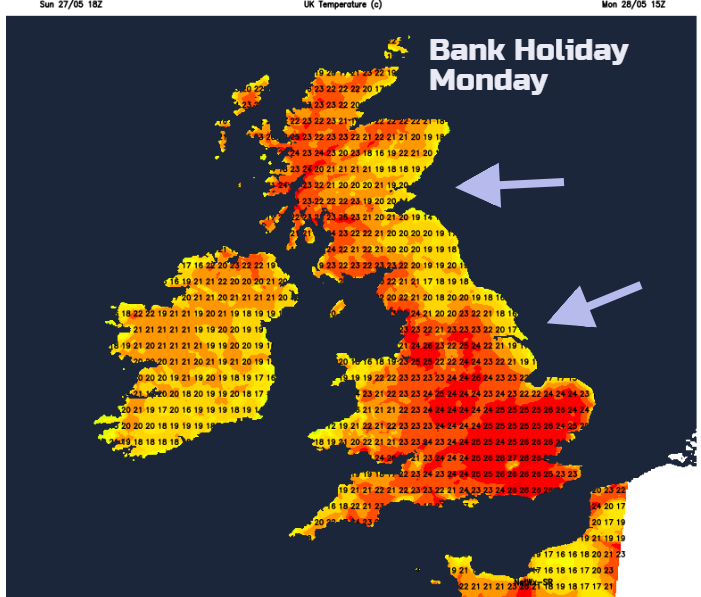 UV levels will be high, so get the sunscreen on and pollen levels are moderate for England and Wales as the grass pollen season begins.
There will be a lot of fine, sunny weather about by this afternoon with more areas joining those who started the day in sunshine. For most, it will be dry and warm but there is still a risk of more heavy, thundery showers appearing this afternoon and this evening. With hardly any breeze, they will be slow moving so could bring high rainfall totals to small areas. Some will move up from the SE out of France, but others will develop in place. The 22:05 radar pick shows the position of the immense Cumulonimbus cloud CB.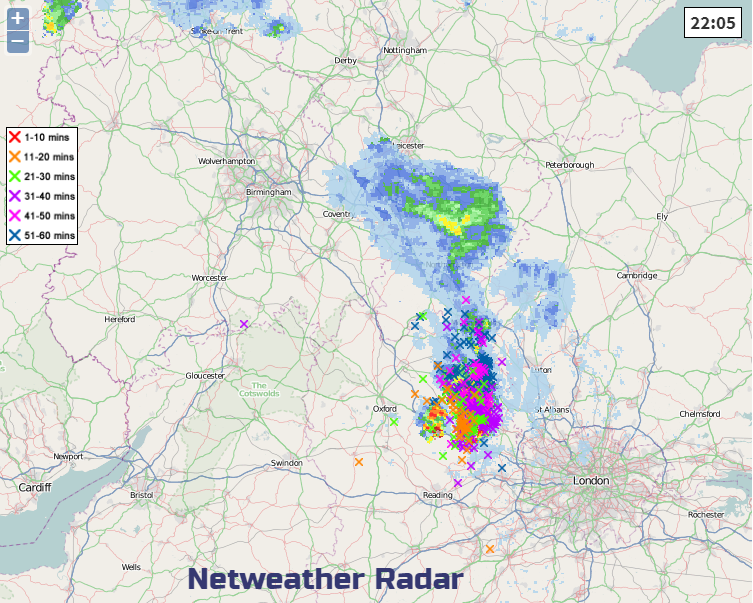 Sunday evening's massive storm barely moved, you can see the crosses from all the lightning strikes over time. If you want to know if you are going to get a downpour or thunderstorm, your app will not give good guidance in these situations. It looks at the ingredients for a storm and gives a percentage, have a look at the Netweather radar. Then you can see where the storms are developing and which way they are moving, click on the Animate button.