High pressure will be in control across the northern half of Britain for the rest of this week and also into the Bank Holiday Weekend, so for many it will stay dry, with warm sunshine by day. However, there will be a continued risk of isolated heavy showers or thunderstorms across the south, these perhaps drifting further north by the end of the week and into the weekend. Temperatures on the rise over the weekend, so by Bank Holiday Monday, we could see temperatures reach 26-28C across the south. Yes, you heard it, another very warm and sunny Bank Holiday Weekend in the offing!
Today
It's a sunny start to the morning across central and southern England, blue skies for many, though across the SE corner there are a few thundery showers moving in from the east. Across NE England mist and low cloud moved off the North Sea during the night, so a dull start here. Also, a weak front across the north and west is bringing a band of cloud, which is producing some rain across NE Scotland. But across NW Scotland and N. Ireland it is sunny to start too.
Early cloud will tend to break up across Wales, northern and western areas of England through the morning to join central, southern and eastern areas to a mostly dry and sunny day. However, there is a risk of some mostly isolated heavy showers or thunderstorms developing across southern areas of England and perhaps east Wales during the afternoon, but they will be hit and miss with most staying dry. Temperatures reaching 20-24C inland across much of England and Wales, cooler around the coasts.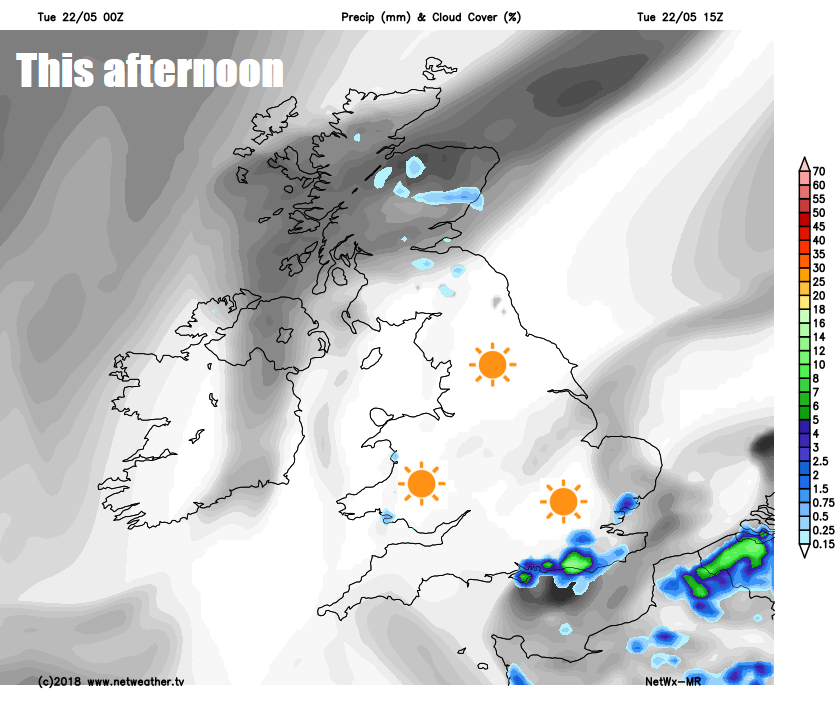 Mist and low cloud will linger towards coastal areas of NE England and also eastern Scotland, making it cool here, with temperatures pegged back to 11-13C. Also, more in the way of cloud across northern Scotland from the remnants of that weak front, southern Scotland away from the east coast along with Northern Ireland having a mostly fine and sunny afternoon once early cloud breaks up, with temperatures reaching 15-16C.