Saturday brought perfect wedding weather for many, particularly so for a royal one, with most places having a fine day with plenty of warm sunshine. The warmest place was actually Kinloss on the Moray Firth in the north of Scotland – where it reached 22C.
Not quite so warm or sunny for Scotland and N. Ireland today, with cloud and rain for much of the day, however, England and Wales will be dry again with sunny spells. Cloud and rain should clear the far north on Monday, then most area will be dry, sunny and warm for the rest of the week, though with a risk of thundery showers across southern and western areas most days.
Today
For now, it's been a bright start for much of England and Wales this morning, a chilly one too first thing but it is now quickly warming up in the strong late May sunshine. There is some low cloud, sea mist or fog which has spread inland overnight across parts of East Anglia and SE England, but this should burn back to the eastern coasts in the next few hours. Also, some cloud and rain spreading in from the west will affect the far NW of England, but generally continuing fine for the rest of the day, with plenty of warm sunshine.
A different picture across Scotland and N. Ireland - where thickening cloud and outbreaks of rain been pushing eastwards this morning and this will be the story for much of the day here, though there could be some drier and brighter or sunny conditions across, say, the Moray Firth and other areas of NE Scotland sheltered by the Highlands further west.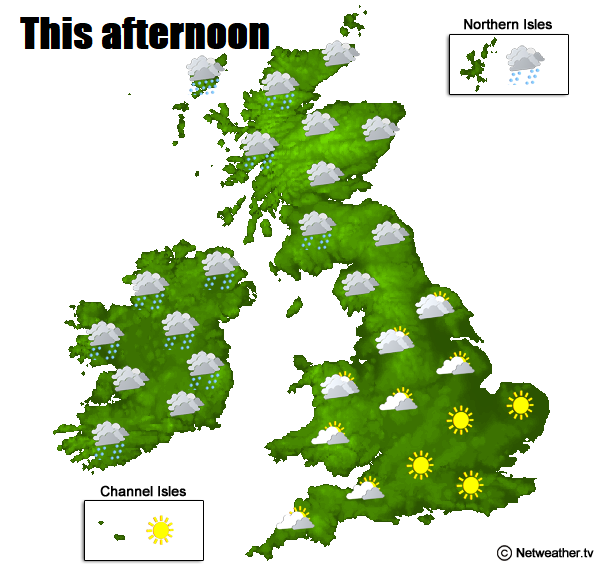 Temperatures reaching 21-24C inland across England and Wales in the sunshine, cooler around the coasts – where temperatures will be pegged back into the teens. Under the cloud and rain in the far north, reaching 14-18C.