Temperatures reaching 21-24C inland across England and Wales in the sunshine, cooler around the coasts – where temperatures will be pegged back into the teens. Under the cloud and rain in the far north, reaching 14-18C.
Tonight
A nice evening for many across England and Wales, leading into a dry night with clear spells and turning chilly in rural areas, though mist and low cloud spreading back inland from the North Sea across eastern areas of England. Remaining cloudy and breezy across the far north and northwest, with further outbreaks of rain, heavy across NW Scotland.
Monday
A sunny start for many across England and Wales, any mist and low cloud across eastern England burning back to the coast then staying dry with warm sunny spells. However, there is the risk of an isolated heavy and thundery downpour developing across southern and central parts of England along with Wales. But most will miss these and stay dry. Cloud and rain across northern and western Scotland along with Northern Ireland in the morning – but gradually retreating to the far west of these areas by early afternoon to leave an increasingly brighter afternoon across Scotland and eastern N. Ireland. Temperatures reaching 16-19C across Scotland and N. Ireland, 20-23C inland across England and Wales, though remaining in the teens around the coasts.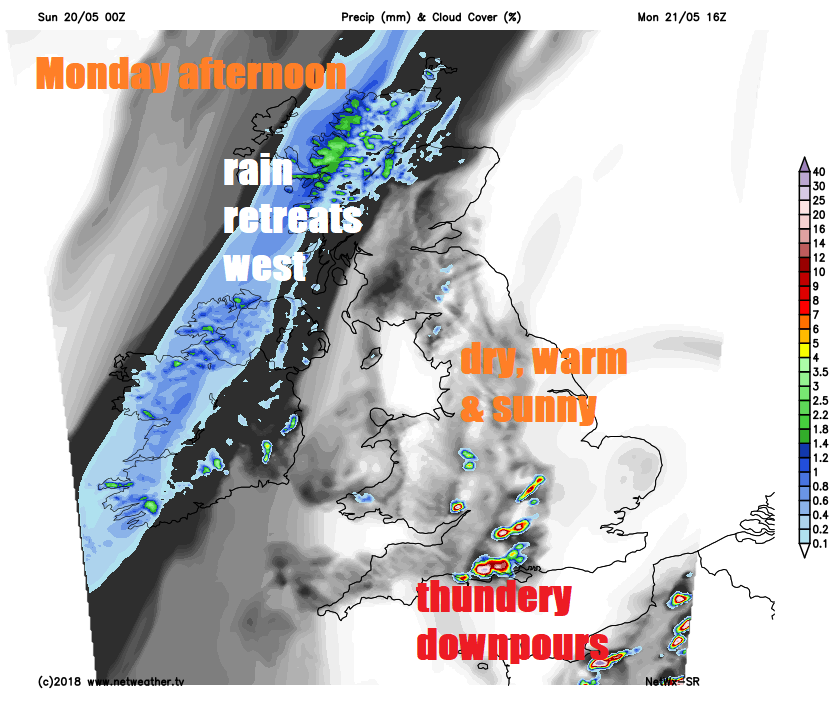 Tuesday
A similar day on Tuesday, most areas dry with warm sunshine, though again a risk of slow-moving isolated heavy and thundery showers developing across southern areas, but most escaping them. Temperatures reaching the low to mid-twenties Celsius inland, cooler towards eastern coasts – where there will be mist and low cloud.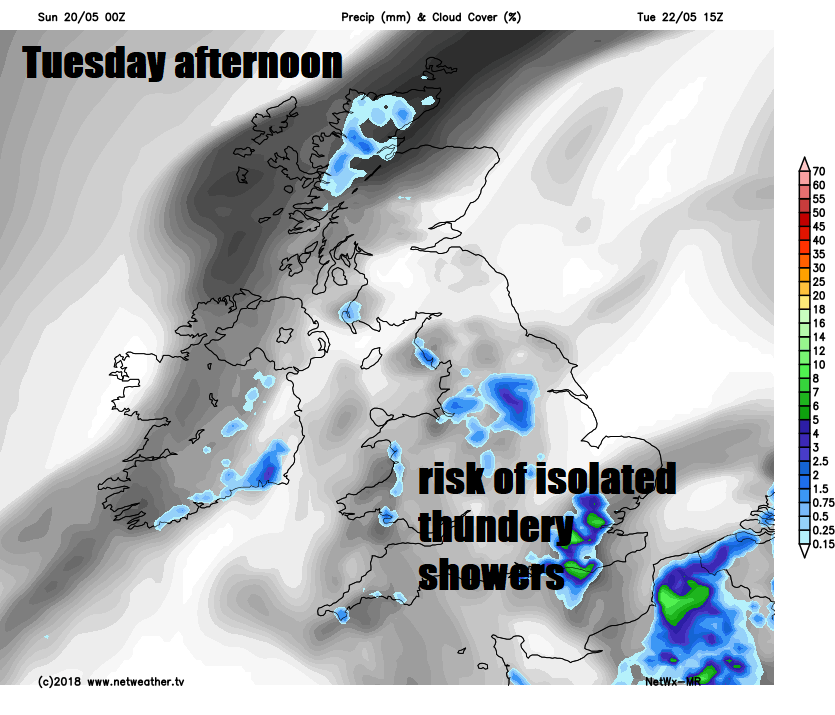 Rest of the week
Most places dry and warm with some sunshine for the rest of the week, as high pressure across the north stays in control, however, southern areas of Britain will see a continued risk of heavy showers or thunderstorms developing in the afternoons, but many areas will miss them and stay dry. Cooler around eastern coasts, where an easterly flow will bring in sea mist and low cloud at times. It won't be blazing hot by any means, more comfortable temperatures, though we could see some places reach 25C.
High pressure in control across the north, risk of showers developing in afternoons across the south