There has been some incredible footage coming out of Hawaii as lava appears out of the 17 fissures across Big Island. There was a red aviation warning for the ash plume, earthquakes and ashfall over homes. There is danger from vents collapsing after spewing lava, potentially lethal concentrations of sulphur dioxide, active lava flows and methane blasts, it's an active situation.
This afternoon, eruptive activity remained concentrated at fissure 17 but the spattering was decreasing in vigour. The advance of the flow has slowed significantly since yesterday afternoon; the flow remains nearly 2.5 km (1.5 mi) in length.
Volcanic gas emissions remain elevated throughout the area downwind of the fissures. USGS
Hawaii is a hotspot centred in the middle of a tectonic plate, so Kilauea is not like volcanos which sit along so called Ring of fire along the very active zones where plates move and grind past or under each other. Suggestions by some UK tabloids about ensuing catastrophes should be treated in the same way as stories about EXTREME bank holiday KILLER heat and Asteroid in NEAR-MISS collision path.
Flights have been affected as tremendous plumes of ash have been produced and 'pyrocumulus clouds' have been seen. This is an unofficial name for Cumulus Flammagenitus. Clouds may develop as a consequence of convection initiated by heat from forest fires, wildfires or volcanic eruption activity. If they consist, at least in part of water drops (not just ash) and can be observed to originate as a consequence of localized natural heat sources, such as volcanic activity they are known as Flammagenitus.
Covering the world are VAACs. Volcanic Ash Advisory Centres. Responsible for Hawaii is the Washington VAAC. "A text-based VAA is issued and distributed through several global networks, and is placed on the internet. Imagery from polar orbiting and geostationary satellites allows the boundaries of a volcanic ash cloud to be detected and to estimate the altitude and movement of the ash plume.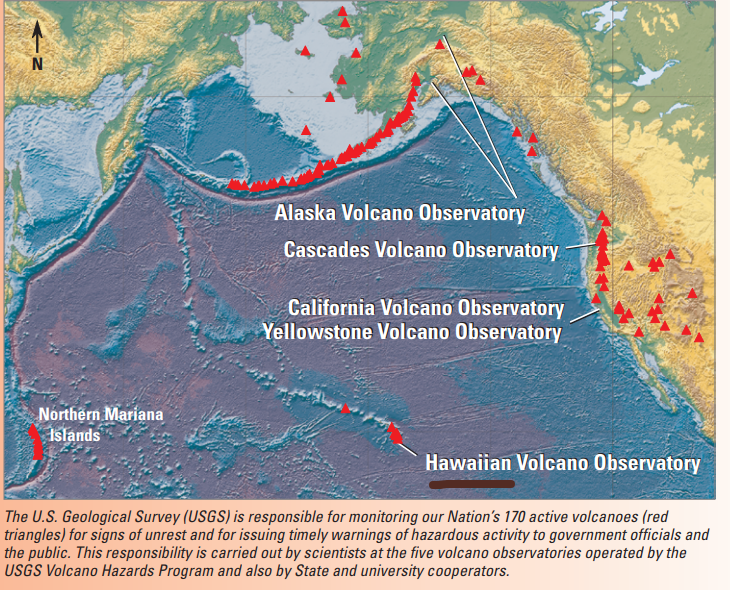 Forecasting where this ash will go is the responsibility of the National Center for Environmental Prediction (NCEP) side of the Washington VAAC. The satellite image below just shows everyday cloud cover which is obscuring any volcanic ash emissions.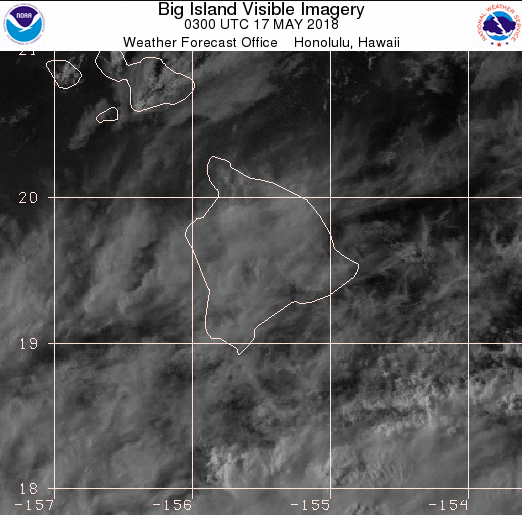 Knowing where the volcanic ash plume is, and where it is likely to go are important because volcanic eruptions produce clouds of ash that present a hazard to aviation. Accidentally flying through an ash cloud is likely to severely damage an aircraft by damaging lift surfaces, wind screens, and clogging engines. This damage endangers passengers and crew through the potential loss of lift, engine power, visibility and degrading communications."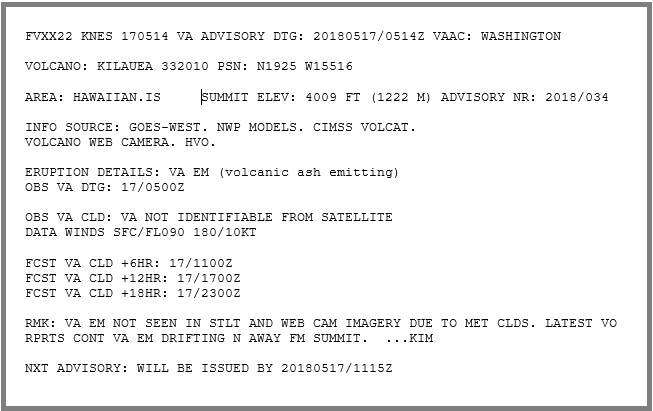 Other remarks -