The High pressure will hold on for Friday and Saturday, but changes will edge in from the west, as Atlantic weather fronts pile up. By Friday there will be more cloud, some dampness for the Western Isles the first signs of a change. High cloud will stream ahead of this front will move over the Highlands and Islands on Friday bringing more cloud and a spell of patchy rain. Not much rain is expected to reach eastern Scotland, there might be the odd showery bit on Friday evening. A similar story for Northern Ireland with more cloud but the rest of Britain will have a fine bright day with temperatures up a degree.
The weekend
By Saturday the wind will have swung around to the south and it will be warmer. Temperatures widely in the high teens and low twenties. There will be a brisk wind for Northern Ireland and western Scotland but lots of fine, sunny and dry weather. Ideal wedding weather.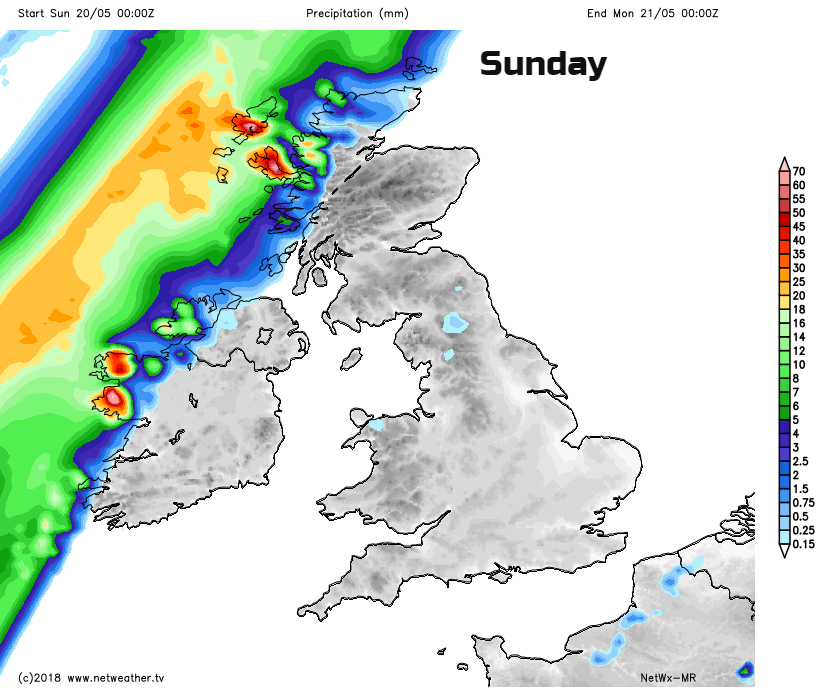 By Sunday a front again tries to head in from the NW but looks like it will fail and wave to and fro. So, the western Isles again should expect more cloud, maybe some rain but hopefully, the front won't manage to move over the UK. Other models do bring the rain band over Northern Ireland and western Scotland on Sunday and Monday, with the potential for persistent rain and strong winds. So, some uncertainty here but ahead of this the warmth remains. Temperatures are staying in the high teens, low to mid-twenties as we start the new week.
There could be some showery outbreaks on Monday and Tuesday but the high gathers itself again bringing more fine weather.