29.1c was the highest temperature yesterday, measured at St James Park in London (pictured above), in April! It wasn't the highest temperature ever recorded in April though, that happened in 1949 when 29.4 was recorded (also in London). Still, it's taken nearly 70 years to get even close to it, showing how rare it is to see that sort of heat at this time of the year. The average maximum temperature at this time of year is 11-14c.
Today, it's not going to be quite as warm, with 25-26c the likely max in the southeast, for much of the rest of England Wales, with a bit of a cooling breeze blowing from the west or northwest, the high-teens or low-twenties will be the peak. In Scotland and Northern Ireland, it's the low-mid teens, with the warmer temperatures in the east, where there'll be more sunshine.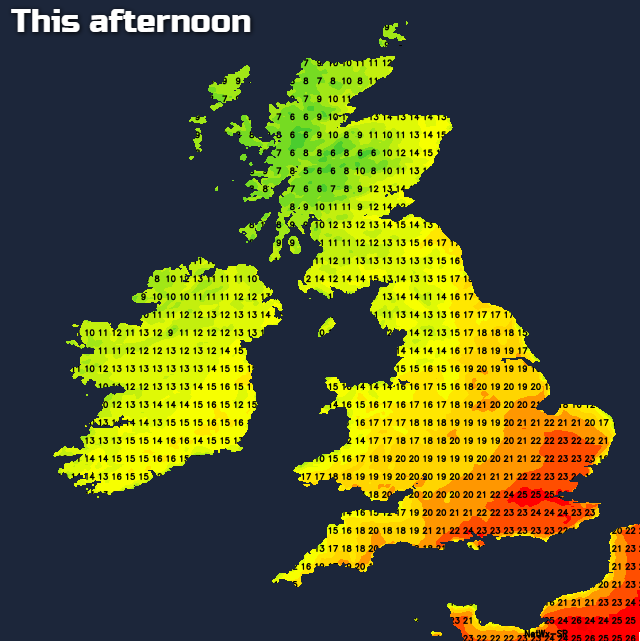 This morning there is some low cloud and mist to burn off in central and western parts of England and Wales, but that should disappear relatively speedily away from some western coasts, to leave another sunny day. For the west and north of Scotland and Northern Ireland there is more cloud, and even a few outbreaks of rain affecting the far northwest, so another day where those of you in that region don't get to join the summery weather elsewhere. This is a low risk, but worth a mention - there is the chance of a sharp shower or thunderstorm popping up in the southeast later this afternoon, if it happens any showers will be very isolated, with most continuing to enjoy sunny skies.
---
Pollen and Hayfever watch
Tree pollen is on the march now, making up for a slower start to the season, with high to moderate levels virtually countrywide.
This evening and overnight, the rain in the northwest will ease, as will any showers in the southeast, to leave the vast majority dry, with some cloud drifting up from the south at times.