Pressure is high to the East and low to the West, with mild southerly winds currently wafting across the country. These will bring increasingly warm, summery weather to our shores over the next few days before it turns somewhat cooler and fresher from the West later on Thursday or during Friday.
We have a front this morning giving wet weather over much of Scotland, North West England, the North and West of Wales and the South West. The rain is heavy over Strathclyde and Dumfries spreading a little further East through the day, bringing showers to much of northern England, Wales, the West Midlands, West Country and South West, where the rain will be lighter and patchy.
Brighter weather giving sunny intervals, already into Northern Ireland, will spread to most of Scotland and Cumbria later but with scattered showers. Some will be heavy and blustery especially in the West and over Northern Ireland, giving local thunder. Remaining parts of the East and South will be dry and bright, but there'll be large amounts of mostly high cloud, with the best of the sunshine towards Kent and Suffolk.
A southerly wind will freshen to become quite brisk especially over Northern Ireland and the Western Isles, where gusts in excess of gale force are likely. Despite this, it'll be very mild, with top temperatures 12 to 15C in the North and West. Across East Anglia and the South East, however, you'll reach a rather warm 17 to 19C, perhaps even 20C where you see the best of the sunshine.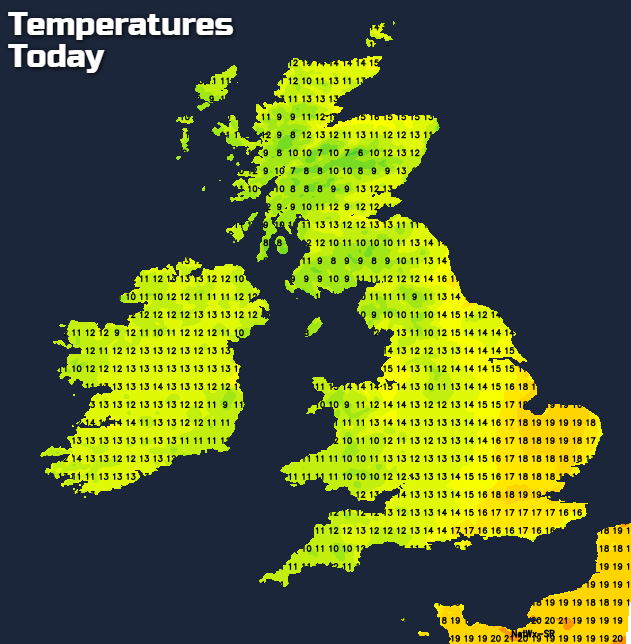 East Anglia, the East Midlands and much of southern England continue dry into the evening, with clear spells after dark mostly towards the South East. Across remaining parts of England and Wales, it'll be cloudy, with the now weakening front giving nothing more than patchy rain or drizzle. Scotland and Northern Ireland continue to see a mixture of clear intervals and scattered showers, these mostly in the West where a few could still be heavy. A southerly wind although decreasing a little, will continue to give strong gusts over exposed parts of North West Scotland in a mild night, when temperatures shouldn't fall below 6 to 10C.
Wednesday will turn into a fine spring day over most of England and Wales, after a cloudy, misty start across the North and much of Wales, where there'll be some patchy light rain or drizzle, to begin with. Scotland after a bright start in the East especially towards Moray sees a few showers giving way to rain and drizzle moving up from the South, as yesterdays front returns northward. The rain could be heavy for a while in the West and across Northern Ireland where the rain may 'peter-out' across Down and Armagh later.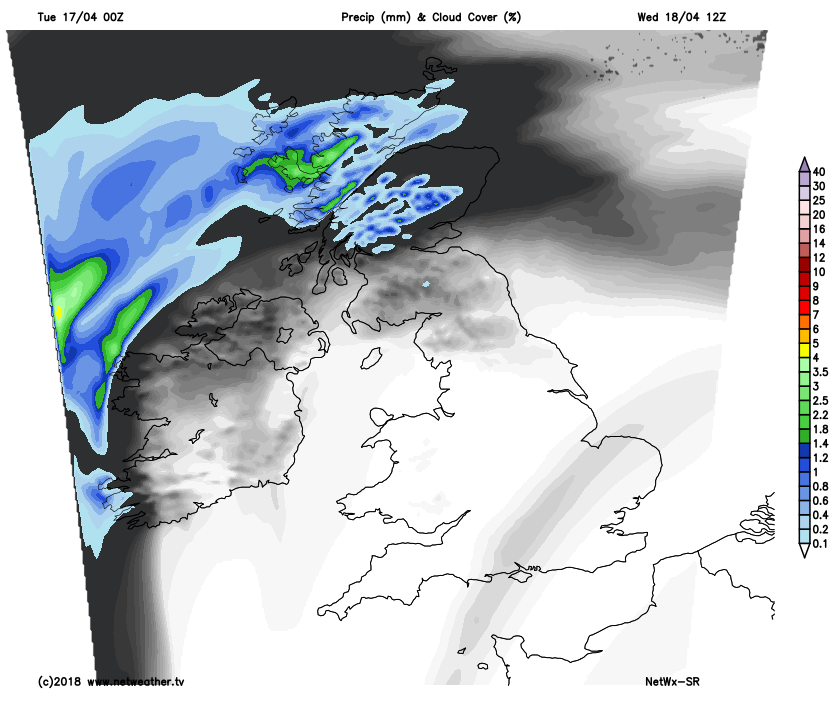 After a brief lull across Scotland and Northern Ireland, the southerly wind may freshen again to perhaps give strong gusts in exposed western parts once more. Over England and Wales, a mostly moderate South or South Easterly wind coupled with increasing amounts of sunshine will bring warmth. Here temperatures will reach 17 to 20C and 21 to 23C locally 24C in the East and South making it the warmest day so far this spring here. Over Northern Ireland and Scotland however, the cloud and rain will prevent temperatures from getting above 12 or 13C in the West and 14 to 16C in the East.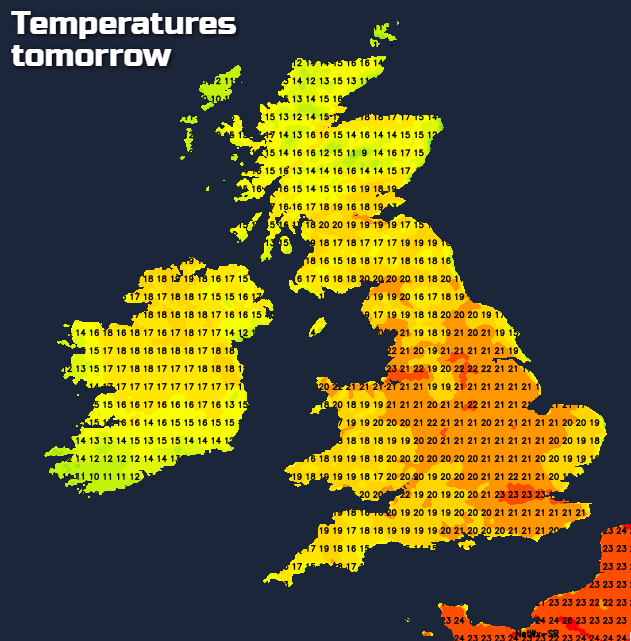 A fine even summery like evening will follow over England and Wales, with clear spells after dark perhaps allowing a few short-lived mist or fog patches to form towards dawn in rural areas in just a gentle South Easterly breeze. The East and South of Scotland should also be mostly dry with broken skies, but over Northern Ireland and towards Highland a more noticeable southerly wind will bring cloud and showery bursts of rain. It'll be another mild night though almost everywhere, with temperatures generally not falling below 7 to 11C.