Today is the Spring Equinox, the start of astronomical spring and after the very cold weather over recent days, it will feel more spring-like as it turns slowly milder through the rest of the week. We lose to the cold arctic winds and gain a milder westerly flow off the Atlantic, with temperatures eventually reaching double figures. High pressure will ensure a mostly dry day today, though a weak weather front will bring cloud and a few showers for central and eastern areas of England. High pressure retreats south on Wednesday, which will allow in weather fronts off the Atlantic bringing cloud and rain across the north, though the south should remain dry and sunny. Dry for many on Thursday, though cloud and rain will spread in across the far west, before spreading east across all areas. The mild but changeable conditions continuing through the weekend.
Recent cold to be replaced by milder air off the Atlantic next few days - as winds turn westerly
Today
For now, it's a very cold but sunny start across Scotland and N. Ireland, clear skies here overnight have allowed temperatures to fall well below freezing, temperatures at dawn as low as -9C at Tulloch Bridge in the western Highlands, -5C at Belfast Airport and -4C at Glasgow Airport. It's clear and frosty across parts of Wales and western areas of England too, but for northern, central and eastern England there is more in the way of cloud this morning thanks to a weak front, which is bringing some rain or sleet showers at lower levels, snow over higher ground.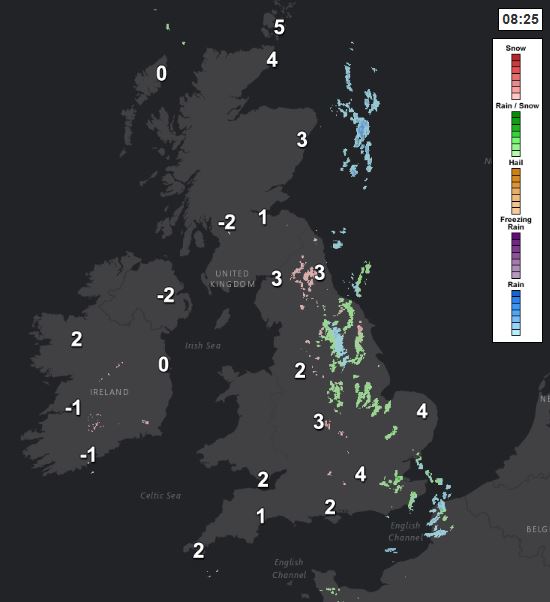 The area of cloud and showers across central and eastern areas of England will tend to shrink through the day, with showers tending to fizzle out, East Anglia and SE England tending to become sunnier, central and northern areas of England hanging on to more cloud, thick enough for the odd spot of rain, but even here cloud should break up to allow sunny spells. Otherwise, SW England, Wales, Scotland and Northern Ireland dry and sunny for much of the day. Despite a northerly breeze, milder than of late, with temperatures this afternoon reaching 7-9C generally.
Tonight
Any showers across northern and central England should fade, with cloud breaking up to allow lengthy clear spells across many areas – which will allow a frost to develop across many areas and also a few fog patches in the south. The exception will be across N. Ireland and NW Scotland – where cloud will thicken to bring some rain by the end of the night.
Wednesday
Not as cold a start across N. Ireland and western Scotland tomorrow morning as this morning, as temperatures lift and cloudy skies move in off the Atlantic heralding rain – which will spread east across Scotland and the far north of England through the day. For the rest of England and Wales, a cold, sunny and frosty start for many, cloud thickening through the day, with sunshine becoming confined to SE England and East Anglia by late afternoon, rain spreading in across Wales and the Midlands by evening. Milder still tomorrow, with temperatures reaching 9-11C across Scotland and N, Ireland, as milder air moves in with the cloud and rain off the Atlantic, reaching a cooler 7-9C across England and Wales.