Wednesday
Not as cold a start across N. Ireland and western Scotland tomorrow morning as this morning, as temperatures lift and cloudy skies move in off the Atlantic heralding rain – which will spread east across Scotland and the far north of England through the day. For the rest of England and Wales, a cold, sunny and frosty start for many, cloud thickening through the day, with sunshine becoming confined to SE England and East Anglia by late afternoon, rain spreading in across Wales and the Midlands by evening. Milder still tomorrow, with temperatures reaching 9-11C across Scotland and N, Ireland, as milder air moves in with the cloud and rain off the Atlantic, reaching a cooler 7-9C across England and Wales.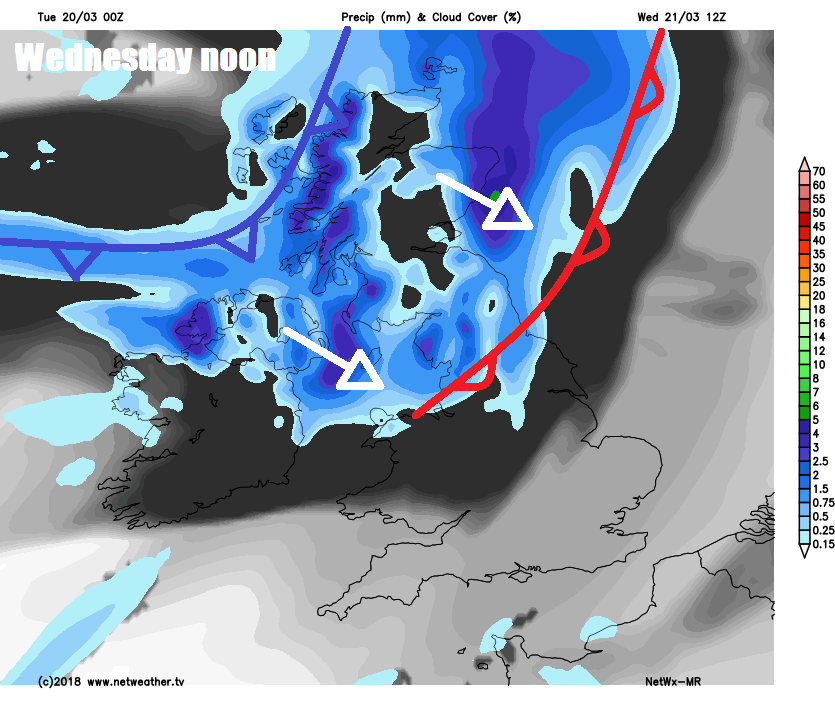 Thursday & Friday
Cloud and patchy rain spilling southeast across most parts Wednesday night. Cloud and rain perhaps lingering for a time across SE England and East Anglia Thursday morning, before clearing to join other areas of England, Wales and eastern Scotland to a mostly dry day, with some brightness or sunny spells, but cloud thickening across western Scotland, N. Ireland and eventually west Wales to bring some patchy rain by evening. Temperatures into double figures widely, reaching 10-12C.
Cloudy skies and rain spreading eastwards across all areas Friday, heavy towards the northwest, turning showery with some brightness across southern parts into the afternoon. Temperatures again widely in double figures.
Weekend
Saturday looking like a day of sunny spells and showers. After a bright and dry start, showers developing again on Sunday, though some areas may escape them and stay dry. Mild throughout the weekend, temperatures in double figures in the south.