Another blast of cold air from the east is due this weekend, as advancing Atlantic systems become blocked over the next few days. These situations are never easy to predict in the longer term, as it's difficult to pinpoint how far North and East fronts will advance, as a 'battle' develops between the two opposing air masses. For the moment though we're in quite mild air, and pressure is falling again.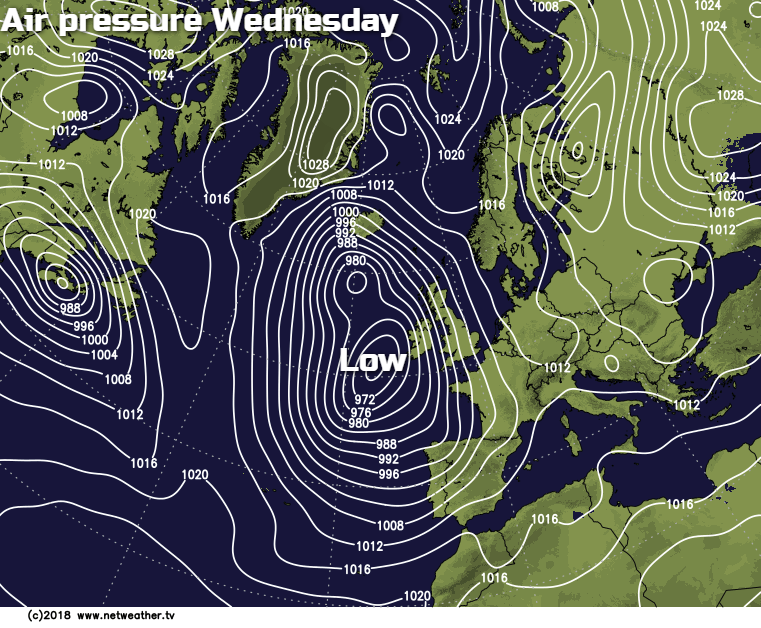 Some eastern areas and southern Scotland in particular have woken to a slight frost this morning, but this together with any mist patches has already dispersed. It'll then be a fine morning over central and eastern parts of Scotland and England with some sunshine. This'll be hazy or watery at times though with cloud amounts tending to increase a little further through the afternoon, but it'll stay dry. Across West Scotland, there are showers at the moment, but much of the day should be dry if though rather cloudy. Northern Ireland, the far West and South West see the wettest weather today with showery bursts of rain. These'll be heavy especially across Northern Ireland, the Isle of Man, West Wales and the South West where some local flooding is possible later.
A South or South East wind will freshen through the day to become strong over the Isle of Man and across exposed coasts of Cornwall, Devon, Down and Antrim, where gusts in excess of gale force are likely later. After the chilly start in the East, it'll be a very mild afternoon, with top temperatures 11 to 14 locally 15C in the brighter spots, but only 6 or 7C is expected across the far North East of Scotland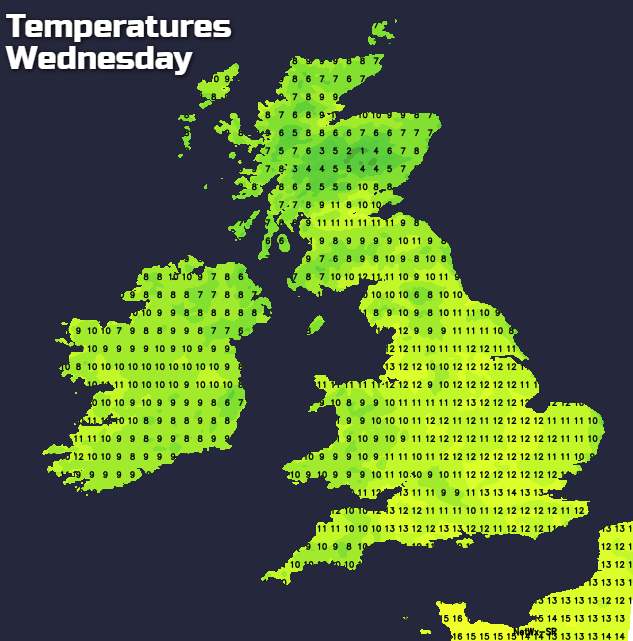 It'll continue mostly dry into the evening across much of Scotland, northern England and in the East. Outbreaks of rain over Northern Ireland, West and South Wales and the South West, however, will move slowly East and North, to affect remaining parts of Wales, much of the Midlands, East Anglia and the South overnight. There'll be some heavy bursts within it, followed by broken skies and just a few showers into the South West and southern coastal counties by morning. Here a South Easterly breeze will decrease later in the night, but elsewhere, an East to South Easterly wind will continue to be fresh giving strong gusts over exposed coasts and hills. It'll be a relatively mild largely frost free night though, with temperatures unlikely to fall below 5 to 8C.
Thursday sees patchy rain moving into northern England and southern and western parts of Scotland where there'll be a good deal of cloud. Northern Ireland, the Midlands and East Anglia may also start dull and showery, but here it should turn brighter although with scattered showers through the afternoon. Wales and the South will see some sunshine, but scattered showers will be heavy across the South West where there's the risk of thunder. The North and East of Scotland apart from a little drizzle here and there should stay mostly dry, but it'll be rather cloudy.
A moderate East wind will be fresh along North Sea coasts of North East England and East Scotland making it feel rather cold. As a result, temperatures here could struggle to reach 7 or 8C, with the Northern Isles probably getting no higher than 4 or 5C. Elsewhere it'll be milder, but generally somewhat less mild than yesterday. Across southern England and the Midlands, a South East or southerly wind could be gusty at times along English Channel coasts, with top temperatures of 11 to 13C but 9 or 10C will probably be a more general maximum.