Fresh to strong SE winds will blow over the UK on Weds as the low-pressure hovers off SW Ireland. (known as Giselle in Europe). It will be very wet and windy for Northern Ireland and SW England. The ground is already sodden so flooding issues are likely. It will be mild, out of the wind and rain. Widely reaching double figures and 14 or 15C in the south. The frontal rain will pivot over Ireland and reach the West Country late Weds afternoon and through the evening. Then spilling over southern Wales and central southern England during the night. The strong gusty winds continue into Wednesday night with Wales and more of northern Britain being affected.
Colder air begins to creep into NE Britain with a brisk flow from the SE as the rain moves north through Britain. As it comes up against colder air, it will turn to snow over the Grampians and by Friday sleet and some snow will appear to lower levels of NE Scotland. Various low centres continue to swing around what was Giselle and throw a few showery rain bits over SW UK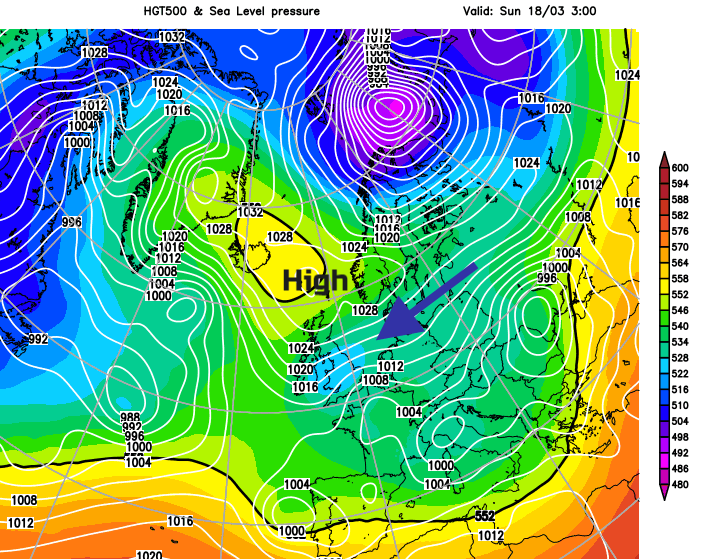 A much Colder Weekend
By the weekend, we see a shift in the flow. It's more easterly, from the continent, it will be noticeably colder. Snow showers from the east could have started by early Saturday. It's tricky to give amounts, locations and impacts at this point. The Met Office is likely to issue a warning. It's the weekend, so not rush hour traffic or school journeys but plenty of people are out and about on Saturdays or travelling to events or sports.
Once again it will be very cold air travelling over relatively warmer seas setting off the showers, sea effect snow. Better with a longer sea track.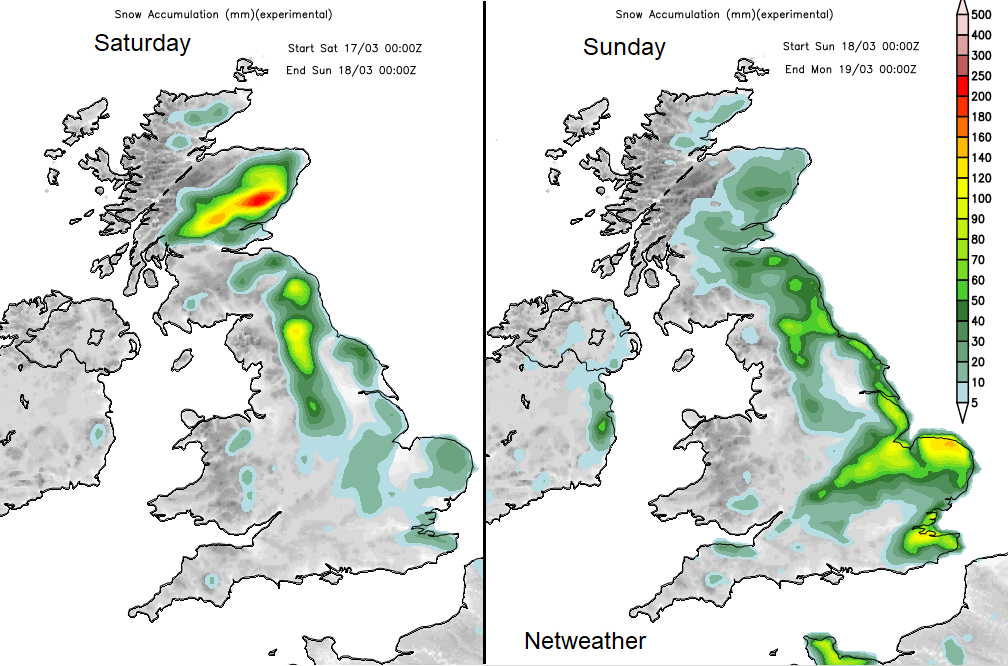 This gives an idea of areas that are more likely to be affected but don't focus too much on the detail at the moment, just the general more prone areas.
With a brisk east wind, it will feel cold on Saturday and severe hard frosts will set in. Again, a bitter wind on Sunday and even colder Sunday night. Spring is on hold, prepare for the cold.
Cold Weather and Excess Winter Deaths, temperatures, illness and fuel poverty.