The weather patterns are very much moving in from the West this week.
The general pattern is a mobile westerly pattern, with a succession of low pressure systems over NW Europe moving slowly North Eastwards into Scandinavia and Russia.
For the Alps this means winds from a mild South Westerly direction with weak areas of low pressure 995-1005mb generally. This should bring unsettled conditions and large precipitation totals to windward South Westerly parts of the Alps, with more sheltered North Eastern parts of the Alps being that much drier.
A ridge of High Pressure is currently forecasted to bring a drier spell around midweek, but details and timings on this uncertain at the moment.
More precipitation expected for Thursday and Friday and with less mild air, a greater risk of snowfalls to lower slopes.
Temperatures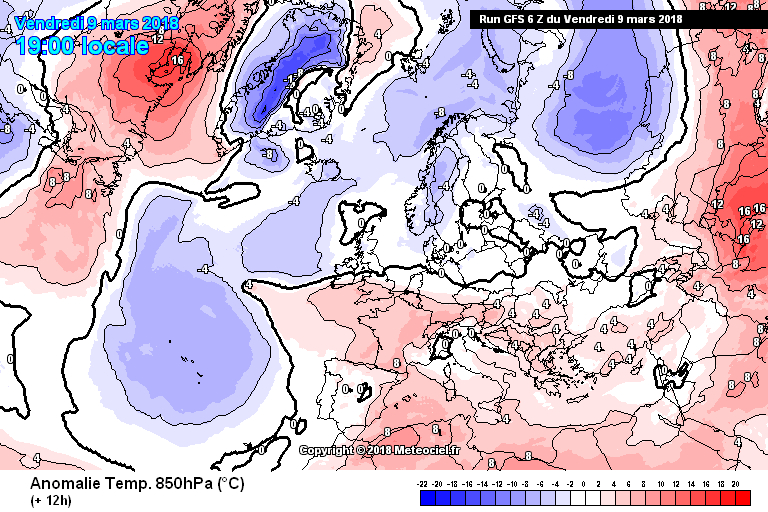 Precipitation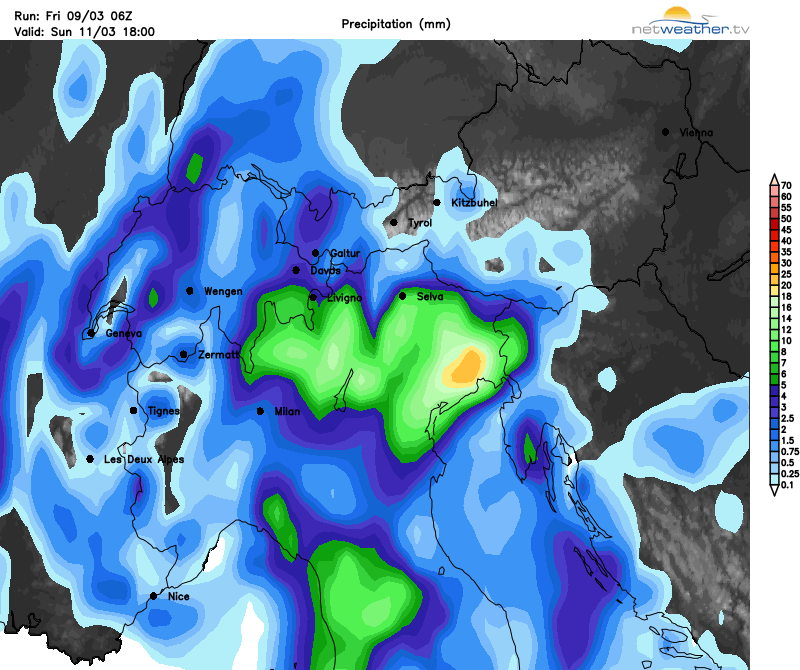 Saturday – Precipitation edges in from the west during the morning, fading away as it moves east over Central areas later, remaining dry in the East.
Sunday – Precipitation edges in from the Southwest during the morning, with moderate precipitation for Switzerland, France and S Germany, but prolonged heavy precipitation for Northern Italy expected.
Monday – Overnight precipitation fading in Southern and Western areas, with precipitation moving into Austria with moderate precipitation expected in Western Austria. Later in the day more widespread precipitation possible over the Alps.
Tuesday and Wednesday – A few showers possible on Tuesday especially over Austria, but as a ridge over high Pressure is expected, Wednesday looks mostly dry.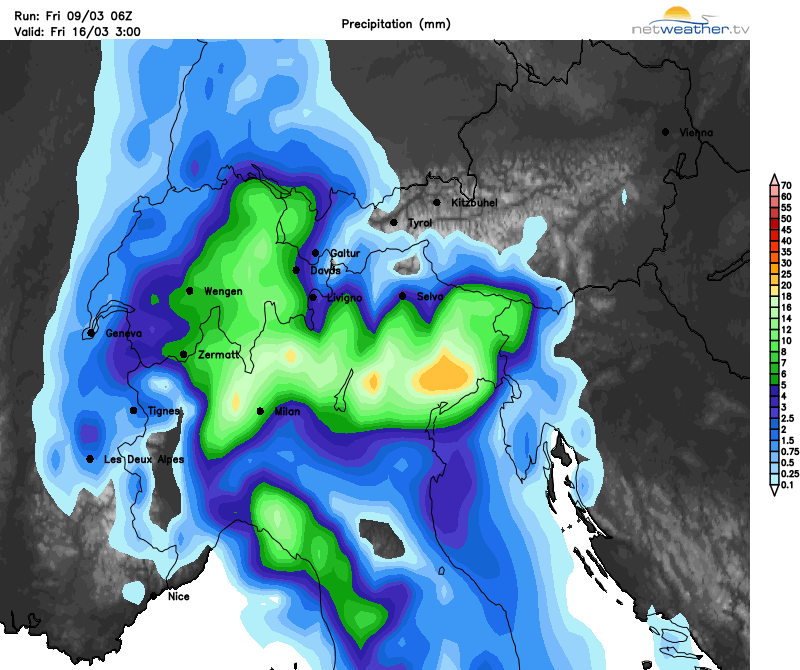 Thursday and Friday – there is the potential for very heavy precipitation to edge in for the French Alps, Switzerland, NW Italy and SW Germany Thursday into Friday, with a higher risk to snow to lower slopes, but detail is sketchy at the moment. This expected to move East later on Friday, fading as it does so.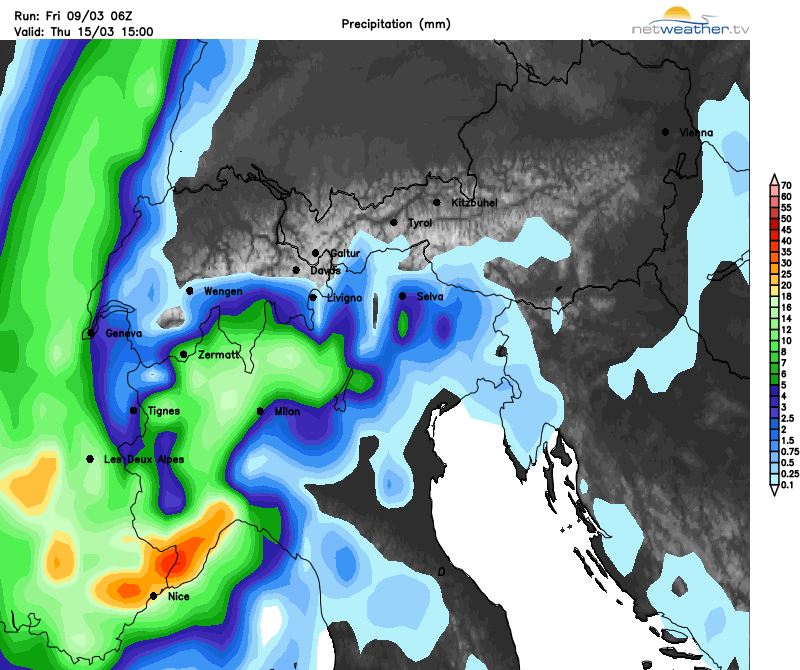 Snowfalls
Heavy snowfalls of around 50-100cm are possible over higher slopes over South and Western parts of the Alps this week, any initial precipitation (being Saturday through to Tuesday), is likely to see precipitation restricted to over 2000m.
For the end of the week, from Thursday onwards, the lowering temperatures mean that areas above 1250m may see over 25cm of snow.
Exact details are subject to change but that is the current theme.
Summary
Further snow for the Alps this week, but largely restricted to over 2000m to start the week. Drier for a times midweek, with more widespread precipitation for Thursday and Friday with snow to lower levels, perhaps to 1250m more widely. To lower levels, heavy rain may also cause other issue most notably for northern Italy.