Winter 2009/10 Mean temperatures over the UK were 2.0 °C below the 1971-2000 average during December, 2.4 °C below average during January and 1.6 °C below average during February. The UK mean temperature for the winter was 1.6 °C, which is 2.0 °C below average, making it the coldest winter since 1978/79 (1.2 °C). Over England and Wales it was also the coldest since 1978/79. Over Northern Ireland and Scotland, winter 2009/10 was comparable with 1978/79 and 1946/47, with only winter 1962/63 significantly colder in series from 1910. For northern Scotland, it was the coldest winter on record, with the highest number of frosts. Met Office
For example, winter 2009/10 was exceptionally cold, but the number of deaths was similar to years with mild winters. In contrast, the higher number of EWDs in 2012/13 was likely to be due to cold weather, but it was the unusual pattern of a sustained cold from mid-January until early April, rather than just a cold January period, that influenced mortality.
The high number of EWDs in 2014/15 related more to flu hitting the elderly, the effectiveness of the vaccine not being as high and resulted in a longer flu season over several months rather than the usual one or two.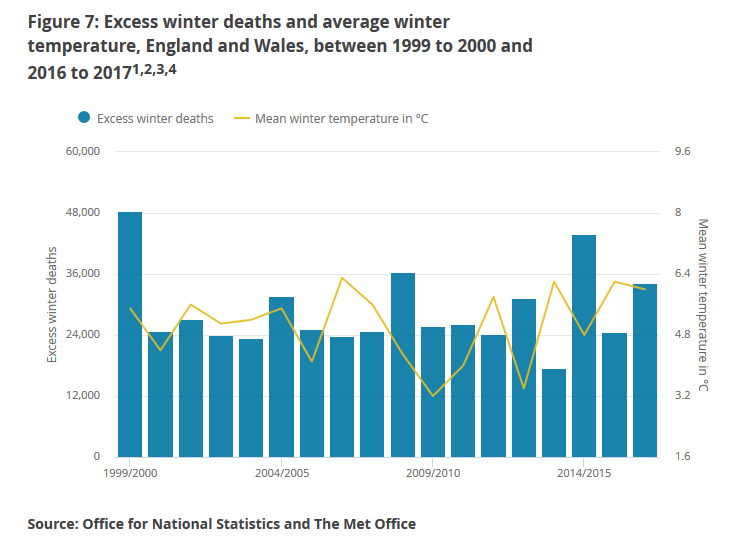 Temperature
Office of National Statistics ONS - "In general, there are more deaths in colder months, and mortality tends to rise as temperatures fall. There may be a very slight tendency for the seasonal increase in mortality in the winter to be higher when the overall mean winter temperature is lower, but there is not a clear relationship."
2014/15 had high mortality but wasn't that cold; it was a relatively benign and quiet winter, Northern Ireland was the coldest part of the UK, relative to average. The figures do look at mean temperatures for the winter, so a particularly brutal cold week could be smoothed out.
In terms of its average temperature, winter 2010/11 was the fifth coldest in the 60 years from 1951/52 to 2010/11, inclusive. It had a mean winter temperature of 1.28°C. Therefore, one might have expected a relatively high seasonal increase in mortality in winter 2010/11. However, the seasonal increase in mortality in winter 2010/11 was (at that time) the ninth lowest figure recorded since the series started in 1951/52 (ONS)
There is a difference between severe, intense cold spells, like the one the UK experienced late Feb/early March 2018 which attracted a Cold weather warning from NHS England and serious pleas from weather forecasters, set against the ongoing winter cold. Being cold indoors is a huge problem. People not wearing the right clothing outside in cold weather is an issue, especially in warmer climes, such as Mediterranean Europe. Homes here tend to be badly insulated with more of the population not having decent winter clothes. The recommendations are to keep your heating on at 18C. When the outdoor temperatures drop to around 6C, problems begin inside, affecting peoples' health due to their dwelling place. So, there are issues of location and climate but also money.
January often sees the peak of winter deaths, elderly people just getting through the festive period, other people socialising and high flu consultation numbers resulting at New year, not ideal with two bank holiday sessions. Usually, the lowest temperatures of the winter will be in February, but we are now more often seeing late cold into March rather than early cold in Oct/November. A severe cold spell is likely to affect people with circulatory system diseases (such as coronary heart disease), and the effects can be seen within a day, the composition of the blood changes in the cold. Respiratory effects take longer.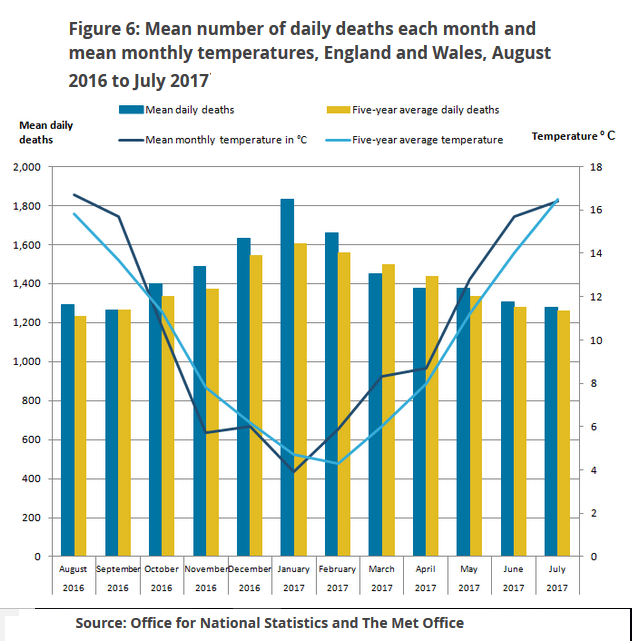 You are not that likely to die directly from the cold here in the UK. Each year the intense winter cold kills people in Russia, homeless people, alcoholics and other vulnerable people dying of hypothermia, as temperatures fall to -17C or even lower in Siberia. Hypothermia-related deaths are rare in the EU –probably around 1%.
EC Public Health : the premature death toll is higher in countries with a warmer winter climate. Housing standards are a potential factor behind this paradox. Houses in countries with comparatively warm climates all year round tend to lose heat easily, so people find it hard to heat their homes when winter arrives. This is especially true in Portugal, Spain, and Ireland, where winter temperatures are comparatively mild and excess mortality rates in winter very high.
Illness
Over 30,000 more people die in the UK in winter months than in summer months. The strain on NHS due to cold-related illness is massive. Respiratory diseases such as flu are a major cause of excess winter deaths. Influenza is a respiratory disease caused by a viral infection affecting the lungs and airways and is associated with potentially life-threatening complications such as bacterial pneumonia. This means although flu itself is not always mentioned on the death certificate, it is a contributing factor in a great deal more. The effectiveness of the flu vaccine has varied from 33% to 50%
Circulatory disease is a big problem all year round and is always high on the list of causes of winter deaths. Thrombosis within a day of severe cold, cardiovascular problems in the next week. People with dementia, Parkinson's or Alzheimer's are also at risk, the greater vulnerability of people with these conditions to respiratory diseases, difficulties with self-care, and falls, all of which may be more important in winter months. Respiratory and other viral and bacterial infections, which mostly occur in winter, can also lead heart problems.
The different strains of flu present different problems. How good the flu vaccine is in a given winter. The various strains use forecasts to predict what may affect different parts of the world and there is a cost attached to that. Uptake of the flu jab or nasal spray. The actual strain and how it moves through society. Schools and nurseries can see flu moving through the young, then siblings and parents. At other times, the elderly are more prone with care homes being affected.
Then there is the problem of cold homes and the resultant health problems.
in Part 2 - What is Fuel Poverty and how to get help? Also is Winter 17/18 finally over?
National Statistics offices - Winter Mortality