To the north of the little low, there is fine, bright weather but it has been colder and there is the risk of ice.
The light winds pick up slightly through the day with a moderate NW wind for Northern Ireland by this afternoon around 6 or 7C for Belfast and Co Down. More showers will work their way inland from western Scotland as temperatures reach 5 to 7C across Scotland.
Friday
Friday will be a quieter day with more sunshine and fair weather in the morning. There could be early fog and frost in places as winds fall light in the south tonight but pick up over western Scotland bringing a few more showers. However, rain is on its way from the SW. This will arrive for Devon and Cornwall in the morning as high cloud spills over SW Britain. The wind backs to the SE. It turns pretty miserable over the West Country and south Wales during the day as the winds strengthen and rain sets in. Conditions on the roads won't be very nice by Friday evening. This spills along the M4 as the warm front from an approaching low pressure heads in.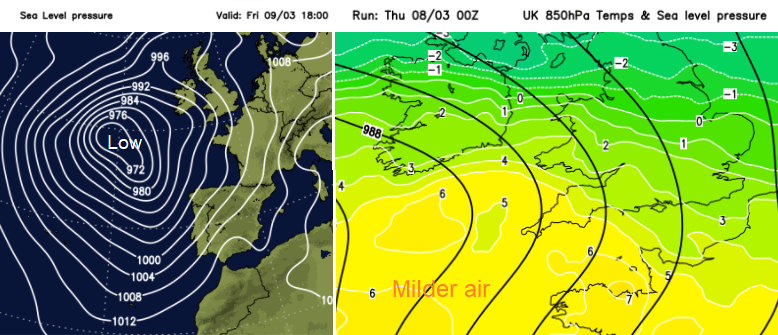 Friday night
Mild air follows the band of rain with murky conditions. Persistent rain will move up through England and Wales on Friday evening with brisk winds from the east then south. To the north of the front, it will be colder than of late with a widespread frost and many parts of inland Scotland below zero.
Saturday looks very mild. Temperatures that we haven't seen in a long while say 15C or 16C in the southerly wind. What a difference a week makes. That's inside the warm sector over Wales and England, particularly the Midlands and eastern England. Friday night's band of rain will continue northwards, moving through Northern Ireland and Scotland with snow over the tops of the southern uplands. There could be more significant snow for the mountains of northern Scotland later on Saturday with colder air here.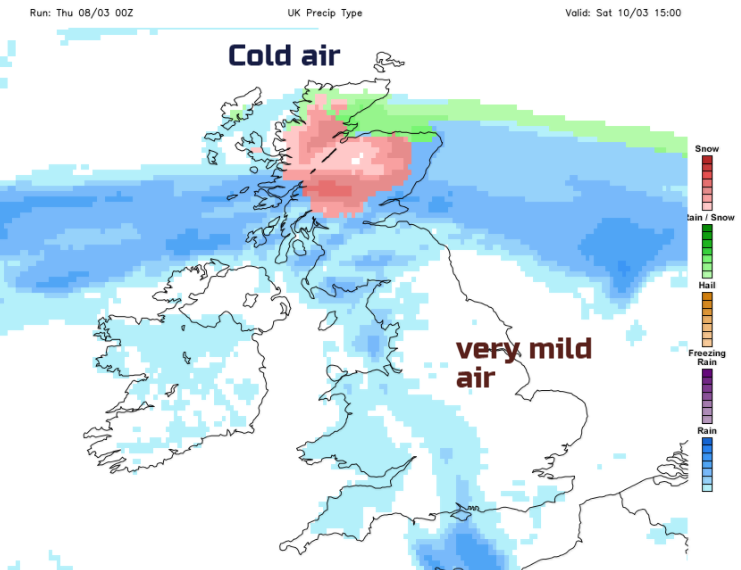 The band of rain and snow pushes over the Northern Isles by Saturday night with a strong east wind.
By Sunday the low pressure centre will be approaching SW England, this system affecting the UK over the whole weekend. There will be spiralling bands of heavy rain showers, blustery winds, which look at the moment to be headed for England and Wales, clipping SE Scotland. Still with mild air to finish off the thaw.